Irma Joann Arend, daughter of Benjamin Franklin (1889-1980) and Lella or Leella (Hulett) (1889-1982) Arend, was born 7 October 1929, Mason, Ingham County, Michigan. She graduated in 1947 from Okemos High School.
Irma married Lawrence Duane "Larry" Hagerman 9 October 1948, Okemos, Ingham County.
Lansing State Journal (Lansing, Michigan) Sunday 10 October 1948
AREND-HAGERMAN RITES SOLEMNIZED SATURDAY EVENING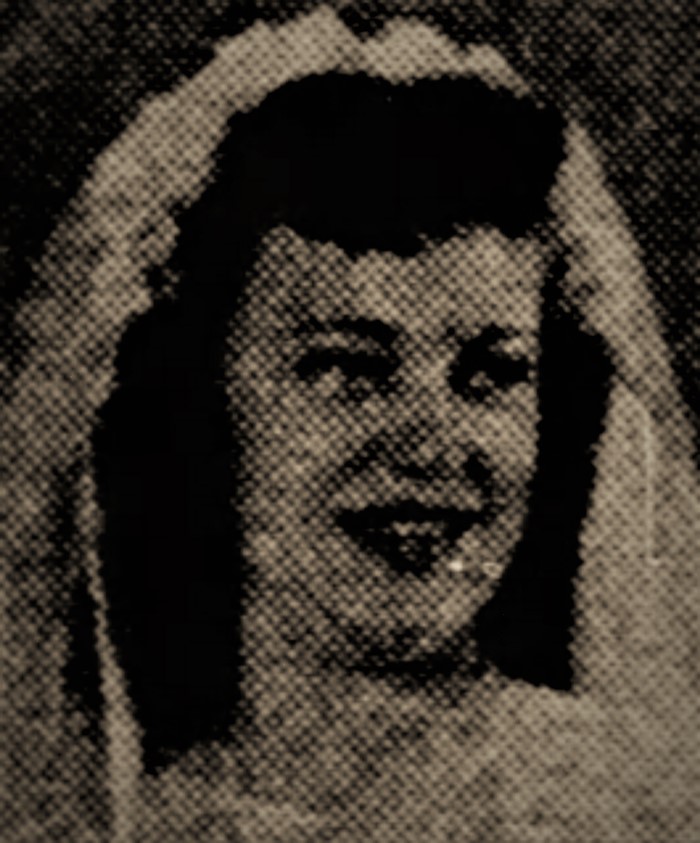 Lawrence D. Hagerman, son of Mr. and Mrs. Charles Hagerman, R. 1, Okemos, claimed Miss Erma JoAnn Arend as his bride in a Saturday evening ceremony in Okemos Community church.
Parents of Miss Arend are Mr. and Mrs. Ben F. Arend, R. 4, Mason. Rev. Harold A. Jayne officiated at the 8 p.m. ceremony and Miss Frances Price as soloist. Organ accompaniment was by Mrs. Robert Leonard.
A gown of white satin with a lace inset at the neckline and long lace sleeves was worn by the bride. Her peplum cascaded into a chapel-length train and a floral crown held her veil of illusion net bordered with lace. She carried a prayer book with a corsage of gardenias and roses attached with streamers.
Mrs. Robert Hayhoe was matron of honor, wearing a light green satin frock with cap sleeves and a floral crown with a short veil. Roses and fall flowers formed her bouquet.
Bridesmaids were Miss Lois Hagerman, sister of the bridegroom, and Miss Rosalee Arend, sister of the bride. Both wore pink and blue slipper satin with lace insets and lace puffed sleeves. They had floral crows and veils and bouquets of roses and fall flowers. Diane Smith, cousin of the bride, was flower girl, costumed in a yellow satin dress. She carried roses. Eric Leu, nephew of the bride, was ring bearer.
Robert Hayhoe served as best man and ushers were Charles Hagerman, William Hagerman, Richard Murphy and Jack O'Berry.
A reception followed in the church parlors and vases of flowers were set at each end of the table. A four-tiered cake was placed on a large mirror surrounded by roses. Assisting were Miss Shirley Smith, Miss Janet Lewsader, Miss Mary Widland, and Miss Phyllis Laycock, cousin of the bride. Mrs. Richard Leu attended the guest book for her sister.
When the couple returns from a northern Michigan and Canadian wedding trip, they will be at home to their friends after October 15 at 1100 Shepard street.
Larry and Irma celebrated 5 children and 49 years of marriage together. Irma retired from a career with the State of Michigan in 1990. Larry retired from Wyeth Laboratories. Irma died 15 December 1997. Larry, born 12 April 1930, died 7 October 1999. They were interred Maple Ridge Cemetery, Holt, Ingham County.
Lansing State Journal (Lansing, Michigan) Wednesday 17 December 1997
IRMA HAGERMAN
LANSING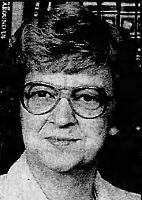 Age 68, beloved wife, mother, grandmother, and great grandmother went to be with God Monday, December 15, 1997. An avid bingo player, Irma also loved to do cross stitch and worked at it daily. She retired from the State of Michigan in 1990. She is survived by her husband of 49 years, Lawrence E. (Larry); 5 children, Linda L. (Rick) Shell of Charlotte, Rhonda R. (Bob) Buckley of Mason, Jacilyn K. (Steve) Conner, Jilynn J. Hagerman of Florida, Larry L. (Karen) Hagerman of Mason; 13 grandchildren, Chad (Mindy) Piper, Chris (Margaret) Conner, Carrie (Brad) Moore, Rob (Gin) Buckley, Dan (Rubina) Carey, Crystal White, Stephen Conner, Stephanie Conner, Jamie White, James White, Alysha Hagerman, Kaylin Hagerman, Matthew Hagerman; 7 great grandchildren, Courtney, Skyla, Alyson, Brianna, Dylan, B.J., and Christopher; sisters, Ethel Montaven of Holt, Helen Lue of Florida and Rosealee Hensley of California. Funeral services will be held Thursday, December 18, 1997, 12 noon at Chapel In The Pines Funeral Home.