Reprinted from the Pauline Lang scrapbook 1940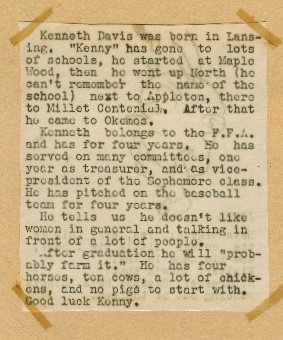 Kenneth Roy Davis, son of Roy E. (1897-1987) and Fern (Knickerbocker) (1896-1959) Davis, was born 12 May 1920 Lansing, Ingham County, Michigan. He graduated in 1940 from Okemos High School. Kenneth entered the US Navy in January 1942.
Lansing State Journal (Lansing, Michigan) Thursday 15 January 1942
NAVY ENLIS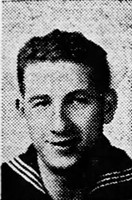 TMENTS HERE SET RECORD
TOTAL OF 53 MEN, INCLUDING 22 LANSINGITES, RECRUITED LOCALLY IN THE WEEK
....Kenneth Davis, Mason
Lansing State Journal (Lansing, Michigan) Sunday 19 September 1943
DAVIS - Kenneth Roy Davis, seaman, first class, son of Mr. and Mrs. Roy Davis, R. 4, Mason, returned to Seattle, Wash., by plane after spending a short leave with his parents. Seaman Davis entered service in January, 1942, and received training at the Great Lakes naval training station. He is now wearing a service bar with two stars designation battles at Attu and Amchitka.
Kenneth was married. He died 8 November 1994 Woodhill, Shiawassee County, Michigan and was interred Oak Plain cemetery, Shiawassee County.
Lansing State Journal (Lansing, Michigan) Tuesday 10 November 1994
SHAFTSBURG
DAVIS, KENNETH R., 74, died Tuesday. Graveside services 1 p.m. Friday at Oak Plain Cemetery, Shaftsburg. Arrangements by Nelson-House Funeral Homes, LaRowe Chapel, Perry.