Reprinted from the Pauline Lang scrapbook 1940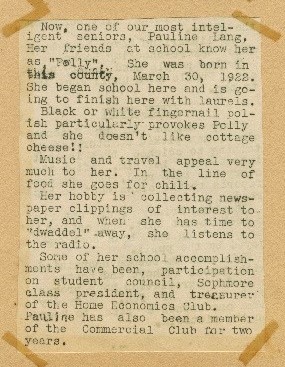 Pauline Clara Lang, daughter of William Warner (1891 Germany - 1970) and Clara D. (Peterman) (1892-1972) Lang, was born 30 March 1922, Ingham County, Michigan. She graduated in 1940 from Okemos High School. Pauline married 13 March 1943, Victor Township, Clin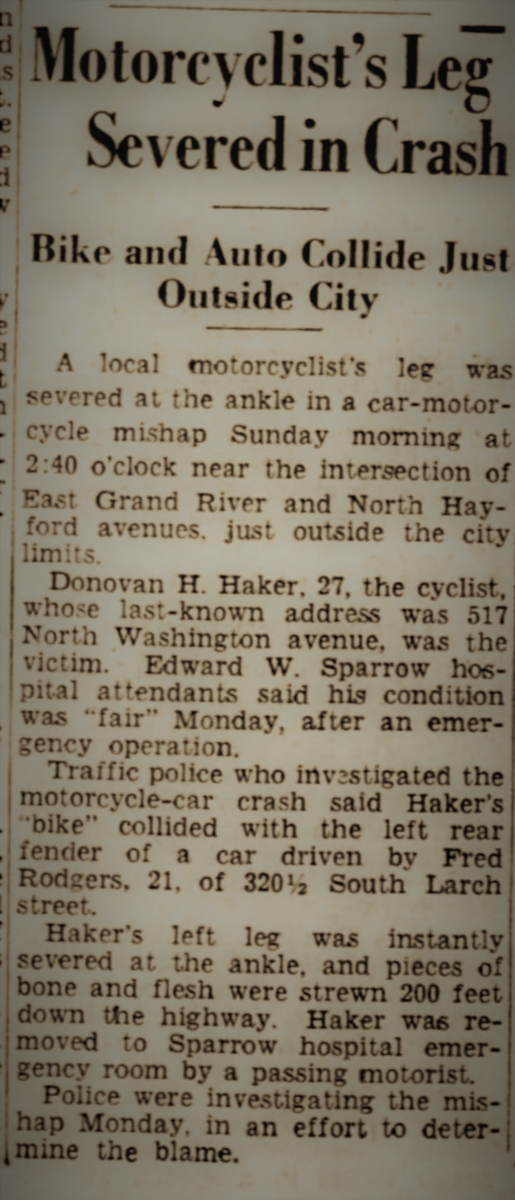 ton County, Michigan, Donovan "Don" Hugh Haker. Don served in the US Navy during World War II from 1942 until honorable discharge in 1946. At discharge he was rated as a Motor Machinist's Mate 2nd Class.
Don was involved in several motor vehicle accidents after the war. Lansing State Journal 11 March 1946 identified Pauline as receiving a broken arm when the car in which Don was driving was struck by another vehicle. Don lost one of his feet in a motorcycle accident 31 May 1948.
Don and Pauline had 4 children. Pauline died 6 March 1961, Clinton County. Don, born 4 April 1921, Ann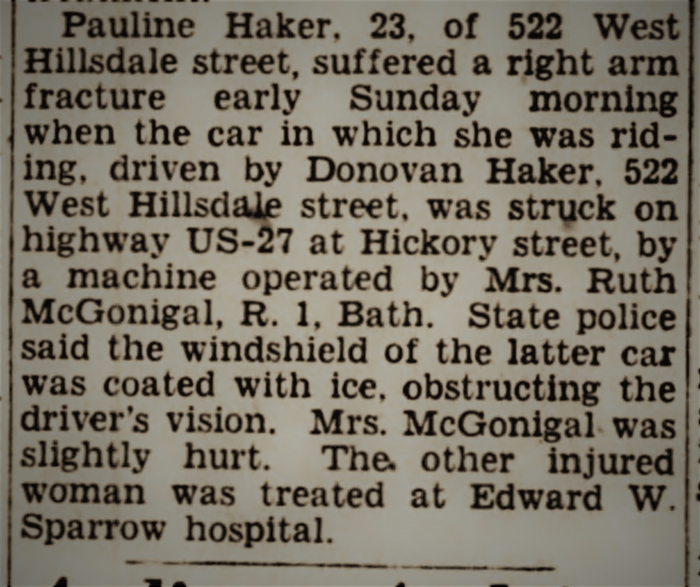 Arbor, Washtenaw County, Michigan, died 23 December 1984, Pinellas County, Florida. Don and Pauline were interred Gunnisonville Cemetery, Gunnisonville, Clinton County.
Lansing State Journal (Lansing, Michigan) Tuesday 7 March 1961
MRS. PAULINE C. HAKER
DETWITT, MARCH 7 - Mrs. Pauline C. Haker, 38, of 525 E. Sheridan rd., Lansing, died at Clinton Memorial hospital, St. Johns. Survivors include the husband, Don H., two daughters, Charlene and Christine, two sons, John and Dean, all at home, the parents, Mr. and Mrs. William Lang, R. 1, Okemos, and a sister, Margaret Troth, Yates City, Ill. Funeral services will be held from the Vincent-Rummell funeral home, DeWitt at 1 o'clock Wednesday. Rev. Lavern A. Bretz of the Valley Farm Baptist church will officiate. Interment will be in Gunnisonville cemetery.
Note: Both of Paulines sons died of Muscular Dystrophy