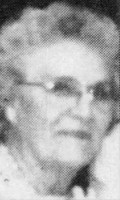 Virginia Marie Thayer, daughter of Joseph Henry (1885-1948) and Bertha Isabell (Brazee) (1896-1945) Thayer, was born 11 May 1921 Lansing, Ingham County, Michigan. She graduated in 1938 from Okemos High School. Virginia married Howard W. Brown 20 July 1940 Lansing.
Lansing State-Journal (Lansing, Michigan) Saturday 13 July 1940
SHOWER PLANNED FOR BRIDE-ELECT
Miss Virginia Thayer, East Lansing, will be honor guest at a miscellaneous shower to be given Monday evening at the Eighth Ward fire station on East Michigan avenue by the Mifflin street Nazarene church and Sunday school.
Miss Thayer will become the bride of Howard Brown of Clare July 20, at a wedding at the church. Those associated with the church and other friends of the honor guest are invited to attend the Monday evening event.
Howard, born 26 September 1917 Clare County, Michigan, died 28 October 1999 Clinton County, Michigan. He was employed as a skilled tradesman for General Motors from 1941 until retirement in 1975.
Virginia died 23 August 2003 Clinton County. She and Howard were interred Chapel Hill Memorial Gardens, DeWitt, Clinton County.
Lansing State-Journal (Lansing, Michigan) Monday 25 August 2003

Brown, Virginia M.
DeWitt Township, MI
Formerly of St. Johns
Virginia M. Brown died Saturday, August 23, 2003 at the age of 82. Virginia was born in Lansing on May 11, 1921, the daughter of Henry and Bertha (Brazee) Thayer, was a homemaker and a member of Grove Bible Church and Woodview Church of the Nazarene. Virginia married Howard Brown on July 20, 1940. Survivors include one daughter, Linda Brown; Virginia's caretaker since Howard's death in 1999; a special granddaughter, Lisa Marie (Brian) Howard and their three children; Jennifer, her very special great granddaughter who came so often to help care for her, Jordan who deeply loved her, and Dyllan who became her joy and love.

Also surviving are her grandchildren Nicole and Brandon whom she loved and enjoyed. Greg who stayed with them often when growing up, also Amy (Shawn) Huff and their children, Parker and Christopher. Virginia's special friends who are left but never forgotten include Alice Little, of Perry, a golfing and school friend of seventy years, Marilyn (Dan) Little, Cheryl Arntz and Cathy Johnson friends and caregivers, Sue and Dick Courter of Flint, Debbie Plowman, Rita and Roger Woodruff, Lynette Hathaway and family for mowing the farm and her grandson, Jake Hathaway. Other family members who were a wonderful help since the loss of her last two brothers (November 7, 2002) are Leo (Mary Etta) DeWitt and Skip DeWitt all of Lansing who all were there for her when there was no one else and never asked for any inheritance. She was preceded in death by her husband, a son, Larry A. Brown (July 2002), two infant great grandsons, and two sisters, Viola Cornell and Frances Oberst. Committal services and interment will be 11:00 AM Monday, August 25, 2003 at Chapel Hill Memorial Gardens with Pastor Bob Prange and the Reverend David Sifferd officiating.