Cleo Edward "C.E." Beaumont, son of Edward (1883-1956) and Sarah Jane (Hulett) (1887-1958) Beaumont, was born 11 January 1912 Ingham County, Michigan. He graduated in 1930 from Okemos High School. C.E. married Frieda Anne Schuneman 24 November 1938 Okemos, Ingham County. In 1943 Cleo entered the US Marine Corp and was honorably discharged August 1946.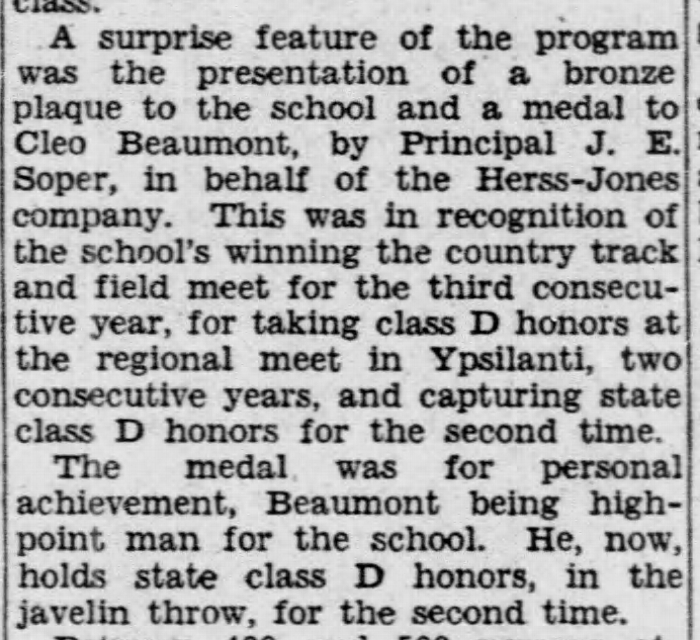 Photo from Lansing State Journal, May 16, 1929, a state championl
Lansing State Journal (Lansing, Michigan) Monday 20 March 1944
Beaumont - One of the most coveted awards of recruit training, the honor badge of efficiency, was award to Pvt. C.E. Beaumont, 32, husband of Mrs. Freda Schuneman, 241 Oxford road, East Lansing.
C.E. spent his employment career with the Consumers Power Company, moving into Mason County, Michigan in the early 1950's.
The Ludington Daily News (Ludington, Michigan) Tuesday 3 December 1957
C.E. BEAUMONT AREA MANAGER FOR SIX YEARS
C.E. Beaumont, area manager of the Ludington area of Consumers Power Co., is now in his sixth year at his post in Ludington.
Beaumont came to Ludington from Lansing on Aug. 1, 1952, succeeding F. A. Swanson upon his retirement.
Beaumont has been active in civic affairs in Ludington. He is past president of the Ludington Chamber of Commerce and past director of the United Fund. At present he is serving on the Ludington Planning Committee and the Paulina Stearns Hospital Board and is active in the Rotary Club.
Beaumont resides at 315 N. James St. with his wife and two daughters. The family is eagerly looking forward to moving into their new home at 707 Dexter St. soon.
The Ludington Daily News (Ludington, Michigan) Tuesday 3 December 1957
PUBLIC TO VIEW NEW CONSUMERS OFFICE ON WEDNESDAY, THURSDAY
Article with included following paragraph:
C.E. Beaumont is area manager and working under him are 45 employees who keep electricity flowing through the lines to over 9,000 meters in cities, villages and rural areas in Mason county as well as in the adjacent towns of Baldwin and Pentwater.
C.E. died 5 January 1982 Mason County. Frieda, born 25 July 1914 Canada, died 12 February 1989 Kalamazoo County, Michigan. C.E. and Frieda were interred Glendale Cemetery, Okemos.
Lansing State Journal (Lansing, Michigan) Thursday 7 January 1982
BEAUMONT, C.E.
707 DEXTER, LUDINGTON
FORMERLY OF EAST LANSING
Died Tuesday, Jan. 5, 1982. Retired area manager for Consumers Power Co. Husband of Frieda; father of Sharon Gordon of Huntingdon Valley, Penn., and Renee Higby of Kalamazoo. Funeral services is Friday at 2:00 p.m. at the Alexander-Rye Funeral Home., Ludington. Graveside services at 2:00 p.m., Glendale Cemetery, Okemos.