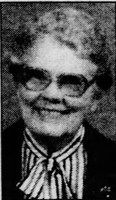 Addie Carolyn Redfield, daughter of Claude Lovell (1881-1958) and Sarah Ellen (Little) (1884-1916) Redfield, was born 12 November 1907, Eaton Rapids, Eaton County, Michigan. She graduated from Eaton Rapids High School and in 1930 from Michigan State College with a BS degree in Home Economics. Addie married Clarence Edward Prentice 17 July 1932, Eaton Rapids. Both of them were teaching school at the time of their nuptials.
Addie began her teaching career at Okemos Consolidated Schools in 1951, retiring in 1970. She and Clarence raised three children while both were heavily involved in their careers and in community activities.
Clarence, born 12 December 1905, Hastings, Barry County, Michigan, died 13 December 1996, East Lansing, Ingham County, Michigan.
Lansing State Journal (Lansing, Michigan) Sunday 15 December 1996
PRENTICE, CLARENCE E.
EAST LANSING
Age 91, died December 13, 1996. Born December 12, 1905, in Hasting, Mr. Prentice graduated from Hastings High School in 1924; Michigan State University in 1931 with a B.S. Degree in Agriculture; and Kansas State University in 1953 with an M.S. Degree in Agriculture Econ. He was employed with the Ionia Public Schools as an Agriculture Instructor from 1931-1936; MSU Agriculture Extension Service District 4-H Club Agent from 1936-1937; Sanilac Co. Agent from 1937-1949; MSU Agriculture Economics Department Extension Marketing from 1949-1953; U.S. Department of Agriculture State Administration Officer of Michigan A.S.C. from 1953-1966; Michigan Farm Bureau Sec. Mgr. from 1959-1966; and the Lansing Public Schools, Earth Science Instructor from 1966-1972. He was a member of the Lions International (President 1 year Sandusky Club); Kiwanis International; Okemos Club (President 1 year, Lt. Gov. and Designated Distinguished Lt. Gov.) ; Okemos Board of Education; Ingham County Intermediate Board of Education, Board of Directors; Michigan Association of School Boards; Lansing Farmers Club; American Farm Economic Society; Soil Conservation Society of America; Adult Education Association of Michigan; Alpha Zota Honorary; and Michigan Farm Bureau. He won the Award for Outstanding Contributions to Agriculture by Federal Land Bank of St. Paul in 1957; was on the Board of Directors of Nature Way Association of Woldumar; the Michigan Week Committee for several yeas; and was a member of the Okemos Community Church since 1949. His work over the years has taken him into all the 83 counties of Michigan and has given a general knowledge of agriculture and business problems of Michigan. Survivors are his wife, Addie; 21 daughter, Iris Jeane Prentice of Phoenix, AZ; 2 sons, Clarence (Carole) of Greenwood, IN, and LeVon A (Susan) Prentice of Grass Valley, CA; 9 grandchildren; 16 great grandchildren; 1 brother, Verne A. (Thelma) of Essexville'; 2 sisters, Ethel M. Gibson of Middleville and Helen I. Stern of Chicago; many nieces and nephews. There will be no visitation. Memorial services will be held Monday, December 16, 2 p.m. at Okemos Community Church 4734 Okemos Road, with the Rev. James W. Boehm, Pastor and the Rev. Dr. David S. Evans, Pastor Emeritus, officiating.
Addie Prentice died 29 October 2002, California.
Lansing State Journal (Lansing, Michigan) Thursday 21 October 2002
PRENTICE, ADDIE C.
EAST LANSING, MI
Age 94, died October 29, 2002. Born November 12, 1907 in Eaton Rapids, MI. Mrs. Prentice graduated from Eaton Rapids High School in 1926 and Michigan State University in 1930, receiving her BS degree in Home Economics and Education. She taught school at Shepherd High School, Deckerville High School, Bath High School from 1950-1952 and Okemos Middle School form 1951-1970. She was a member of Local, County, State and National Education Association, First President of Okemos Education Association, belonged to Retired County, State and National Education Association; Theta Chapter of Delta Kappa Gamma from 1962 to present (Honorary International Teachers Society), Ingham County Home Economists Organization from 1970 (President 1973) and in 1983 she was awarded the Certificate of Recognition for Outstanding Service to the Field of Home Economics Education from the Michigan Home Economics Education Association. She was a Charter member of the Okemos Woman's Club since 1958, President of the local and Ingham County Women's Club, member of the Ingham County Women's Home Association (Willow Manor, Lansing) since 1973, Project of Ingham County Women's Clubs, President in 1976, member of the Sandusky Methodist Church from 1935-1949 and Okemos Community Church from 1949 to present where she was past President and Treasurer of the Women's Society. She was preceded in death by her husband, Clarence E. in 1996, brothers, Fred H. Stirley, James B. Redfield and William M. Redfield. Surviving are her children, Clarence W. Prentice of Greenwood, IN, LeVon (Lee) A. Prentice of Grass Valley, CA and Iris-Jeane Prentice of Phoenix, AZ; 9 grandchildren; 19 great-grandchildren; sister, Annis C. Johnson of Williamsburg, VA. Memorial services will be held Friday, November 1, 2 pm at Okemos Community Church, 4734 Okemos Road, Okemos, with the Rev. Jeanne M. Randels, Pastor, officiating.