Mary Jane "Sally" Gregory, daughter of William Ten Eyck (1899-1973 ) and Eva (Birdsell) (1897-1956) Gregory, was born 18 October 1919, Milford, Oakland County, Michigan. After high school she furthered her education with a bachelor of science degree. Sally taught for one year, 1952-1953, at Okemos High School. According to the 1952 Tomahawk year book, she was a graduate of Michigan State College.
Sally married James Raymond "Jim" Hodgins 16 June 1945, Northville, Wayne County, Michigan. Jim, born 2 July 1919, graduated in 1933, at the age of 14, from Mt. Pleasant High School, Isabella County, Michigan. He entered, age 15, Central Michigan University, later receiving a Master's Degree in English from the University of Detroit and a Doctorate Degree in English from Michigan State College. He became an English and foreign language instructor in Spanish, German, French and Latin, teaching at various schools around the state of Michigan, spending 43 years in the English Department at Central Michigan University.
Jim and Sally c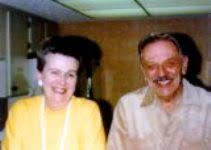 elebrated 51 years together. Jim died 30 May 1997. Sally died 16 November 2008. Inurnment was in Calvary Cemetery, Mt. Pleasant.
Charles R. Lux, Family Funeral Home and Cremation Service, Mt. Pleasant, Michigan
"And when eternity beckons, at the end of a life heaped high with love, may the good Lord embrace you with the arms that have nurtured you the whole length of your joy-filled days." – Irish Blessing.
Sally Hodgins, 89, of Mt. Pleasant passed away Sunday, Nov. 16, 2008 at her home.
A memorial Mass celebrating her life will be held at 11 a.m. Saturday, Nov. 22, at Sacred Heart Catholic Church with Father Loren Kalinowski presiding. Cremation has taken place and her ashes will be interred in Calvary Cemetery along with the ashes of her late husband, James Hodgins.
The family will receive friends at the church on Saturday from 10-11 a.m.
Those wishing to make an expression of sympathy may wish to consider a gift to Woodland Hospice (formerly Hospice of Central Michigan). Envelopes will be available at the church or at the Charles R. Lux Family Funeral Home.
Sally was born Oct. 18, 1919, at Rattlesnake Ranch just outside Northville, the daughter of William and Eva (Birdsell) Gregory. She married James R. Hodgins on June 16, 1945 in Northville.
After graduating from Eastern Michigan University, she began her teaching career at Highland Park High School. She went on to teach at schools in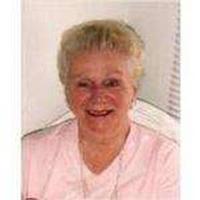 Livonia, Okemos, Beal City, and Mt. Pleasant. She inspired countless students to reach for academic excellence and promoted high expectations for success in life. Sally is remembered by many for her gentle kindness.
Sally was proud of her Irish heritage and enjoyed reading, gourmet cooking, sewing, knitting, traveling, entertaining, and cats. She enjoyed her retirement years and especially spending winters in St. Augustine, Florida.
She is survived by her close nieces and nephews, Barbara Ann Ingram, Jane (James) Kasper, William (Mary) Gregory, Carol Anne Prosser, Kathy (Scott) Cole, Marsha Bullard, and William Hodgins. Her extended family includes many grand nieces and nephews, among them, Michael (Cecelia) Grace, Michel Grace, Scott (Linda) Grace, Renee (Todd) Fabiano, Annette (William) Welsh, and Keeley Gregory; 15 great-grandnieces and grandnephews; five great-great-grandnieces and grandnephews; and her beloved cat, Murphy.
Sally was preceded in death by her husband of 52 years, James R. Hodgins in 1997; her parents; and her brother, Thomas William Gregory.