Lyle Orion Wakeman, son of Miner E. (1881-1967) and Anna May (Barber) (1887-1964) was born 22 November 1916, Hamilton, Allegan County, Michigan. He graduated from Allegan High School, attended and then graduated from Western State Teachers College (now Western Michigan University) with a BS degree. Lyle married Charlotte I. Phillips 27 December 1939, Benton Harbor, Berrien County, Michigan. During World War II Lyle was drafted an served in the US Army.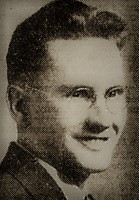 Lyle was Okemos' elementary school principal from about 1951-1957. During that time he furthered his education at Michigan State College (now Michigan State University) with an advanced degree.
Lansing State Journal (Lansing, Michigan) Friday 19 February 1954
KINDERGARTEN
REPORT CARDS ILLUSTRATED
Okemos kindergartners now get their school report cards illustrated and in color. The new cards replace more conventional reports generally used in school markings.
Pupils are graded on citizenship, work habits, expression, health habits and other interests.
For each category several small drawings are provided on the card to illustrate the marks.
Lyle Wakeman, elementary school principal, said the new card was designed by kindergarten teachers along with Supt. George Richards and himself. It may be expanded to some other grades, he said.
Wakeman said the illustrations are employed because it is found children better understand what is wanted of them and the colors "out some life" into the cards.
He said the drawings were made by Mrs. Joyce Slack and Mrs. Mildred McKinley, kindergarten teachers at the school last year. Mrs. Slack has since left the school.
The principal said the cards were first sent home Jan. 22 and reports from parents have been enthusiastic.
Lyle and Charlotte had 5 children. Lyle died 8 May 1998, Allegan County, Michigan. Charlotte, born 15 March 1915, Beloit, Lyon County, Iowa, died 3 September 2003. Lyle and Charlotte were interred Poplar Hill Cemetery, Monterey Center, Allegan County.
Charlotte Wakeman, 88 of Hamilton, died Wednesday, September 3, 2003 at Hospice House of Holland. Mrs. Wakeman was born March 15, 1915 in Beloit, Iowa the daughter of Charles and Harriet (Lowden) Phillips. She had retired from Hamilton Community Schools and was a member of the Diamond Springs Wesleyan Church.
Surviving are 3 children and their spouses, Barbara & Bill Keithley of Buford, GA, Robert & Glendee Wakeman of Hamilton, Nancy & Ed Gerstung of Parma; 9 grandchildren; 7 great grandchildren; 1 brother, Charles Phillips of Leesburg, FL; 1 sister, Norma & Owen Wakeman of Wayland; several nieces and nephews. She was preceded in death by her husband Lyle in 1998; 2 children, Donald Wakeman and Diane Lutz; a daughter-in-law, Regan Wakeman; and 6 brothers and sisters. The family will receive friends Friday from 6-8 pm at the Gorden Funeral Residence, Allegan Chapel.
The funeral service will be held Saturday 11:00 am at Diamond Springs Wesleyan Church. Pastor Thomas McCall officiating. Interment Poplar Hill Cemetery, Monterey Township.