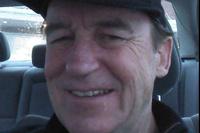 John M. G. "Mike" deMartelly, son of John Stanton (1903-1979) and Janet Douglas (Spaeth) (1909-1966) deMartelly, was born 10 February 1946. Mike's parents married 9 March 1937 Clay County, Missouri. His father was a renowned artist in oils and a lithographer. Janet, his mother, was well known as a sculptor. She also worked with silk screening and block linens. John Stanton and Janet deMartelly lived 6 months a year in Michigan and 6 months a year at a family home in southwestern New Hampshire.
Lansing State Journal (Lansing, Michigan) Saturday 25 June 1966
WOMAN, 57, KILLED IN SMASH-UP
Mrs. Janet DeMartelly, 57, of Okemos, wife of an artist-in-residence at Michigan State University, was killed and her husband, John, was injured Friday in an accident on the New York State Thruway near Canajoharie, N.Y.
The DeMartelllys, who lived at 5089 Powell Road, were on route to their summer home near Nelson, N.H., where they had spent many summers.
New York State Police said Mrs. DeMartelly, a sculptor and artist and daughter of the former president of Kansas University, was driving when the car left the Thruway and overturned.
Mr. DeMartelly was reported in good condition at Memorial Hospital in nearby Amsterdam, N.Y. His injuries were described as minor by hospital attendants.
Surviving besides her husband are two daughters, Mrs. Taya Bergman of Ann Arbor, and Mrs. Joey Geraci of Boston, and a son, Michael, a student a University of Michigan.
Mrs. Bergman said her mother's body would be taken to Nelson for funeral services and burial, either Sunday or Monday.
Mike attended Okemos Public School from his elementary years through his freshman year in high school as part of the class of 1964. His two older sisters were both OHS graduates. Mike left Okemos to become a student at and graduate of Northfield Mount Hermon School in Gill, Massachusetts. He first attended the University of Michigan and then finished out a bachelor's degree at Michigan State University.
Mike married and with wife Libby lived for many years in New Hampshire where he was employed by New Hampshire Department of Transportation. Mike succumbed to pancreatic cancer 26 August 2018.
SentinelSource.com 28 August 2018
John M.G. "Mike" deMartelly, 72, a longtime resident of Harrisville, died on Sunday, Aug. 26, 2018.
He passed peacefully in the comfort of his home with his family near. Services are incomplete and under the care of Cheshire Family Funeral Chapel and Crematories, 44 Maple Ave., Keene.
https://www.sentinelsource.com/news/obituaries/mike-demartelly/article_14a081a0-cf59-59ac-8bba-32dabf1da88b.html