Marguerite Strayer, daughter of Charles C. (1860-1928) and Melinda A. (Kirkpatrick) (1864-1932), was born 17 September 1902, Meridian Township, Ingham County, Michigan. Marguerite graduated in 1920 from the Okemos school system and enrolled that fall in Ingham County Normal to certify as a teacher.
Lansing State Journal (Lansing, Michigan) Tuesday 7 September 1920
INGHAM COUNTY NORMAL OPENS; 14 TAKE COURSE
Mason, Sept. 7 - The county normal opened here Monday with nearly double the number of pupils of a year ago, 14 young women having decided to take this way of preparing to teach. Last year but eight took the course, the smallest number in the history of the school. Miss Marion Blount of Lake City, is to act as normal superintendent this year, with Miss Minnie Severance as normal critic. This is the first time since the school was started in this county that a change has been made in superintendents, Miss Lydia M. Piatt, having held the position for 12 years.
Students already enrolled for this year, with a possibility of one or two more a little later, are: Margaret Strayer, Okemos; ....
Marguerite graduated in June 1921 from County Normal and was immediately contracted, at an average salary of $95.00 per month, to teach at Wilson-White Oak No. 2 within Ingham County.
Lansing State Journal (Lansing, Michigan) Sunday 10 May 1959
M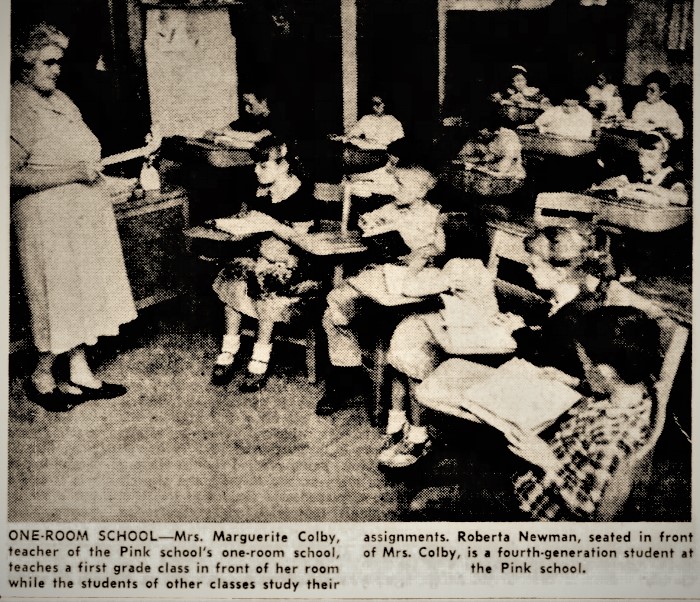 arguerite married Herbert John Colby 5 August 1922, Okemos, Ingham County. They would celebrate 47 years and 7 children together.
Marguerite taught school at Okemos for 16 years and in the Mason area for more than 26 years including a long stint as teacher in the Mason one room schoolhouse called, "Pink."
Herbert, born 26 April 1901, died 24 October 1969. Marguerite died 27 April 1985, Delhi Township, Ingham County. Herbert and Marguerite were interred Maple Grove Cemetery, Mason.
Lansing State Journal (Lansing, Michigan) Sunday 28 April 1985
MARGUERITE COLBY
MASON
Age 82, died April 27, 1985 in Delhi Township. Born Sept. 17, 1902 in Meridian Township. Mrs. Colby was a member of the First Baptist Church of Mason. A life member and past matron of Mason-Dansville Chapter #150 of the Order of the Eastern Star. She was a country school teacher in the Mason area for 26 years retiring in 1965. Surviving Mrs. Colby are 4 daughters, Mrs. George (Virginia) Olson of Clairemore, OK, Mrs. Robert (Joyce) Fox of Owosso, Mrs. Norman (Ilah) Jeffrey of Lansing, Mrs. Eugene (Mary Jane) Johnson of Pontiac; 3 sons, Harry Gene Colby, David Colby, and Kenneth Colby all of Holt; 20 grandchildren; 12 great-grandchildren; 3 sister, Kittie Smith of Vally, WA, Ida Jenning of Haslett, and Ann Piper of Okemos; several nieces and nephews. Funeral services for Mrs. Colby will be held Tuesday 11:30 a.m. at the ball-Dunn Chapel, Gorsline-Runciman Co., Mason, with the Rev. William D. Wolfe of First Baptist Church of Mason officiating. Special services will be conducted by the Order of The Eastern Star Mason-Dansville Chapter #150. Interment will be held in Maple Grove Cemetery.