Warren Lee Vietzke, son of August (1899-1990) and Lydia (Hawes) (1903-2009), was born 31 October 1926, Lansing, Ingham County, Michigan. Warren's mother lived to be 105 years old!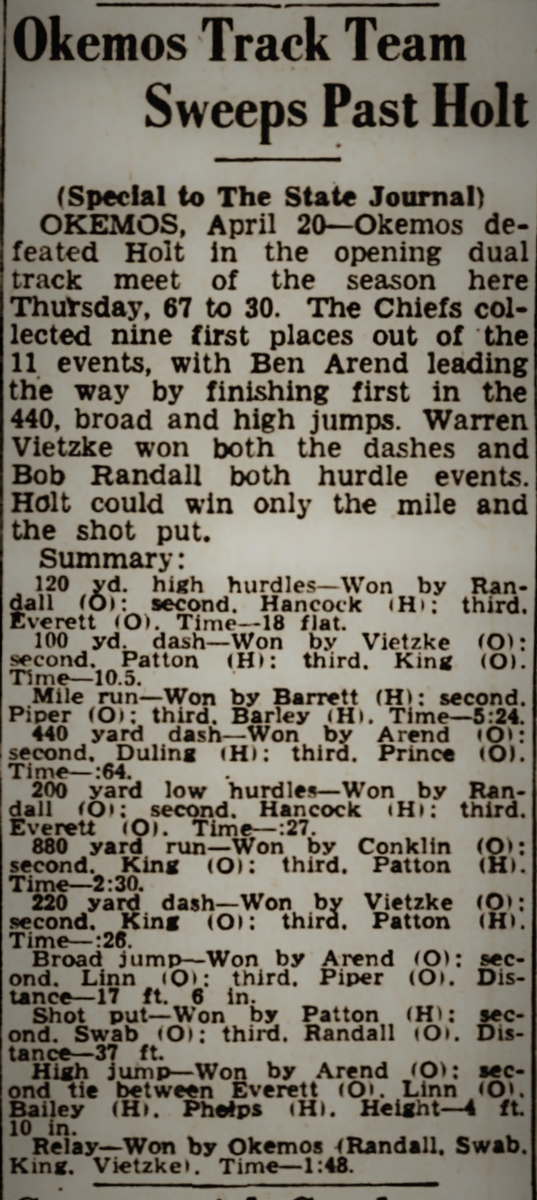 Published in Lansing State Journal on April, 2008Warren graduated in 1945 from Okemos High School, where he was a member of the track team.
Lansing State Journal (Lansing, Michigan) Thursday 25 January 1945
Warren Vietzke, son of Mr. and Mrs. August Vietzke, and a member of the senior class of Okemos high school, was among those who left Monday morning from Mason to go to Detroit for the physical examination prior to induction into armed services. Warren who passed the examination, is due to graduate in May.
Lansing State Journal (Lansing, Michigan) Tuesday 12 June 1945
The Community church Youth's Fellowship held a party at the Southworth home Thursday evening honoring Warren Vietzke who left Monday morning for the armed services. A treasure hunt and outdoor games preceded the popcorn and punch refreshments. There were 25 in attendance.Published in Lansing State Journal on April, 2008
After honorable discharge from the US Army Air Corps Warren went to work for General Motors. Warren met Millie and fell in love. On 6 October 1951 Warren and Mildred Marie "Millie" Musolf married in Lansing. Millie, born 6 13 June 1932, was a graduate of Lansing Sexton High School.
Lansing State Journal (Lansing, Michigan) Friday 19 October 1951
200 ATTEND MUSOLF-VIETZKE WEDDING HERE
Nearly 200 guests witnessed the 8 p.m. ceremony Oct. 6 which united in marriage Miss Mildred Marie Musolf and Warren Lee Vietzke. Rev. William Blanding performed the rites at the Free Methodist church.
The bride is the daughter of Mr. and Mrs. Otto A. Musolf, 2016 Culver st. Mr. and Mrs. August Vietzke, R. 1, East Lansing, are the bridegroom's parents.
For the ceremony, the bride donned a lace gown with puffed sleeves and a tiered skirt. Her nylon veil was attached to a satin cap and she carried a bouquet of red roses.
A pale green taffeta moire gown was worn by Mrs. Glen Deisler of Howell who was matron of honor. She carried yellow roses and toast-colored chrysanthemums in a basket bouquet. Junior bridesmaid was the bride's sister, Laurel Musolf. She had a pink taffeta moire dress and carried a bouquet of pink roses and chrysanthemums.
Glen Deisler was best man while Dwight Vietzke, the bridegroom's brother and Frederick Musolf, the bride's brother, ushered.
William Blanding, Jr., played the organ for the ceremony. Carl Hoover, soloist, sang two selections.
Following the reception in the church parlors, the newlyweds left for a honeymoon at Niagara Falls, New York, Pennsylvania and Ohio. For traveling, the bride wore a green tailored suit and a red rose corsage. They will live at 2319 N. Grand River ave.
At the reception, Miss Joyce Combellack, Miss Mary Ellen Claflin and Miss May Leonard served. Special guests were from Milwaukee, Saginaw, Williamston and Sanford.
Warren and Millie celebrated 4 children and 60 years of marriage together before Millie died 13 March 2012, East Lansing, Ingham County. Warren died 30 October 2018, East Lansing.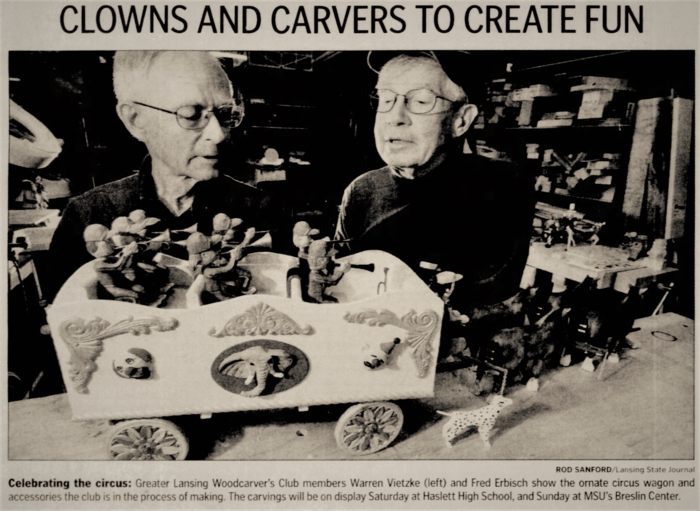 Published in Lansing State Journal on April 11, 2008
Published in Lansing State Journal on March 18, 2012
Mildred "Millie" M. Vietzke
East Lansing
Mildred passed away at home surrounded by family March 13, 2012 at the age of 79 after a long battle with cancer. Mildred was born in Lansing on June 13, 1932 to Otto and Lola Musolf. Millie served as Secretary to many Superintendents of Bath Schools for 22 years. She was also a life-long member of the Chapel Hill Methodist and Okemos Community Churches. When not traveling abroad, Millie was an avid quilter who enjoyed classical music, the performing arts, and playing card games with friends and family. She is survived by her husband of 60 years, Warren Vietzke; two sons and daughters-in-law, Lynn and Rose Vietzke of Bath, MI and Les and Mary Vietzke of Ada, MI; two daughters and sons-in-law, Laurel and Craig Cheyne of The Woodlands, Texas, and Leanne and Peter Vigliano of Montclair, Virginia; brother and sister-in-law, Fred and Marlene Musolf; sister and brother-in-law, Laurel and John Headley; 11 grandchildren; four great grandchildren; and many beloved friends. A memorial service is planned and will be announced at a later time. Donations may be made in Millie's name to Hospice Services, Sparrow Foundation, PO Box 30480, Lansing, MI 48909, Okemos Community Church, 4834 Okemos Rd, PO Box 680, Okemos, MI 48805 or a charity of your preference
.