Eric Jay "Jay" Bailey, son of Philip T. (1932-1984) and Mary Louise (Hammond) (1933-2015), was born 7 November 1959, Adrian, Lenawee County, Michigan. Jay's father was an US Army veteran of the Korean War. Jay graduated in 1979 from Okemos High School where he excelled in the Cross County and Track Program, setting a Long Jump record in 1979.
Lansing State Journal (Lansing, Michigan) Sunday 21 May 1978
Jay Bailey was Okemos' star for the afternoon after he won the 880 and 440 and figured in his team's mile relay victory.
Jay died, age 58, 22 May 2018, Michigan.
Gorsline-Runciman Funeral Home obituary: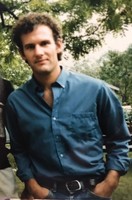 Longtime Okemos resident, Eric Jay Bailey, passed away on Tuesday, May 22nd at the age of 58. Born in Adrian, MI in 1959, his family moved to Okemos in the early 60's where he lived the rest of his life.
Known by family as Jay, he was an accomplished athlete at Okemos High School in Football, Cross Country and Track, and still holds the school record in Long Jump, set in 1979, the year he graduated.
Jay enjoyed writing poetry, painting, and caring for the many family pets over the years. He had a fondness for giving each pet several unique names. Jay was always willing to help friends in need, and did so without hesitation.
Jay is survived by his brothers, Kirk (Sue) of Hartford, WI and Philip D. of Okemos; sister, Cathleen (Greg) of Livonia, as well as nineteen loving nieces and nephews. His parents, Philip T. Bailey and Mary L. Bailey predeceased him.
Instead of flowers, donations can be made to the Michigan Humane Society online at https://www.michiganhumane.org/, or by mail to: 30300 Telegraph Rd., Suite 220, Bingham Farms, MI 48025-4507.
Visitation at Gorsline Runciman East Chapel, 1730 E. Grand River Ave., East Lansing, Mich., Sunday 12 noon until service at 1 p.m.