History of Community Circle Players/Riverwalk Theatre - Barn Theatre in Okemos
Submitted by Teri Taylor class of 1969, from RiverWalkTheatre.com
Once Upon A Time
When a small group of Lansing Theatre lovers, led by Adrian and Rose Marie Robinson, organized the Community Circle Players in 1958 in a little warehouse on Sheridan Street (now Oakland Avenue), they didn't realize they were setting the stage for a respected community theatre that, over 50 years later, would play an important role in the revitalization of downtown Lansing. CCP was dedicated to quality in an all-volunteer theatrical organization and grew in community support and stature. In 1962 we established our bylaws, and in 1964 received our 501 © 3 tax-exempt status.
The Okemos Barn
In 1964, CCP moved into the facility that was part of our identity for 22 years – The Okemos Barn Theatre. The renovation project was formidable, but the faith and hard work of Bee and Karl Vary, Ron Grow, Evelyn Machtel, Wes and Winifred Olds, Wayman Underwood, Bill Montgomery and others, along with community support, made that dream a reality.
Delta Dental owns the property where the Okemos Barn stood. Due to Delta's development plans, the Barn's lease was not renewed. In September, 1986, the Barn was torn down. Delta remains a good friend of CCP, however, and donated $25,000 in matching funds to help the relocation project.
---
The following is a sampling of articles from the Lansing State Journal from 1963-1987, telling the story of the Community Circle Players' time in the Barn Theatre, Okemos. Laurel Winkel, OHS 1968
---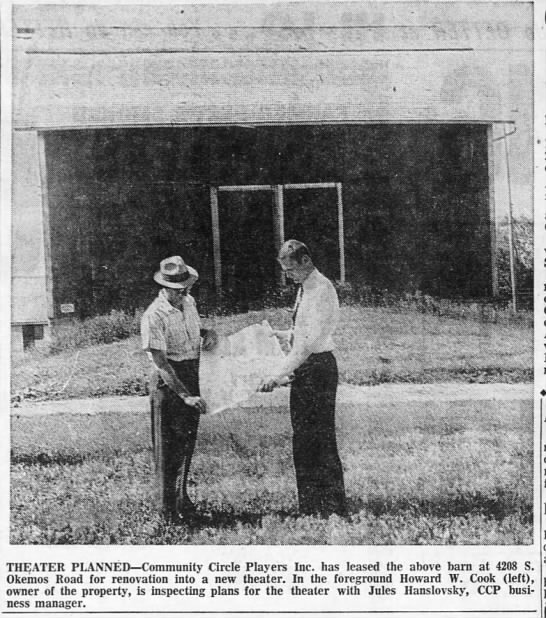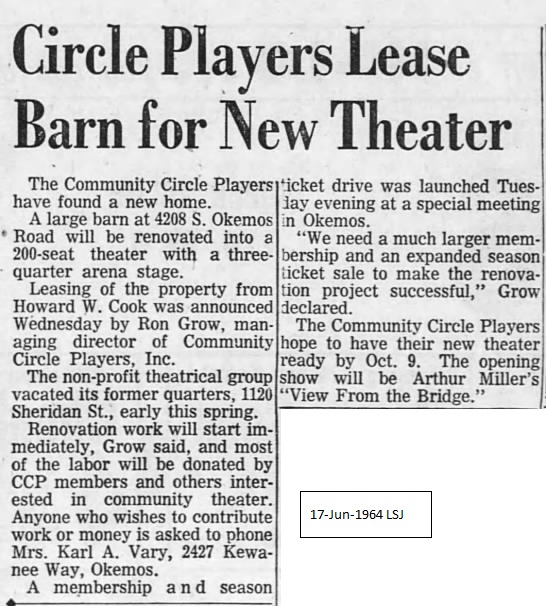 ---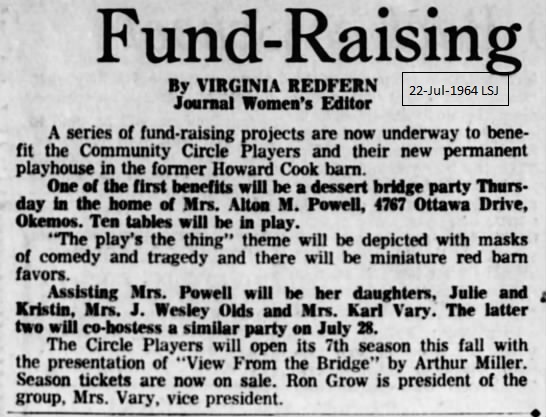 ---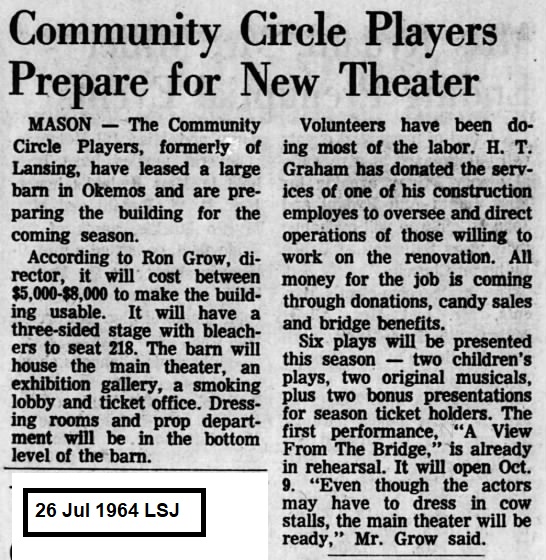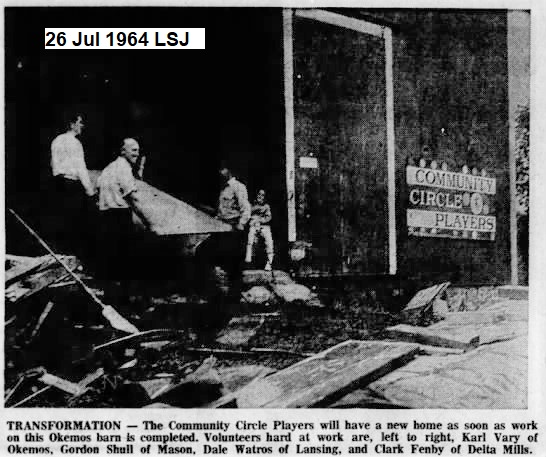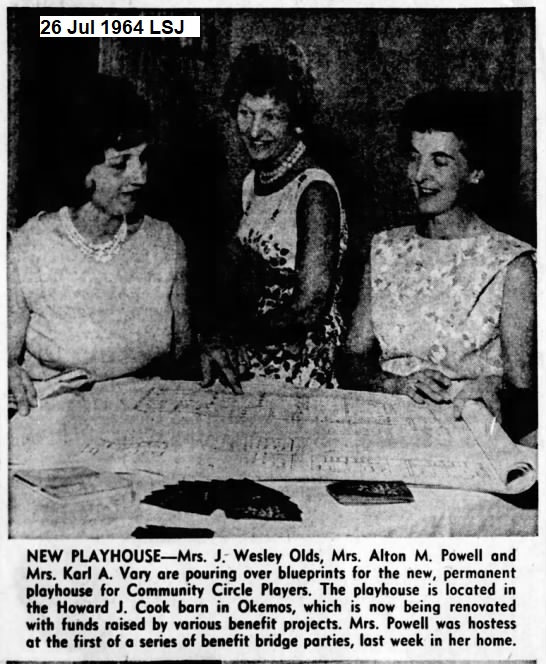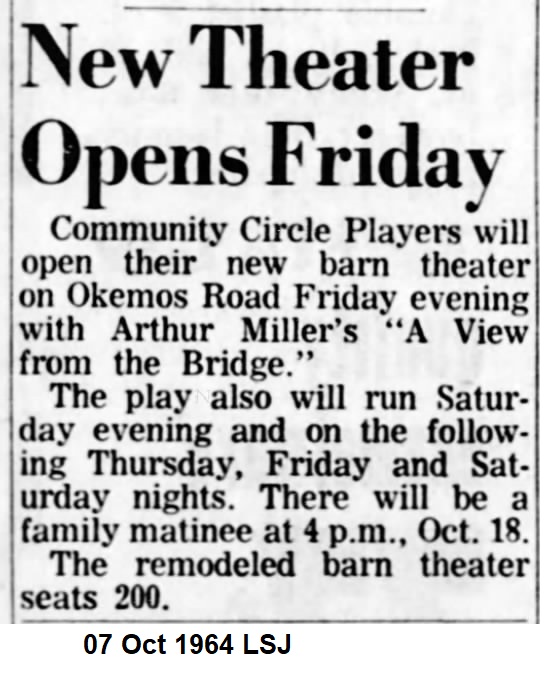 ---
---
---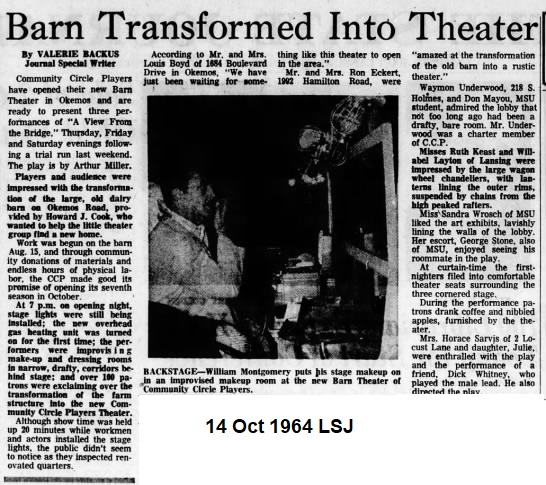 ---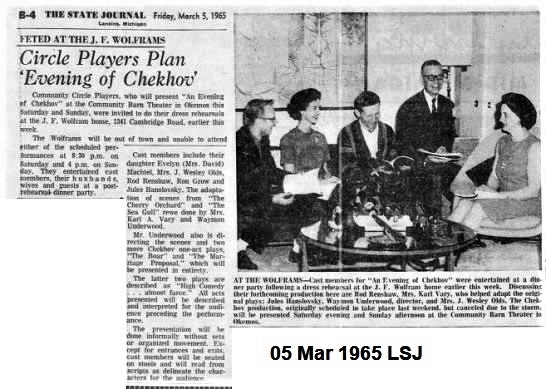 ---
Barn Theater In Okemos Nurtures Talent (images below)
SECTION D Lansing State Journal SUNDAY, MARCH 28, 1965
By Virginia Redfern, Journal Women's Editor
The words "before" and "after" conjure up fascinating contrasts. And that is just what comes to mind on a visit to the newly-refurbished Community Barn Theater in Okemos.
Before last August, it was a large. 70 year-old. weathered, red barn, helping to create the effect of a Grandma Moses scene on the wooded green acres of Edgebrook Farm on S. Okemos Road.
The interior was musty and dusty, with empty cattle stalls and cobwebs clinging to the rough-hewn walls and lofty rafters.
But since last August, when it was made available to the Community Circle Players group by Howard J. Cook, who leased it for little theater production, it has been radically transformed.
It has been scrubbed, painted, decorated and furnished through the efforts of hundreds of interested people, including not only the Circle Players, but also members of the Okemos Woman's Club, the Haslett-Okemos Rotary Club and the Okemos Garden Club. A number of individuals and other organizations also contributed to make the little theater come to life. (Continued on Page D-13)
- "PIERRETTE" This life-size painting done by Mrs. R. Lee Walters matches her "Pierrot." They decorate the swinging doors into the loft theater.
- "MARY STUART" NEXT "Mary Stuart" is the next production scheduled at the Community Barn Theater to open April 8. Players pictured ore Mrs. Karl Vary (left) who plays the title role and Miss Helen Shaw who plays the role of Queen Elizabeth I of England. Their costumers are Mrs. Elden Miller (left) and Mrs. Dean C. Niswander. Performances will be presented also on April 9, 10, 16, 17, 18.
- THE WOMAN'S TOUCH Mrs. Clarence E. Prentice, Mrs. Charles E. Brumm and Mrs. Benjamin Hassell are three of the many members of the Okemos Woman's Club who pitched in to pretty up the smoking lounge on the first floor of the Barn Theater with window seat covers, curtains and decor accents, such as the painted milk can and horse collar.
- THEATER PARTY Dr. John Dunkel so loves the Community Barn Theater that he sometimes reserves all the seats for one night and entertains at a theater party. His young guests here are (left to right) Jeffrey and Angela Hammerberg and Betty and Nancy Dunkel, his daughters. Mrs. Karl Vary, box office, stands behind.
- FLOWER BED Hundreds of bulbs were planted in flower beds around the Community Barn Theater by members of the Okemos Garden Club including Mrs. H. J. Renaud, Mrs. Donovan A. Eastin, Mrs. Conrad D. Wallin and Mrs. William A. Austin. Mrs. Austin, one of the dedicated members of Community Circle Players, also is chief costumer.
- RIGHT: ART IN LOBBY A pegboard in the loft lobby of the Community Barn Theater holds rotating displays of art, such as these puppets loaned by the Junior League of Lansing. Talking over theater needs are Noel Miller, vice president, and Jack E. Stein, president of the Haslett-Okemos Rotary Club which donated funds for the lobby chandeliers.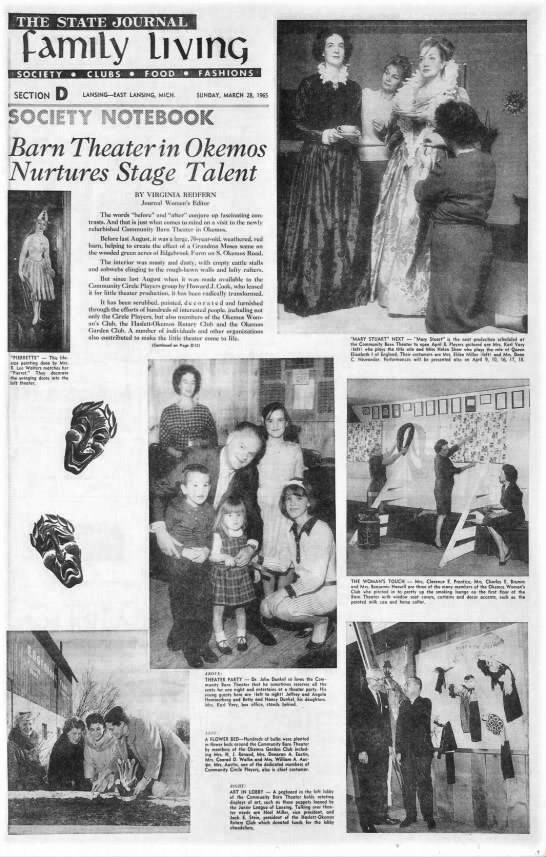 Concluded from Pg. D-1 (image of article below)
Community Barn Theater Grows
Volunteers pitched in for two months to convert the L-shaped dairy barn into a rustic little theater which held its grand opening last October.
Many materials and labor services were donated such as lumber and carpentry, heating and lighting, plumbing and painting. Volunteers from the Okemos Woman's Club rolled up their sleeves and scrubbed the floors and whitewashed the walls.
STALLS AND TROUGHS
Old feeding stalls were transformed into "conversation stalls" or window seats which were slipcovered in cheerful bright red. These are in the smoking lobby which also is fitted out with" pretty print curtains, a piano, a floor planter (formerly a trough) stocked with bright shrubs and flowers and rustic accents such as hand-decorated milk cans, horse collars for wall hangings and wagon wheel chandeliers.
The art lobby (where works of many local area artists are on rotating display) and the circle theater are located upstairs. The seats, all bought from defunct movie houses or other similar sources and installed by volunteers, are arranged in a semi-circle. Drama can be staged in the semi-round or on the small stage which is equipped with a balcony. The balcony, incidentally, will be used for one scene of "Mary Stuart."
There's still a long way to go. explain members of the enthusiastic little theater group, and many needs to be met such as a new floor for the art lobby, a new surface for the parking lot, many other features that will make the theater more attractive, but "we're proud and happy to have progressed this far."
THEATER WORKERS
The managing director of Community Circle Players is Ron Grow, who, with his wife, recently produced an original musical "That's The Way the Castle Crumbles" described as "very good," "clever," "delightful" by all who saw it. Other officers on the board of directors are Jules Hanslovsky. business manager; Mrs. J. Wesley Olds, publicity; Mrs. Karl Vary, personnel; Frank Egan, professional adviser; and Mrs. David Machtel, membership.
The production staff includes Ron Renshaw, Jeff Stuttman, Andrew Marein, Richard Whitney, Lance Renshaw, Mrs. William A. Austin, and Mrs. D. James Roosa. The business staff includes Miss Janet Walker, Mrs. George Secor, Waymon Underwood and John Dunlevy.
Patrons are: Mrs. G. Olds Anderson, Mrs. Clarence S. Roe. Mr. and Mrs. E. B. Breithaupt. Mrs. E. Paige Birdwell, Mrs. Robert Cahow, Mrs. Geo. R. Collins, Dr. and Mrs. A. H. Craven, Martha Dixon, Dr. and Mrs. J. F. Dunkel, Mrs. Don G. Fox, Mrs. Alma Goetsch, Mr. and Mrs. Ron Grow, Lee Hamrick, Mrs. John H. Hoagland, Karl Hodges, Miss Fern Johnson, Mrs. Ruth Kelly, Mrs. David Machtel, Mr. and Mrs. J. W. Olds, Mr. and Mrs. D. James Roosa, Mrs. Allan Schmid, Eric Simcox, Mrs. Margaret K. Small, Kenneth E. Tribell, Waymon M Underwood, Mr. and Mrs. Karl A .Vary, Dr. and Mrs. Carl West, Richard Whitney, and Miss Katherine Winckler.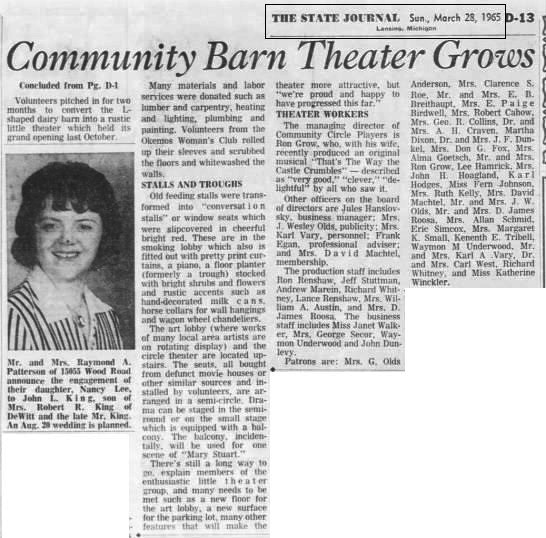 ---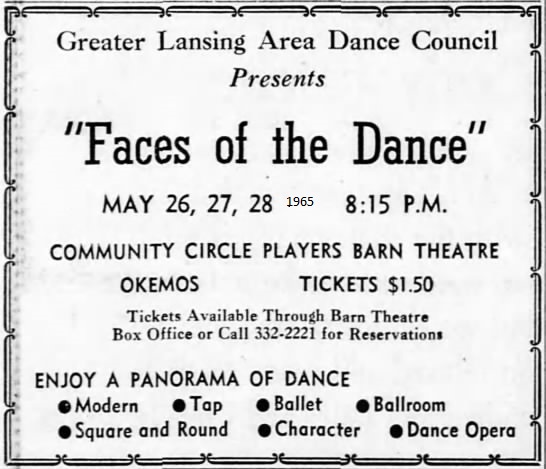 ---
Not all productions were theater based:

---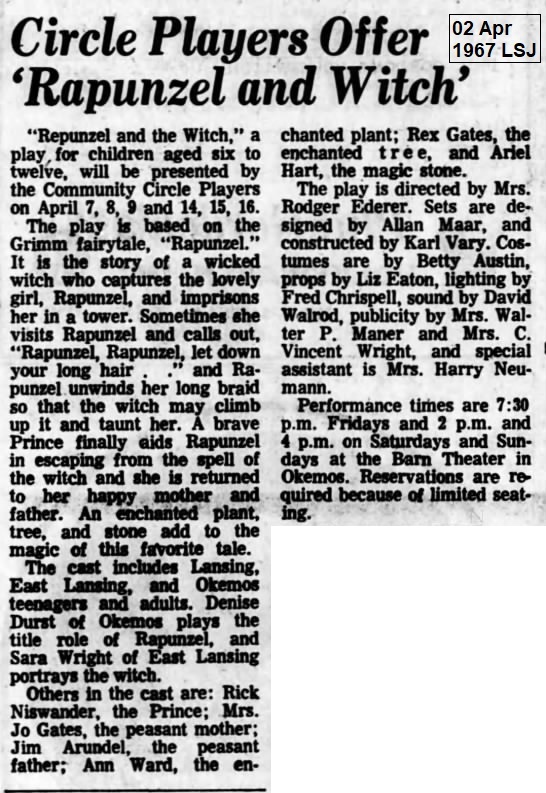 ---


---
Meridian voters reject community center funding plan - (image of article below)
Lansing State Journal Tuesday, April 30, 1 985 By JAMES A HARRIS
A proposed funding plan for a $1.2 million municipal center was overwhelmingly rejected Monday by Meridian Township voters.
The Community Circle Players now will likely have to find a home outside the township for the proposed 300-seat auditorium and adjoining public meeting rooms. .
"Obviously we're very discouraged by the fact the township wasn't more supportive of the concept of a community center," said Robert Mellor. chairman of the voters reject community center funding Committee For the Municipal Auditorium.
The final unofficial tally in the special election was 1,403 against and 535 for permitting the township to issue bonds for construction of the facility.
Township Clerk Virginia White said the voter turnout of 1,943 represented 9.3 percent of the township's registered voters.
The Community Circle Players sought to place the bond proposal on the ballot after the theater group was told it must leave its current home at the Okemos Barn Theater by December 1986.
"I guess people looked on it as serving the selfish concerns of the Community Circle Players instead of the community, and that was not the case," Mellor said: "We though we were getting the word out it was for the community. I think many people voted no because they didn't understand what it was." .
Mellor said prior to the election the theater group searched out alternative locations and has pretty much eliminated the possibility of remaining in the township.
"It was disappointing that a community like Meridian Township, one that you would expect to want something like this, would turn it down so adamantly," Mellor said, adding that the theater group still has time to find a new location.
The proposed bond issue would have been paid for with an increase in property taxes, costing the average homeowner $14 a year initially and dropping to $10 as the bonds were paid off over 15 years. The Community Circle Players contributed $5,000 to defray the cost of Monday's election.
The group said it was prepared to pay $115,000 up front to be used for an annual lease payment of $15,000 a year had the proposal carried. The group said it also would contribute up to $10,000 a year to help cover maintenance costs. Despite the lopsided vote, opposition to the bond issue had not been apparent, or was carefully expressed.
The Haslett school board, for instance, maintained a neutral position on the bond proposal, but reminded voters in a newsletter that the school district needs a new auditorium of its own, and the proposed township auditorium would not be an adequate substitute.
"The reason we felt there was a need for clarifying that," said Superintendent Jeremy Hughes, "was there seemed to be some feeling that instead of the school district and the township building separate auditioriums, they should be working to build an auditorium that both could use."

---
Okemos Barn Theater may move to Lansing, change name - (image of article below)
Wednesday. Nov. 20, 1 985 By MIKE HUGHES Lansing State Journal
Lansing's downtown "culture complex" may have another element next fall the Okemos Barn Theater.
The theater wouldn't have that name, of course. It would no longer be in a barn or in Okemos.
But the group's board is leaning toward a plan that would put it in a warehouse next to the Impression 5 Museum, alongside the Riverwalk.
"It's sad to leave the barn, be cause it's such a strong image," said Tom Ferris, the group's president "But just the thrill of the new venture is exciting."
To work, Ferris says, the plan still has to clear three hurdles:
* Approval at a board meeting Saturday night
* General enthusiasm in a public meeting at 2 p.m. Sunday at the Barn.
* And indications that fund-raising efforts would succeed.
If all of that clicks, Ferris says, the remodeling could start in January and the new spot could be ready in September, changing the face of the local arts scene.
The group officially called Community Circle Players began 25 years ago. It tried other sites briefly, then moved into a barn along Okemos Road.
Over the years, it has used a campus-community link to tackle plays that are uncommonly daring. It has also had uncommon financial comfort including a current surplus of $65,000.
Meanwhile, the farm on which the barn sets has been sold to Delta Dental, which plans to tear down the barn and sell the land. It has given the group until September to leave.
That led to an elaborate search. "We had originally intended to stay east of East Lansing," Ferris says.
That changed to a possible site in the midst of an emerging culture complex.
Impression 5 and the R.E. Olds Museum are side-by-side on Museum Drive (formerly Mill Street), alongside the riverwalk on the east side of the Grand River. They're within walking distance of the Center For The Arts (home of BoarsHead Theater and the Lansing Art Gallery), the state museum and Lansing Community College's Dart Auditorium.
The plan involves a separate warehouse owned by Impression 5; it adjoins the museum on the east but is currently used only for storage.
The Barn would take half that space 50-by-140 feet with a 30-foot ceiling. It would then build a separating wall and add the details - insulation, heat, cooling, restrooms, the theater space and more. The cost estimates haven't been worked out so the best Ferris can guess is that it could be $200,000 or possibly much more.
Impression 5 would provide the space for $1 a year, the same price now paid to Delta Dental. It would be able to use the theater for its own shows and would negotiate a percentage of profits after the first seven years. The total deal would run for 20 years.

---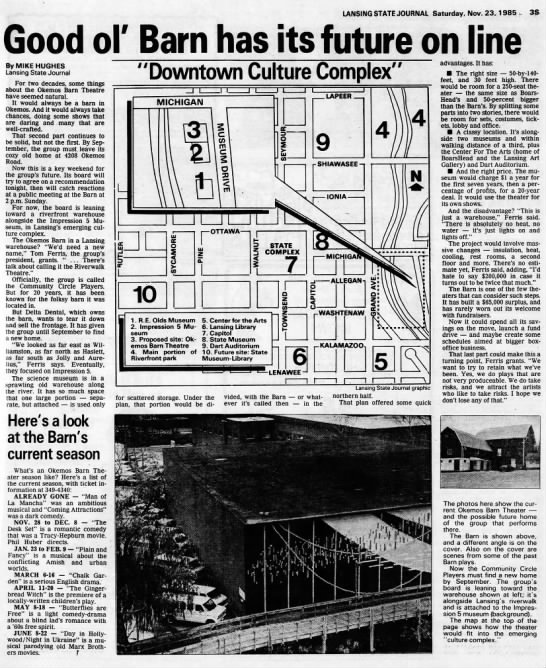 ---
June 26, 1986 Lansing State Journal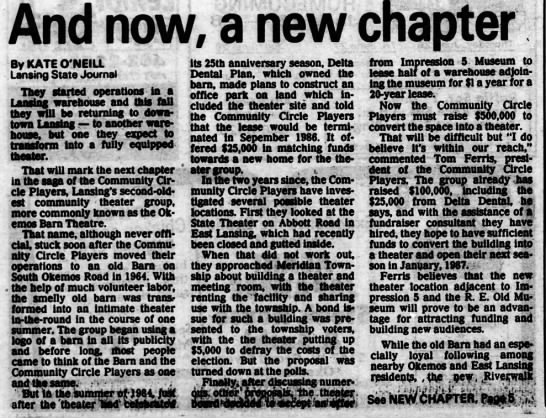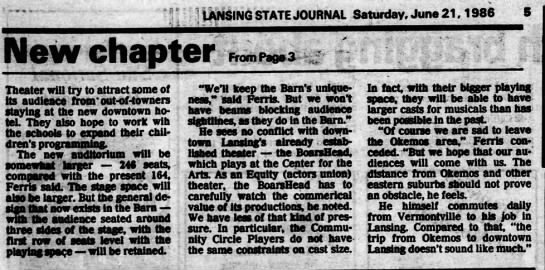 ---
June 26, 1986 Lansing State Journal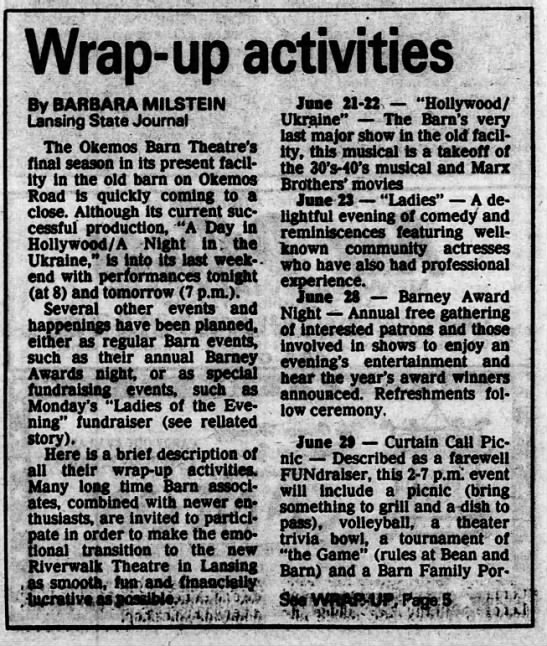 ---
Barn had some very special moments - (image of article below)
by Kate O'Neill, Lansing State Journal July 3, 1986
It was a week of "last times" at the Okemos Barn Theatre, an old familiar structure due to be demolished sometime this fall.
The last shows, plus two final .events: the traditional end-of-the-season Barney awards on Saturday evening and a picnic for everyone on Sunday.
Even then, the reality of the Barn's end didn't seem to be sinking in.
"It's hard to imagine that we won't be back here in the fall putting another show together," .someone said.
"It was amazing what we did with that space," another added. "I loved discovering the transformation that took place with every show. You couldn't believe it was the same space!"
There was a special intimacy In that tiny theater, with the audience seated around three sides of the stage and the front row of seats level with the playing area.
Lights hung from barn beams; props hung on barn posts. The light crew climbed a rough ladder to the controls In the loft. In some shows that area above the stage was also-used as a playing area. The audience was Inevitably drawn into a show.
For one nostalgic picnicker, Jane Fallon, the Barn was more than a favorite theater. It was the site of her wedding to Larry Savoie four years ago. They had met at the theater, and Jane had been active with many shows there, so it seemed like the perfect place for their wedding.
In a few years, Jane had hoped that their 2-year-old daughter would also appear on the Barn stage.
"Now that will never happen," Fallon said sadly.
Athough I've always been an audience member at the Barn, never an actor or a tech person, I shared the nostalgia of that picnic, remembering the highlights of nearly 20 years of playgoing at the Barn.
Like many Barn-goers, I started going there because I knew a member of the cast. But I kept coming back simply because the shows were so good.
I came often to see Judy Milstein, who was my children's favorite baby-sitter at the time she began acting at the Barn. When I saw her as the dull-witted young girl in The Prime of Miss Jean Brodle, she was so convincing, that I found myself wondering how we had ever trusted her to take care of our children.
"Brodie" was one of the Barn's best. With a cast headed by Eve Davidson and Ken Beachler, Bill Helder and Chris Birdwell in major supporting roles, it was one of those shows that created a totally convincing reality.
So was "Diary of Anne Frank," directed by Marilyn Steegstra, with Wendy Katz, Leonor Reizen, and Carleton Peters as the leads. The cramped Barn stage was an asset here, underscoring the confinement of two Jewish families hiding away from the Nazis.
And then there were the musicals, like "Follies" directed by Ken Beachler overflowing with people, when I'd swear the tiny stage had suddenly expanded to accommodate them all. That was another memorable show, with a cast that included Kay Hickey and Susie Breck, the first time I saw and heard them at the Barn, and, of course, Stephen Sondheim's great score.
As a show, "Little Mary Sunshine" is not in the same class as "Follies", but the production at the Barn the season after "Follies" had Breck in the lead, and could boast one of the great moments in Barn history: Barbara Milstein and Helder in a hilarious spoof of a romantic Viennese waltz duet.
But many of the best shows at the Barn weren't comedies. Some of the most successful were dramas, like "Death of a Salesman," with Howard Lancour as Willie Loman. Somehow, I had never seen this American classic before I saw it at the Barn. Now Lancour's Willie is the one against which I will measure all the others.
There are other Barn performances that will stay with me: very special Dick Hill as Dylan Thomas, Leonor Reizen in "The Garden District", Margaret Ingraham in "A Little Night Music," and her amazing double role in "Witness for the Prosecution", Chris LaRoche in "The Rose Tattoo."
I could go on almost indefinitely. But it's time to say "Good-bye," to the Barn now. It's time to look to the future of the Community Circle Players in their new Riverfront Theater, where they plan to open a new season in January, 1987.
For 22 years, the Okemos Barn Theatre provided a unique and wonderful milieu for some first-rate community theater.
But a theater is first of people - not a building.
Kate O'Neill is a Lansing State Journal correspondent, and principal dance and theater critic .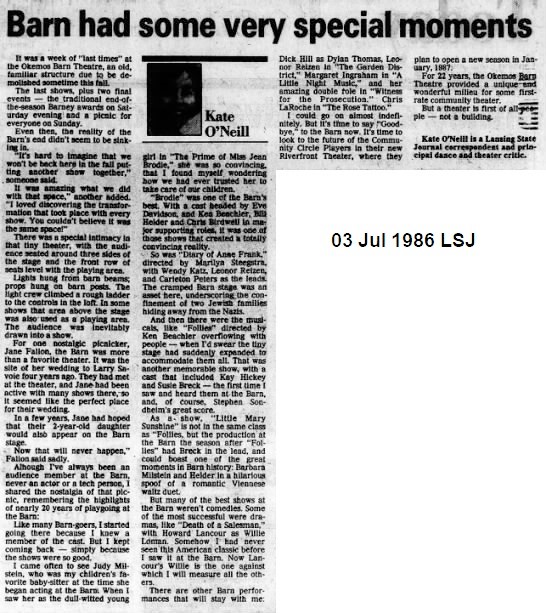 ---
During the summer of 1986, the Okemos Barn Theatre was torn down by Delta Dental and replaced by a parking lot.