Arthur Bement "Art" Cooper Jr., son of Arthur Bement (1893-1960) and Helen R. (Dietz) (1897-1983) Cooper, was born 5 February 1925 in Jackson, Michigan. After graduating from Okemos High School in 1942 he served in the US Navy during World War II. Art married Julie and had two children. He died 3 October 2006 and was interred East Lawn Memory Gardens, Okemos, Michigan.
Lansing State Journal (Lansing, Michigan) Friday 2 February 1940
Arthur Cooper and Earl Miller have been chosen to represent the F.F.A. of the Okemos high school at the state convention at Michigan State College in May.
Lansing State Journal (Lansing, Michigan) Thursday 5 October 2006
ARTHUR B. COOPER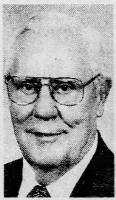 OKEMOS, MI
Born February 5, 1924 in Jackson, MI; went to be with the Lord on Tuesday October 3, 2006, at the age of 81. Arthur attended Sandhill School through the 8th grade and then attended and graduated as the youngest member of his class from Okemos High School in June of 1942. He worked for the Jason Oil Company and as an independent dealer for 29 years, and later worked for the Okemos Public Schools as a delivery man until his retirement in December of 1989. Arthur was an active member of First Baptist Church of Okemos. He was preceded in death by his parents, Arthur and Helen Cooper; and brothers, Charles and Kenneth Cooper. Surviving are his wife, Julia Cooper; son, Gary (Lisa) Cooper; daughter, Anita (Philip) Kaatz; grandchildren, Jordan, Ashley and Chelsea Cooper, Danielle and Sarah Kaatz; sisters, Mary (Philip) Abbott of Milliken and Joann (Norman) Wells of Okemos; brothers, Richard (Joy) Cooper of Lowell and Robert (Judy) Cooper of Laingsburg; sisters-in-laws, Lenore Cooper of Okemos and Betty Cooper of Lansing; as well as many nieces, nephews and cousins. Funeral services will be held on Friday, October 6 at 11:00 a.m. at First Baptist Church of Okemos with Pastor Joe Dabrowski officiating. Interment will follow at East Lawn Memory Gardens, Okemos.