Esther R. Morris, daughter of Wilson Clark (1877-1947) and Sarah G. (Darlington) (1880-1978) Morris, was born 2 April 1910, Johnson County, Missouri. Wilson Clark Morris was a teacher at "State Normal" according to the 1910 Warrensburg, Johnson County, Missouri, US Federal Census. State Normal No. 2 became known as Warrensburg Teachers College and in 1919 as Central Missouri State Teacher's College. It was from here that Esther graduated with a Bachelor's degree in English. CMSTC is now called University of Central Missouri. Esther was a member of the college debate team which was noted in 1929 for winning "the most notable debate victory of the year."
The Rhetor, 1929 Yearbook for CMSTC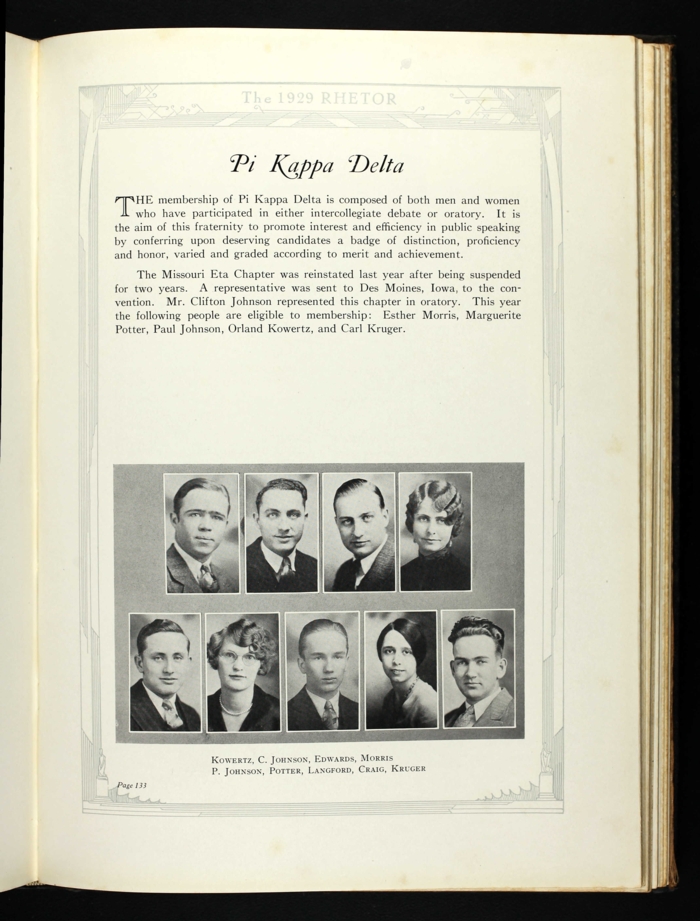 The Sedalia Democrat (Sedalia, Missouri) Sunday 3 March 1929
The same negative and affirmative teams that will represent the State Teachers' College in the state college tournament will appear here. Perhaps the two most interesting speakers will be Captain Esther Morris of the negative team, and Miss Mary Potter of the affirmative Team. Miss Morris was on the Warrensburg college team last year and has been trained at Horner's Dramatic School.
Sedalia Weekly Democrat (Sedalia, Missouri) Friday 12 July 1929
Miss Potter was an active member of the dramatic club when a student of the Sedalia high school, and has continued her work in expression in Southwest Baptist College, and C.M.S.T.C. During the past season she was a member of the debate team in the latter institution. She and Esther Morris composed the team that won the most notable debate victory of the year - that of defeating the hitherto undefeated Kansas City Law School.
Springfield Leader and Press (Springfield, Missouri) Friday 1 November 1929
COLUMBIA - Miss Esther Morris of Warrensburg and Donald Cox of Kansas City tied in the peace oratorical championship contest here and will probably be matched again to decide the one to represent the University of Missouri at a state Contest in Jefferson City November 23.
The Rhetor, 1929 Yearbook for CMSTC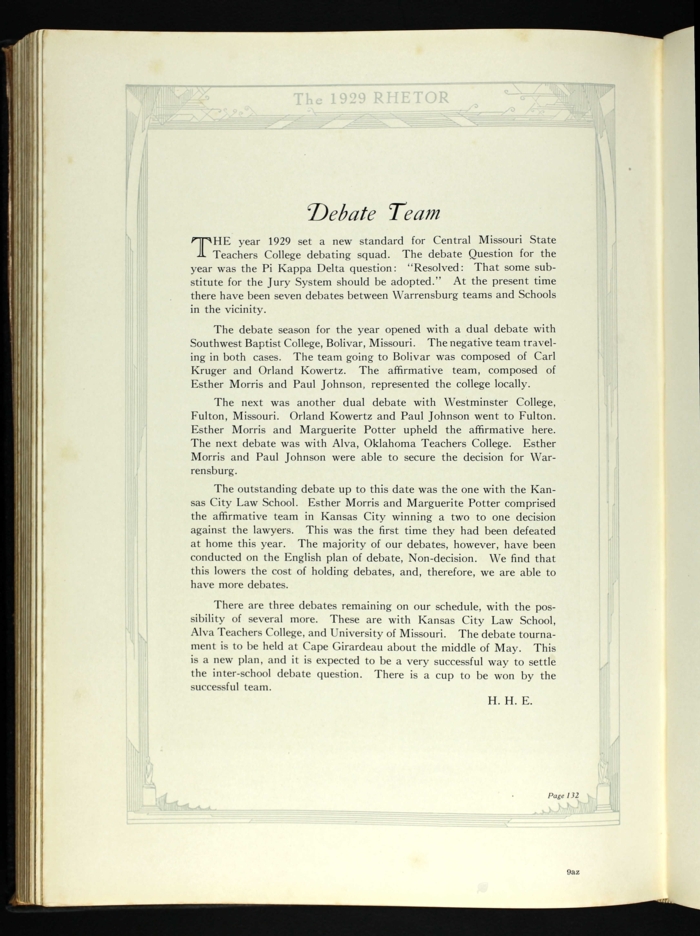 Plattsburg Leader (Plattsburg, Missouri) Friday 5 February 1932
SISTER VERY SICK
Miss Esther Morris of Warrensburg, has been very seriously sick the past two weeks. Miss Morris suffered a severe attack of typhoid fever this summer and it is thought her illness now may be a result of the former illness.
Esther recovered and married Herbert Owen "H. Owen" Reed 29 June 1933, Springfield, Greene County, Missouri.
The Sedalia Democrat (Sedalia, Missouri) Friday 30 June 1933
TO WED AT SPRINGFIELD
Marriage licenses were issued this morning to H. Owen Reed, of Odessa, and Esther R. Morris of Warrensburg, and to Harold M. Reed, Odessa, and Annabelle Boyer, Warrensburg.
The young men are brothers. The couples went from Sedalia to Springfield where they were to be married.
Esther went on to obtain her M.A. in English from Louisiana State University. Owen, born 17 June 1910, Odessa, Lafayette County, Missouri, attended both the University of Missouri and Louisiana State University. He actually worked his way through school by playing in jazz bands, later obtaining a Ph.D. from Eastman School of Music. The Reed's settled in Ingham County in 1939. "New instructors in the music department of Michigan State College are announced....Dr. H. Owen Reed, musicologist and composer from the Eastman school of music will follow Arthur Farwell as head of the theory department." (Lansing State Journal Monday 18 September 1939).
Esther taught English at Okemos High School during the 1956-57 school year. She went on to be appointed, 1 September 1972, as an assistant professor, American Thought and Language, at Michigan State University. She retired from MSU in 1975. Esther and Owen celebrated nearly 50 years of marriage and 2 daughters together. Both daughters, Sara Jo and Carol Ann, were graduates of Okemos High School.
Esther died 31 May 1981. Owen retired from MSU in 1976. He remarried after Esther's death and died at the great age of 103, 6 January 2014, Athens, Clarke County, Georgia. Owen is listed in Wikipedia as a composer, conductor, author.
Lansing State Journal (Lansing, Michigan) Tuesday 2 June 1981
ESTHER M. REED
OKEMOS
Age 71, died May 31, 1981. Mrs. Reed was born April 2, 1910. She taught English at Okemos High School. She retired from Michigan State University, Dept. of American Thought and Language in 1975. Surviving are husband, H. Owen Reed; 2 daughters, Mr. Joseph (Sara Jo) Ferrar of Worthington, Ohio and Mrs. Richard (Carol Ann) Wetters of Traverse City, Mich.; 6 grandchildren. Mrs. Reed has donated her body to the M.S.U., College of Human Medicine. Memorial services will be held at a later date. In lieu of flowers the family request any donations be made in Mrs. Reed's name to the Okemos United Presbyterian Church.
Lansing State Journal (Lansing, Michigan) Thursday 9 January 2014
H. OWEN REED
ATHENS, GA
H. Owen Reed (age 103) died at Arbor Terrace, in Athens, Georgia on Monday, January 6, 2014. He was born in Odessa, Missouri on June 17, 1910. He worked his way through the University of Missouri and Louisiana State University playing in Jazz bands and later received a Ph.D. from Eastman School of Music. he was a professor of Music Theory and Composition at Michigan State University from 1939-1976. He was a well-known composer especially for band music, his best known composition being La Fiesta Mexicana. He also wrote the music for the folk opera Michigan Dream for MSU's 1955 Centennial. "Michigan Morn" from that opera has become a much-loved song in Michigan. He was a member of the "Geriatric Six," a faculty jazz ensemble at MSU.
He was an avid sportsman and enjoyed a life-long love of fishing. He was a loving husband, father, and grandfather and traveled frequently to visit family.
He was predeceased by his first wife Esther of almost 50 years, his son-in-law Dick Wetters, and his great grandson Michael Curry. He is survived by his wife Mary of 31 years, his daughters Sara (Joe) Ferrar and Carol Wetters and step-children Diane (Ken) Dougan, Gary (Dai) Arwood, and Dan (Dawn) Arwood, 15 grandchildren, and 21 great-grandchildren.
The family wants to extend its gratitude to all the employees of Arbor Terrace and of St. Mary's Hospice.
Lansing State Journal (Lansing, Michigan) Sunday 18 April 1954