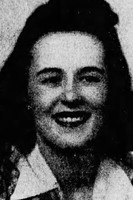 Lois A. Jolley, daughter of Milo F. (1896-1968) and Helen I. (Truax) (1897-1987) Jolley, was born 3 February 1922 St. Johns, Clinton County, Michigan. She graduated in 1941 from Okemos High School and married Kenneth Manus 27 June 1942 Ingham County, Michigan. Kenneth was a World War II Army veteran.
Lansing State Journal (Lansing, Michigan) Sunday 2 December 1945
Pfc. Kenneth McManus is in Japan and Pfc. Theodore Brendt is in a camp taking specialized training. Their wives, Lois and Lucila, respectively, are living with their parents, Mr. and Mrs. Milo Jolley.
Lansing State Journal (Lansing, Michigan) Friday 5 February 1954
LACK WATER
Mason, Feb. 5 - A fire which Chief Lee Austin said was whipped until the supply of water was exhausted destroyed a large two-story frame house on Dobie rd. opposite Dobie lake in Alaiedon township about 11 p.m. Thursday.
The building was the home of the Kenneth McManus family, and the parents and two children succeeded in escaping the blaze, which Austin said stated from an unknown cause in the attic at the rear of the dwelling.
The family was in bed when Mr. McManus, who is a foreman at Oldsmobile, heard flames crackling and found the attic ablaze, the chief said.
He added that the Mason department had the fire seemingly confined to the upper rear story when it ran out of water. Firemen were summoned from Holt, he said.
The Holt tanker took the wrong road and arrived too late for its supply of water to be of any use. Neighbors and spectators succeeded in carrying out most of the downstairs furnishings.
The building and its contents were partially insured, he said.
Lois died 17 November 2005 in Arizona. She was interred Camino del Sol Mortuary Columbarium, Sun City West, Maricopa County, Arizona.