Reprinted from the Pauline Lang scrapbook 1940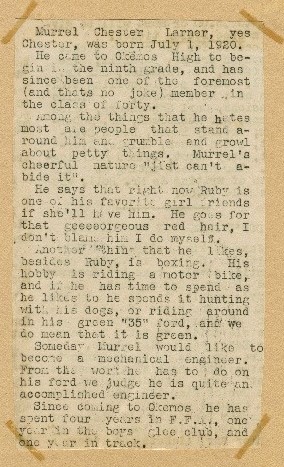 Murrell Chester Larner, son of Ernest Homer (1888-1969) and Jennie Elizabeth (Hatt) (1890-1982) Larner, was born 1 July 1920 Michigan. He graduated in 1940 from Okemos High School. On 14 June 1940 Murrell married classmate Ruby May Allen. Ruby, born 10 May 1921 Clinton County, Michigan, and Murrell had 4 children. Murrell was a World War II Navy veteran.
In July 1965 Murrell and Ruby divorced. Murrell married Oweda M. Foster 12 November 1965. Oweda, born 10 August 1925, died 11 November 11 2003 Largo, Pinellas County, Florida. Murrell died 10 July 1992 Pinellas County. They were interred under one headstone in Clarence Center Cemetery, Clarence Center, Calhoun County, Michigan.
Murrell's former wife, Ruby, died 21 October 2009 Lansing, Ingham County, Michigan.