Published in San Luis Obispo County Tribune on Sept. 16, 2018
Lisa Nicole Ritterbuck, age 50, passed on in San Luis Obispo, California on September 4, 2018. After a lengthy illness, Lisa passed quietly at home surrounded by family and prayerful support. She was born in Carmichael, California and participated in several family moves during childhood, including many years in Okemos, Michigan. Lisa graduated from Principia College and Harvard Business School. After a career in cable programming, she married her husband and helped raise their two wonderful children, who both attend SLO High School. Lisa was a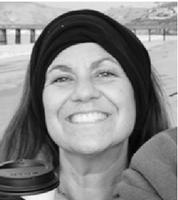 giver. She served on the Board of the Avila Beach Community Foundation, The Board of Twelve Acres, and was Treasurer of her church, the First Church of Christ, Scientists, SLO and she supported many volunteer organizations. Her contagious joy and spirituality blessed many. She loved to dance, sail, travel, scuba dive, be a fantastic mom, and grow spiritually. Lisa is survived by her husband, Scott Ritterbuck; two children: Mason and Maren Ritterbuck; her sister, Michelle Ritter-Taylor and husband Kevin; nephews: Christopher and Kieran; and parents, Mike and Shirley Ritter. The Celebration of her Life will be held from 1:00 to 3:00 pm, Saturday, October 6, 2018, at the family farm, 6550 Avila Valley Drive, SLO.
Note from her dear friend Catherine Greenspan Atkins 1986:
We met in Okemos in 7th grade and have been best friends ever since. 50 is just too young to leave. I did get to spend lots of time with Lisa and her family this year, so that is very special!
Lisa's maiden name was Ritter. When she married Scott Buck, they both changed their names to Ritterbuck. How about that! Hence — Lisa Ritterbuck.