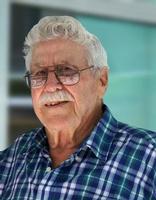 Gerald Robert "Jerry" Fuller, son of Robert Roy (1890-1959) and Eliza A. (Bolton) (1894-1985) Fuller, was born 4 June 1928, Ingham County, Michigan. Jerry graduated in 1947 from Okemos High School. He served in the US Army during the Korean Conflict.
On 15 November 1953 Jerry married Marion Ellen Warner, born 25 July 1933. The couple celebrated 44 years together before Marion died 10 June 1998, Lee County, Florida.
Jerry married Norma Mae Townill 17 January 1999, Florida. He passed away 7 July 2015, Naples, Collier County, Florida. Jerry was intered with family, Glendale Cemetery, Okemos, Ingham County, Michigan.
Lansing State Journal (Lansing, Michigan) 19 July 2015
Gerald Robert Fuller

Naples, FL

Age 87, born: June 4, 1928, Died: July 7, 2015, formerly from Okemos, Michigan.

Jerry was born and raised in Okemos, Michigan. He married his first wife, Marion, in 1953, designed and built their home in Okemos, and lived there for many years.

Retirement life led them to Florida, where Marion passed in 1998. Jerry married his second wife, Norma, in 1999 and lived happily with her in Bonita Springs. Though childless himself, he showered his love, time and attention on his many nephews and nieces, who adored him. By joining his life with Norma's, Jerry gathered an even larger family around him, becoming Dad and Granddad to them all.

A lover of the outdoors and a handyman by nature, Jerry kept busy, yet was never too busy to share his adventures, or his knowledge, with his family. He was more than happy to explain the world to those around him, and nature walks with Jerry often became an education in trees, meadows and flowers.

His hobbies included fishing, hunting, gardening and tinkering around in his vast, eclectic workshop where he kept his old tool collection. His Harley Davidson motorcycle was a favorite getaway.

He loved animals - at any time his menagerie could include dogs, cats, ferrets, alligators, birds, cows, horses, ponies, chickens, pigs and even raccoons. No creature went without his notice and all received his care, kindness and generosity.

Jerry was a veteran of the Korean War, U.S. Army, 1st Cavalry. He earned his living as a Teamster driving cement mixers for Cheney Concrete in Okemos.

Jerry was well loved and highly respected. He was a man that was quick to laugh, quick to include and quick to forgive. He was a wonderful husband, companion, uncle, brother and friend.

His nephew, Doug Fuller, said of him: "For me, Uncle Jerry was fun, happy, giving and unselfish. He was always there for me and my brother. He was always busy with some kind of project which he was happy to teach to us. He loved his family, loved nature, loved adventure - I learned so much about the world from him."

Per Jerry's wishes, cremation has taken place and no service will be held.