Cheryl Lynne Bass, daughter of Samuel Truman (1925-2014) and Jane Ophelia (Harris) (1925-2007) Bass, was born 5 March 1952, Birmingham, Jefferson County, Alabama. She graduated in 1970, in the top scholastic ten of her class, from Okemos High School and went on to further her education at Eastern Michigan University.
Cheryl married Mark Whitney Frost 29 May 1971, Lansing, Ingham County, Michigan.
Lansing State Journal (Lansing, Michigan) Sunday 30 May 1971
FROST-BASS
Kimberly Downs Church of Christ was the setting on Saturday afternoon for the wedding of Miss Cheryl Lynne Bass to Mark Whitney Frost. She is the daughter of Mr. and Mrs. Samuel T. Bass, 1647 Forest Hills, Okemos. His parents are Mr. and Mrs. Whitney W. Frost of Nashville, Ark.
Miss Linda Frost of Green Cove Springs, Fla., the bridegroom's sister, was the maid of honor. Bridesmaids were Miss Teresa Bass of Okemos, the bride's sister; Miss Pam Ritchey of Grand Rapids; and Miss Jannie Bullock. Fonda Waller of DeWitt was junior bridesmaid.
Mr. Frost, the bridegroom's father, was the best man. Groomsmen and ushers were Tim Bass of Okemos, the bride's brother; Mike Tardy of Flint; and Lee Harrington of East Lansing. Junior groomsman was Brad Lynn Frost of Nashville, Ark., the bridegroom's brother.
Special guests for the ceremony were Mr. and Mrs. A. E. Wilkerson of Nashville, Ark., the bridegroom's grandparents.
Following a honeymoon in northern Michigan, the newlyweds will make their home in Searcy, Ark.
Cheryl and Mark celebrated 40 years and the birth of two children before her untimely death 17 March 2012, Wayne County, Michigan.
Cheryl was a devout Christian, wife, mother, grandmother, teacher, organizer and community leader who set standards of excellence in childcare and services to families.
Published in www.heritage.com on Mar. 21, 2012
FROST, CHERYL L.; age 60; March 17, 2012; of Brownstown. Beloved wife of Mark Frost; loving mother of Mark Alan (Sheila) Frost and Caren (Jason) George; dearest grandmother of Maizie Jane George, Anderson George and Michelle Shaffer; dear daughter of Samuel and the late Jane Bass; sister of Teresa Bass and the late Tim Bass. Visitation Saturday, March 24, 2012, 1 to 6 p.m., John Molnar Funeral Home, 23700 West Rd., Brownstown. In State Sunday, March 25, 2012, 2 p.m., until time of Homegoing Celebration 3 p.m., Trenton Church of Christ, 2650 Grange Rd., Trenton. Memorial donations may be made to Children's Outreach, P.O. Box 10509, Detroit, MI 48210.
Lansing State Journal Nov 28, 1965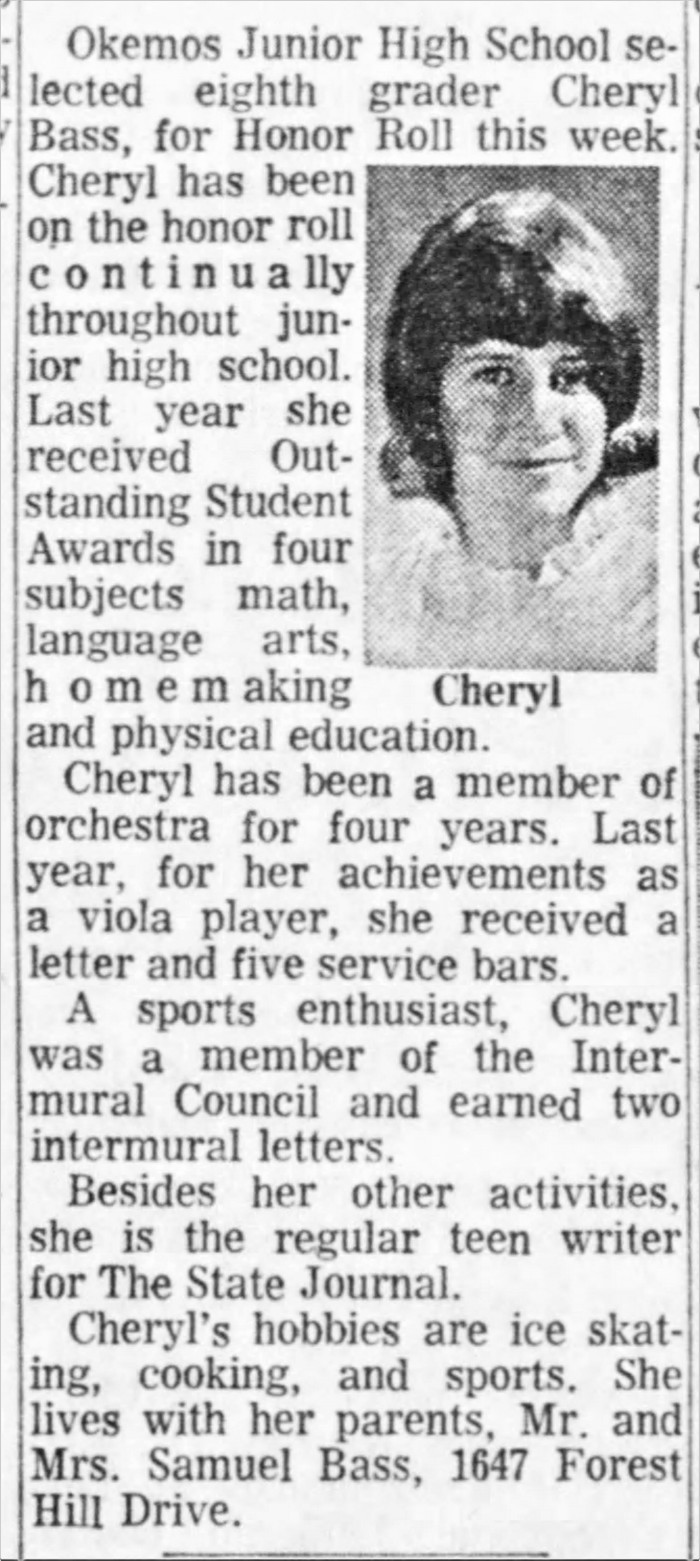 Cheryl is a graduate of Okemos (MI) High School and received bachelor's and master's degrees from Eastern Michigan University. Her adult life was dedicated to serving children and families. She began and directed Mother's Day Out ministries at the Northeast Church of Christ in Cincinnati, Ohio, and at the Trenton (MI) Church of Christ. As a member of the Trenton church for the past 33 years, she developed and directed many innovative children's ministries. She taught kindergarten for twelve years at Luckett Christian Academy in Taylor, MI, after which she served as the school's principal. She directed the Head Start program in River Rouge, MI.
The last fifteen years were devoted to Children's Outreach, a non-profit childcare and family service organization she co-founded. Children's Outreach serves families in Southwest Detroit and River Rouge. Cheryl helped spearhead the development of the Quality Rating and Improvement System in Wayne County, a standard for measuring the quality of child care centers. That QRIS standard has now been adopted statewide and she has been honored for her role in its development by the Great Start Collaborative.
Cheryl has also participated in numerous mission trips to Honduras and Brazil. She and her husband have also cared for eighteen foster children in their home.
Lansing State Journal December 26, 1965