Douglas George Frakes

Williamston - 8/27/1954-3/27/2020

Doug Frakes of Williamston, passed away in his home surrounded by family, due to complications from diabetes. He had a diverse work history - he was a restaurateur, business owner, and then transitioned to a long, successful career in the Michigan Department of Corrections. He was a devoted Spartan fan who enjoyed golf, boats, car shows, travel, weekend trips with his canine companion Ivy to the family cottage, and spending time with his grandboys, family, and friends. He is survived by his loving wife of 42 years Holly, son Justin (Samantha), daughter Lesley, son Darren (Lindsay) and grandsons Nolan and Gideon. A private family ceremony will be held at Gorsline Runciman Funeral Home and he will be interred at Evergreen Cemetery in Lansing.

Published in Lansing State Journal from Mar. 28 to Mar. 30, 2020.

For printable articles, please click below. Please see additional remembrances through the obituary link at the bottom of this page.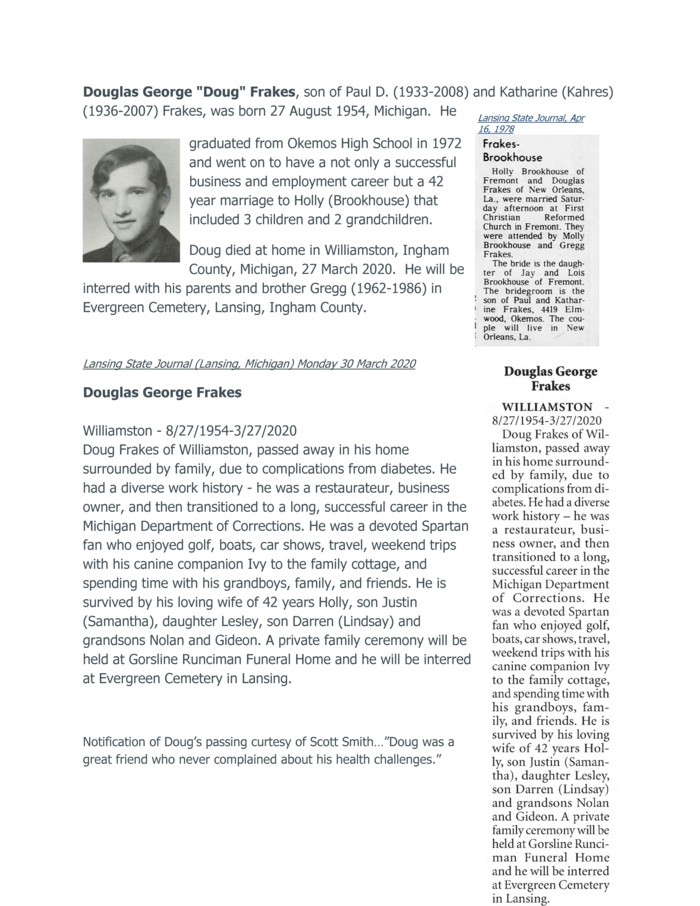 https://www.legacy.com/obituaries/lsj/obituary.aspx?pid=195825286