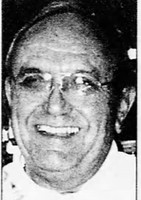 Edward Cornelius Kiley, son of Edward Henry (1893-1972) and Florence May (Major) (1895-1932) Kiley, was born 20 February 1928, Standish, Arenac County, Michigan. After high school Edward served in the US Army and was honorably discharged in 1948. Edward then attended and graduated from Michigan State University. From approximately 1952 - 1960 Edward was coaching, a guidance counselor, teaching social studies, government and physical education at Okemos. In the 1960's he was principal of Okemos Middle School and later became assistant superintendent and the Director of Administrative Services. In all, Edward was employed for 34 1/2 years with the Okemos School system.
Edward married, circa 1946, Gloria A. LaFrenier. Gloria was born 7 August 1926 Genesee County, Michigan. The couple raised 3 sons but a daughter, Koleen Florence Kiley, born 20 July 1950, died at birth. Koleen was interred Resurrection of the Lord Catholic Cemetery, Standish, Arenac County.
Edward died 8 October 1999. Gloria died 16 October 2009.
Lansing State Journal (Lansing, Michigan) Sunday 10 October 1999
KILEY, EDWARD C.
EAST LANSING
Age 71, died October 8, 1999. Born February 20, 1928 in Standish, MI and was a resident of East Lansing for over 50 years. Mr. Kiley was employed with the Okemos Public Schools for 34 1/2 years. During that time he was a history teacher, Jr. High Principal, middle school principal, and he retired as assistant superintendent and Director of Administrative Services. Mr. Kiley counted coaching as a highlight in his career. He coached varsity football, baseball, basketball, and in his last season, the Chieftains won the Ingham County League Crown. He was proud of his commitment to the development of the Okemos school system; especially planning and directing the construction of the Kinawa Middle School in the mid 1960's, where he served as principal. First and foremost, he was dedicated to his family. He was proceeded in death by his daughter, Koleen. Surviving are his wife of 53 years, Gloria; 3 sons, Edward III, Kent, and Patrick; 4 grandchildren, Ryan, Kellen, Kristyn, and Devin. The Funeral Mass will be celebrated Tuesday, October 12, at 1 p.m. at St. Thomas Aquinas Catholic Church, 955 Alton Road, East Lansing with Msgr. David M. Stotenbur officiating. The Rite of Committal will follow in St. Joseph Catholic Cemetery, Lansing.