Ruth Ingrid Peterson, daughter of John Peterson (1843 Sweden - 1912) and Ingrid (Carlson) (1861 Sweden - 1925) Peterson, was born 9 August 1902, Osceola County, Michigan. The youngest child in the family, Ruth attained an A.B. degree in mathematics from Michigan Agricultural College (later Michigan State University). She later achieved a masters degree.
Lansing State Journal (Lansing, Michigan) Thursday 30 June 1921
"MELTING POT" DOLL ARRIVES
FIRST EXAMPLE OF FOREIGN GARBED COLLECTION AT STATE CAPITOL
The Swedish doll comes from Tawas, and is provided through the instrumentality of Miss Ruth Peterson. The mother of Miss Peterson, a native of Sweden, dressed the doll. The cloth of the skirt of the doll was spun, woven and colored in Sweden, but the cloth has been made up recently in Michigan.
Ruth married Luke Harry Kelly 25 June 1926, East Lansing, Ingham County, Michigan. On the marriage license Luke and Ruth listed "school teacher" as their occupation.
Lansing State Journal (Lansing, Michigan) Thursday 4 February 1932
GIRLS
Mr. and Mrs. Luke H. Kelly, Haslett.
Luke and Ruth would have three daughters; Patricia, Roberta and Rhonda. All three graduated from Okemos High School.
Lansing State Journal (Lansing, Michigan) Thursday 7 September 1933
HASLETT SCHOOL HEAD TAKES POST IN OKEMOS
Haslett, Sept. 7 - The Haslett P. T. A. under the leadership of this year's president, Mrs. Lillian Howes, is sponsoring a farewell party for the recent superintendent of schools. Luke H. Kelly and wife, who leave soon to make their home in Okemos where Mr. Kelly will be superintendent of the Okemos consolidated school. the party will be held in the church parlors Friday evening. Mr. and Mrs. Kelly have been here five years.
Luke, born 16 September 1901, Ottawa County, Michigan, was Superintendent of Okemos Consolidated Schools from 1933-1938. He then moved into being agricultural consultant of vocational agricultural education in the state department of public instruction. He held that position until his untimely death at age 55, 11 July 1952.
Ruth was recorded as a teacher at Haslett Rural Agricultural School in 1931-1932. She taught mathematics at Okemos High School starting in the 1940's. Her sister, Evelyn Peterson, was the Okemos Consolidated School secretary from 1946-1948.
Lansing State Journal (Lansing, Michigan) Tuesday 7 May 1946
Miss Evelyn Peterson, secretary at the Okemos school office, and Mrs. Luke Kelly, also of Okemos, were called to Le Roy this week-end by the death of their brother-in-law who was instantly killed when his car stalled on a railroad crossing near Le Roy. Miss Marjorie Madole one of his daughters, has also been making her home with the Kellys since her discharge from the United States nurses corps several weeks ago and has accepted an industrial nurse's position in Lansing.
Ruth's niece, Ruth Marjorie "Marge" Madole, was a 1943 graduate of the then Sparrow Hospital Nursing School. Right after graduation Marge joined the Armed Forces and was a nurse working either near or on the battlefields of Europe. Marge came home, married and later became Supervisor of the medical department serving over 19,000 employees at General Motors Oldsmobile Division, Lansing. Her department also served some 1,000 employees of the General Motors Parts Division, Lansing.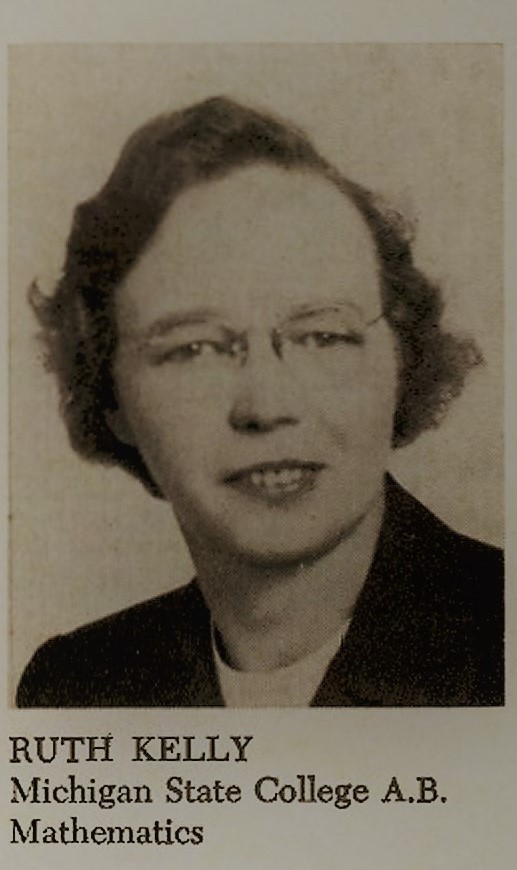 Ruth took sabbatical leave from teaching in 1952 to join her husband in India where he was an advisor on the Point Four agricultural program.
Lansing State Journal (Lansing, Michigan) Sunday 20 July 1952
MOM, DAUGHTERS TO JOIN HUSBAND IN NEW DELHI
India's reputation as a land of mystery, adventure and beauty saved the day as far as Mr. Luke H. Kelly and her two daughter, Rhoda and Roberta, are concerned.
Their house at 4444 S. Hagadorn, East Lansing, has been turned into shambles this week as a result of packing boxes and crates with clothes, food, a treadle sewing machine and guns for their trip to India. If it weren't for the excitement of going to India they probably wouldn't think the work was worthwhile.
PEACOCK ON THANKSGIVING?
But all three are excited about their trip to New Delhi, India, where they will join Mr. Kelly. He is working with Point Four in India and since arriving there April 1, has been writing back descriptions of the country, of living conditions and of a 600 pound buck he shot.
The excellent hunting in India is why Mrs. Kelly had to pack her husband's guns for shipping. Deer, elk, partridge and peacock are just a few of the game hunted in India. Peacock is to Indians what turkey is to Americans," says Mrs. Kelly.
The Kelly threesome will leave Lansing July 30 and New York Aug. 1. They will board an export ship for Beirut, Lebanon, which is at the end of the Mediterranean just north of the Holy Land. they will fly the rest of the way to India in a day. The boat trip - just 3/4 of the distance - will take 20 days. Mr. Kelly will meet them at the Indian airport.
Before going to India with Point Four, Mr. Kelly was working in the state department of public instruction in the agriculture education division. He also was executive secretary of the Future Farmers of America. He now is doing agriculture educational work under direction of Horace Holems - director of Point Four in India.
FOOD AND GADGETS
Mrs. Kelly and daughters didn't accompany Mr. Kelly to India as he was assured no accommodations when he first arrived. He now has found a large apartment for him and his family in New Delhi - a modern city largely rebuilt in the past 25 years.
The Kellys aren't packing too many electrical gadgets as the electrical current is different in India. That is why they have chosen a treadle sewing machine. Mr. Kelly also suggested that they bring a wash board - which causes the distaff side of his family to shudder.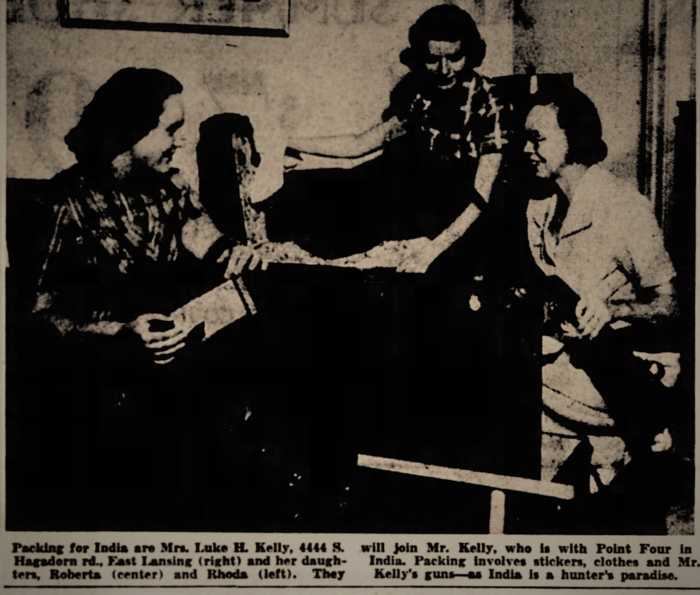 The Kellys also are packing lots of food - mostly canned meats - and a toaster - which they had forgotten to pack the day the men came after their luggage.
Although their plans are indefinite, Mrs. Kelly plans to remain in India two years. The girls may return in a year to continue their studies at Michigan State college. Roberta would be a senior in home economics which Rhoda would be a sophomore in elementary education if they continued this year. But they felt that they would always be sorry if they missed a chance to see India.
POST MARK "INDIA"
They also will have a chance to be one day tourists in Barcelona, Spain; Marseilles, France; Naples, Italy, and Alexandria, Egypt, all seaports where their ship will dock. Of course, there will be sightseeing trips in India. Their father left Tuesday for a three weeks tour in India - he wrote his family.
While Mrs. Kelly and her two daughters are in India, the other "Kelly girl," Mrs. John Moore, will continue work on her master's degree at M. S. C., where her husband, Mr. Moore is a student. They will live in the Kelly home on Hagadorn rd.
Lansing State Journal (Lansing, Michigan) Friday 26 June 1953
POINT FOUR ADVISOR RETURNS FROM INDIA
Okemos, June 26 - Home after a year in New Delhi, India, Mr. and Mrs. Luke Kelly are living on Hagadorn rd. again. Mr. Kelly went to India as an agricultural advisor on the Point Four program.
Ruth took up the reins of teaching at Okemos after her return from India. She, as a OHS 1956 class sponsor, accompanied the senior class on their trip to Washington, D.C. in May 1956. In 1957 Ruth was hired by Lansing Community College as a mathematics instructor. She rose to the position of Professor and retired in 1968.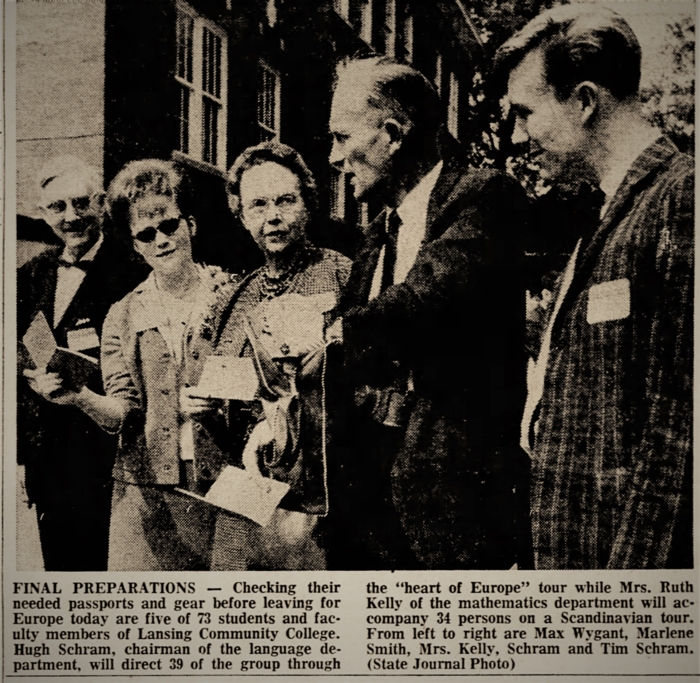 Lansing State Journal (Lansing, Michigan) Sunday 15 June 1968
ORIGINAL INSTRUCTORS AT LCC TO RETIRE
Two of Lansing Community College's first instructors are retiring this year. Mrs. Ruth Kelly, a mathematics instructor, and Frank Flory, teacher of engineering technology, each plan to spend much of their retirement leisure traveling.
Mrs. Kelly, who taught in public schools for ten years before coming to LCC, is the first professor emeritus at the college. She is the secretary-treasurer of the Greater Lansing Chapter of World Neighbors, and a member of the Michigan Council of Teachers in Mathematics.
During her retirement, she plans to travel to India to visit her daughter Mrs. John First, whose husband is farm manager for the USAID team in Afghanistan.
At a retirement reception Thursday in honor of Mrs. Kelly and Mr. Flory, fellow teachers and former teachers presented Mrs. Kelly with a notebook of letters of personal appreciation.
Ruth traveled a great deal after her retirement! She died 2 March 1988, Franklin Mine, Houghton County, Michigan. She was interred with Luke, Glendale Cemetery, Okemos.
Lansing State Journal (Lansing, Michigan) Friday 4 March 1988
R. KELLY, FORMER LCC PROFESSOR
Ruth P. Kelly the first professor to retire from Lansing Community College, died Wednesday in Ripley. She was 85.
Kelly was one of the first faculty members hired at LCC, which was founded in 1957. When she retired 12 years later, she became LCC's first professor emeritus.
She was active in the Okemos Community Church.
Survivors include three daughters, Patricia Moore of Greenville, Roberta First of Ionia, and Rhoda Reini of Ripley.
Services will be held at 3 p.m. Sunday in Okemos Community Church. arrangements are by Jurkuri Funeral Home, Hancock.