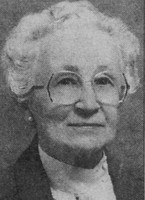 Mildred Muriel Blackledge, daughter of Frank Stanley (1891-1971) and Hazel F. (Gates) (1894-1991) Blackledge, was born 9 April 1921 in Okemos, Ingham County, Michigan. She graduated from Okemos High School in 1938. Mildred died 16 September 2001.
Lansing State Journal (Lansing, Michigan) Saturday 8 February 1941
Miss Betty Rugh who has been school secretary for the past two years has taken a position with the Wolverine Insurance company of Lansing. She will be succeeded by Miss Mildred Blackledge who is a graduate of the Okemos high school and has had business training at Lansing Business university. Miss Blackledge has been working with the vocational education division of the department of public instruction in Lansing. She began her work at school Wednesday, February 5.
Lansing State Journal (Lansing, Michigan) Friday 5 July 1945

OKEMOS GIRL BRIDE OF ARMY SERGEANT
Mr. and Mrs. Frank Blackledge of Okemos, announce the marriage of their daughter, Mildred, to Sgt. Allen B. Andrick, army, son of Mr. and Mrs. H. O. Andrick, 411 Lexington avenue, East Lansing. Rev. Harold Jayne performed the candle light ceremony at the Okemos Community church June 23 at 8 o'clock in the evening.
Lansing State Journal (Lansing, Michigan) Thursday 20 September 2001
"Well done my good and faithful servant". Mildred "Sis" went home to be with her Lord & Savior on Sept. 16, 2001. She was born April 9, 1921 in Okemos, to Frank and Hazel Blackledge. She married S/Sgt. Allen Andrick on June 23, 1945, who preceded her in death in 1980. She is survived by two brothers, Robert (Per) Blackledge of Laingsburg and Lyle B. Blackledge of East Lansing; one brother-in-law, Bernar (Betty) Andrick of Boyne City; sister-in-law, Virginia Andrick of Corvallis, Oregon; sons, Larry of Holt and Roger of Vancourver, BC. Canada; one daughter-in-law (daughter) Mary of Holt, 5 grandchildren, Kelly, East Lansing, Kristen, (Justin), Seattle, WA, Jeremy, Colorado Springs, CO, Michael and J.J., Holt; 3 great grandchildren, Kieran, Torey and Kobe; and numerous nieces and nephews throughout the nation. In addition to her husband, she was preceded in death by her parents; brother, Fay Blackledge; sisters-in-law, Betty and Edith Blackledge; and brother-in-law, Edward Andrick. Her family was her life and she savored every moment with all of them. Pictures adorned her simple home. Her second family, her Okemos Community Church family, was also her source for activity and inspiration. She served her Lord as Women's Society President, Secretary, and Treasurer; Pioneer Club President; delivered Meals on Wheels; volunteered at Ingham Extended Care Facility, Friends of Historic Meridian and numerous other church and social causes. Never having driven a car, she could be frequently seen walking from her Haslett home to the mall, or riding the bus wherever she wanted to go. "God needed an organizer, so he called her home. Dad needed his wife with him, and they're probably traveling right now, with the dog in between them". The gates of Heaven have opened for Mildred and God has said "Come with me, my child". A celebration service of her life will be held on Saturday, September 29, 2001 at the Okemos Community Church at 11 a.m. with a luncheon to follow.