Reprinted from the Pauline Lang scrapbook 1940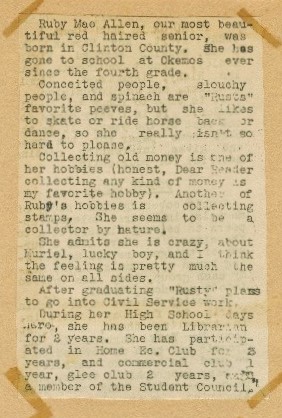 Ruby May Allen, daughter of Ishmael Worth (1894-1965) and Gladys J. (Whitford) (1897-1969) Allen, was born 10 May 1921 Greenbush Township, Clinton County, Michigan. She graduated Spring 1940 from Okemos High School and married 14 June 1940 Mason, Ingham County, Michigan classmate Murrell Chester Larner. Murrell, born 1 July 1920, also graduated in 1940.
The Larner's had 4 children before they divorced in July 1965. Ruby later married widower William W. Gambill. William, born 25 March 1916 Missouri, was an Army World War II veteran and retired from Lindell Drop Forge. He died 7 September 2006. Ruby died 21 October 2009 Lansing, Ingham County. William and Ruby were interred Maple Ridge Cemetery, Holt, Ingham County.
Murrell died 10 July 1992 in Florida.
Lansing State Journal (Lansing, Michigan) Friday 23 October 2009
RUBY M. LARNER (GAMBILL)
HOLT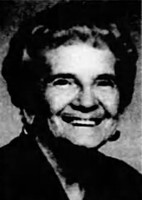 Ruby May Larner, our loving mother, went home to be with her Lord and Savior, Jesus Christ, on October 21, 2009 in Lansing.
She was born May 10, 1921 (age 88) in Greenbush Township, Michigan to Ishmael and Gladys Allen. She married Murrel Larner and he preceded her in death; she later married William Gambill and he also preceded her in death. She was a member of the First Church of the Nazarene and worked for the State of Michigan Department of Treasury, retiring in 1975.
Ruby is survived by her children: Merlene (Clint) Chadwell of Mason; Judy (Ronald) Mattson of Mason; Bonnie (Art) Gregory of East Lansing, Rocky (Marcia) Larner of Holt; 13 grandchildren; 29 great-grandchildren and 1 great-great-grandchild; and many nieces and nephews.
She was preceded in death by brothers: Doyle, Allen and Worth Allen, son Bill Gambill and great-granddaughter Grace Fillion.
The funeral service for Ruby Larner will be held 10:00 a.m. Saturday, October 24, 2009 at the Estes-Leadley Holt/Delhi Chapel with The Rev. Duane Ford and The Rev. John T. Barker co-officiating. Interment will follow in Maple Ridge Cemetery, Holt.