Reprinted from the Pauline Lang scrapbook 1940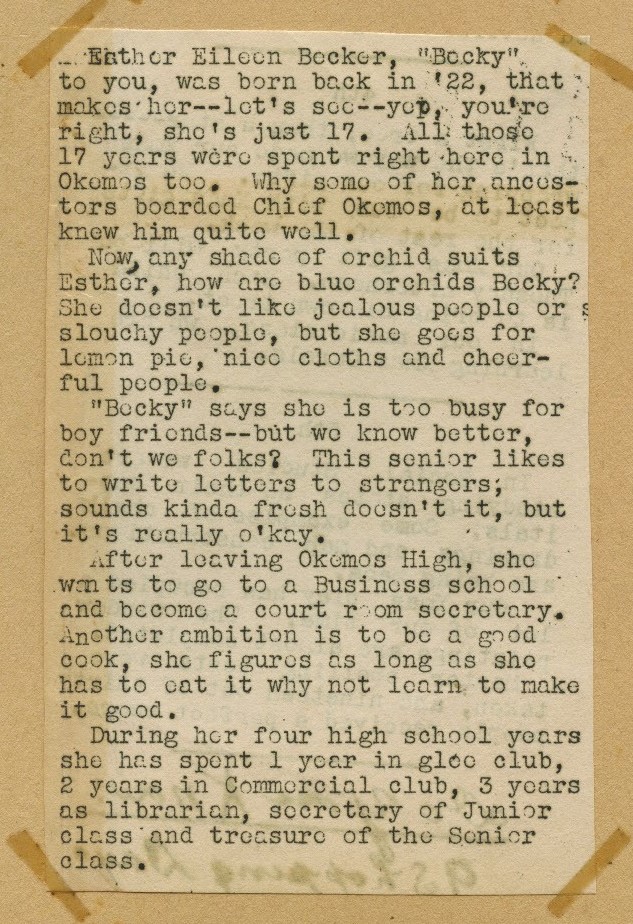 Esther Eileen Becker, daughter of Oscar Jay "O.J" (1888-1977) and Nellie Edith (Bray) (1888-1971) Becker, was born 9 October 1922 Okemos, Ingham County, Michigan. She graduated in 1940 from Okemos High School.
Lansing State Journal (Lansing, Michigan) Friday 25 November 1938
Miss Esther Becker, 16-year-old daughter of Mr. and Mrs. O. J. Becker, underwent an emergency operation Monday night at a Lansing hospital.
Lansing State Journal (Lansing, Michigan) Saturday 16 September 1944
Three young women graduating four years ago from the local high school, are starting teaching careers this month. ...... Miss Esther Becker of the Western State College of Education is at the Stanton school where she teaches commercial courses.
On 18 October 1947 Esther wed Neil Otto Barrick, son of Hiram William and Inez (McCoy) Barrick. Neil was born 3 June 1924 Cimarron County, Oklahoma.
Lansing State Journal (Lansing, Michigan) Sunday 19 October 1947
DOUBLE-RING RITES UNITE COUPLE HERE
Elkhart, Kas., will be the future home of Mr. and Mrs. Neil O. Barrick, who were married Saturday at 2:30 p.m. in a double-ring ceremony in North Street Church of the Nazarene. The bride is the former Miss Esther Eileen Becker, daughter of Mr. and Mrs. O. J. Becker of Okemos, and her husband is the son of Mr. and Mrs. H. W. Barrick of Elkhart. Rev. W. M. McGuire officiated at the service before 100 guests.
The birde wore a gray silk street-length dress, styled with cap sleeves, a bustle and gored skirt. Mr. and Mrs. Ian Hamilton of Kalamazoo attended the couple, and Mrs. Hamilton wore a dark green frock with a peplum and slit skirt.
Roy B. Kindel and Delbert Whitney ushered the guests to their seats. Nuptial music was sung by Harold Moore, accompanied at the organ by Robert A. Cosselmon, Candelabra, palms and baskets of bronze and white chrysanthemums decorated the church.
A reception followed in the home of the bride's parents prior to the newlyweds leaving on a northern Michigan honeymoon. Assisting were Miss Eleanor Munn, Miss Anne Paynich, Miss Phyllis Chapmanm, Mrs. L. D. Williams and Mrs. George Williams.
The bride is a graduate of Western Michigan College of Education. The young couple will live at R. 1, Elkhart, after November 1.
Elkhart, Kansas is situated just above the Oklahoma border in the southwestern corner of Kansas. Just below the Elkhart area lies the famous Oklahoma Cimarron Strip. Esther and Neil moved in 1947 to the small town of Keyes, Oklahoma in Cimarron County. They lived there until Neil's death 26 January 1987. Esther then moved to Madill, Marshall County, Oklahoma and in 2004 to Gilmer, Upshur County, Texas to be near family. Esther's career included being a school teacher and homemaker. She was a member of the Gilmer First Baptist Church. Esther died 13 November 2012 Longview, Gregg County, Texas.
Amarillo Globe-News, Nov. 16, 2012
KEYES, Okla. — Esther "Becky" Eileen Barrick, 90, of Gilmer, Texas, died Tuesday, Nov. 13, 2012.
Services will be at 10:30 a.m. Saturday in Keyes Baptist Church in Keyes with Jerry Rice and Mark Nickles officiating. Burial will be in Willowbar Cemetery. Arrangements are by Cimarron Mortuary of Boise City.
Mrs. Barrick was born Oct. 9, 1922, in Okemos, Mich., to Oscar J. "O.J." Becker and Nellie Becker Bray. She married Neil O. Barrick on Oct. 18, 1947, in Lansing, Mich.
Survivors include two sons, Wayne R. Barrick of Gilmer and John B. Barrick of Lakewood, Colo.; two grandsons; and five great-grandchildren.
The family suggests memorials be to Cal Farley's Boys Ranch, in care of the mortuary, Box 277, Boise City, OK 73933.