Reprinted from the Pauline Lang scrapbook 1940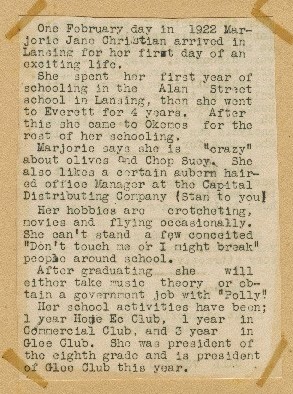 Marjorie Jane Christian, daughter of Richard L. (1896-1957) and Edna L. (Burch) (1901-1983) Christian, was born 16 February 1922 Lansing, Ingham County, Michigan. She graduated in 1940 from Okemos High School.
Marjorie married Stanley Harry "Stan" Pearce 9 December 1941 Lansing. Stan, born 30 November 1919 Lansing, was a World War II Navy veteran.
Lansing State Journal (Lansing, Michigan) Thursday 11 December 1941
MASON GIRL BRIDE OF LANSING MAN
The marriage of Miss Marjorie Christian, daughter of Mr. and Mrs. Richard Christian of R. 4, Mason, to Stanley H. Pearce, son of Mr. and Mrs. Harry Pearce of 1818 Todd avenue, took place Tuesday evening in Mt. Hope Avenue Methodist church with Rev. Paul Boodagh reading the 8 o'clock service.
The bride wore a gown of white slipper satin, a long veil, and she carried a bouquet of rosebuds and snapdragons. Her maid of hone, Miss Dortha Mae McCaslin, was in pastel blue and her flowers were rosebuds and baby "mums." As bridesmaid, Miss Geraldine Wygant wore a peach colored gown and carried flowers similar to those carried by Miss McCaslin.
William G. Pearce was his brother's groomsman, and ushers for the 150 guests were Carl Barrett and Jackie Finnie. Music during the ceremony was by Mrs. Arneal Kart, organist, and Carlton Eldridge, soloist, who was accompanied by Miss Jean Kirker. Palms ferns, and baskets of gladioli, snapdragons, and "mums" formed a setting for the candle-lighted service.
Mrs. Christian wore a gold crepe dress, and the mother of the bride-groom was in light blue poplin. After a short wedding trip, the newlyweds will live at 8221/2 Larned street. Out-of-town guests were present from Ionia and Van Wert, Ohio.
Stan retired from Oldsmobile after 39 years of service where he worked as an accountant and later as an administrative assistant in fleet sales. Marjorie died 27 September 1998 Ingham County. Stan died 10 October 1992. Stan and Marjorie were interred Deepdale Cemetery, Eaton County, Michigan.
Lansing State Journal (Lansing, Michigan) Tuesday 29 September 1998
PEARC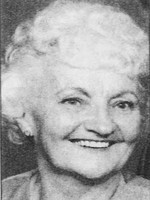 E MARJORIE J.
DIMONDALE
FORMERLY OF OKEMOS
Age 76, died Sunday, September 27, 1998. Marjorie was born February 16, 1922 in Lansing, the daughter of Richard L. and Edna L. (Burch) Christian. She was a member of the Mt. Hope United Methodist Church and enjoyed a career in food service including the Michigan State Police post and retired from Sparrow Hospital as Special Events Supervisor. Marjorie volunteered at the Beekman Center for many years and was a member of the Lansing Choraletts. Surviving are her husband of 56 years, Stanley H.; 2 daughters, Patricia (Richard) Valone of Grand Ledge, Vickie (Terry) Hammond of Howell; son Richard Pearce of Lyons; 7 grandchildren, Sherrie, Michael, Lisa, Rick, Steve, Cathy and Trevor; 3 great grandchildren; 3 special friends, Arneal Kart, Regina Malec and Mary Fran Sadler. Funeral services will be held on Wednesday, September 30, 1998, 2 p.m. at the Mt. Hope United Methodist Church, 501 E. Mt. Hope, Lansing with Rev. Ron Brooks officiating. Interment will follow at Deepdale Memorial Gardens.