Reprinted from the Pauline Lang scrapbook 1940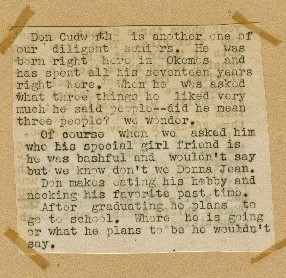 Donald Lou "Don" Cudworth, son of Lou Appollos (1887-1956) and Iva Louise (Daniels) (1890-1949) Cudworth, was born 29 April 1922 Okemos, Ingham County, Michigan. He graduated in 1940 from Okemos High School and later also graduated from Michigan State College. Don's sister Helen graduated from Okemos in 1931.
Don enlisted in 1942 and went on to receive a US Army commission as a Lieutenant. At the time of honorable discharge Don was ranked 1st Lieutenant.
Lansing State Journal (Lansing, Michigan) Sunday 24 September 1944
The following three men from Lansing and its area were commissioned send lieutenants in the army, September 12, upon successful completion of the officer candidate course at the infantry school at Fort Benning, Ga.: .....and Donald L. Cudworth, son of Mr. and Mrs. L. A. Cudworth of Okemos. Lieutenant Cudworth enlisted September 12, 1942, and was formerly on duty with the coast artillery as a corporal.
Lansing State Journal (Lansing, Michigan) Friday 22 November 1946
Donald Cudworth, who will graduate from Michigan State college this term, was appointed an assistant director of student housing, effective December 15, a new position. His home is in Okemos. He served ruing the war as a first lieutenant in the army.
Don married Erna Sussie "Sussie" Schmidt 12 July 1947 Detroit, Wayne County, Michigan. Sussie was born 4 May 1924 in Michigan.
Don died 13 February 1982 Lincoln, Logan County, Illinois. He was interred Glendale Cemetery, Okemos, Ingham County.
Lansing State Journal (Lansing, Michigan) Monday 15 February 1982
CUDWORTH, DONALD L.
150 CHURCHILL LANE
LINCOLN, ILLINOIS
(FORMERLY OF OKEMOS)
Age 59, died Feb. 13, 982, born April 30, 1982 (typo, social security lists his birth day as 29th) in Okemos. Mr. Cudworth retired in 1980 as Manager of Sears & Roebuck. He had been Past President of Rotary and United Way, and a member of the Chamber of Commerce in Lincoln, Illinois, as well as being very active in Boy Scouts and Junior Achievement. Mr. Cudworth was born and raised in Okemos and was a graduate of MSU in 1946. Surviving are his wife, E. Sussie; 3 sons and daughters-in-law, Tom and Jonnie Sue of Illinois, Bob and Nancy C. of Napoleon, MI., Jon and Judy of Jackson; 3 grandchildren; 1 brother Asa Cudworth of AZ; a sister Helen Bishop of Houghton Lake; also surviving are 3 nieces and 1 nephew. Funeral services will be Wed. 2:30 p.m. at the Gorsline-Runciman Lansing Chapel. Interment in Glendale Memorial Gardens.