Reprinted from the Pauline Lang scrapbook 1940
Marjorie Louise Chapman, daughter of Joe (1892-1920) and Ann (Wood) (1892-1981) Chapman, was born 22 December 1920 Boulder, Boulder County, Colorado. Marjorie's mother was born in England and immigrated in the 1890's to the United States. Marjorie's father was born and raised in Montcalm County, Michigan. Joe's World War I Draft Registration listed that he had 3 years of military service in the US Cavalry with rank of private. 1920 Montcalm County, Michigan US Federal Census enumerated Joe, Ann and 2 children; step-son "John Woods" and 3 month old daughter, Margaret. Marjorie was born in December 1920 months after her father's death, 6 September 1920, and burial in Green Mountain Cemetery, Boulder, Boulder County.
Ann Chapman moved back to Michigan from Colorado and began working in a Lansing, Ingham County factory. Ann's widowed mother-in-law, Mary Jane Chapman, moved to the Lansing area also. In 1926 Ann married Carl Berdette Ervay. Carl (1886-1947) became Marjorie's step father. Marjorie graduated in 1940 from Okemos High School. She married, 15 March 1942 Bryan, Williams County, Ohio, Donald Edward Adcock.
Donald, born 16 January 1913 Payne, Paulding County, Ohio, enlisted into the US Army 15 December 1942. Donald was described as 69" tall and weighing #142 pounds. He was honorably discharged in 1945.
Lansing State Journal (Lansing, Michigan) Thursday 28 January 1943
Born, January 25, at St. Lawrence hospital, to Pvt. and Mrs. D. E. Adcock, a son, Donald Edward. Private Adcock is stationed at Camp McCoy, Wisconsin, and Mrs. Adcock, the former Marjorie Chapman, is living at R. 1, East Lansing.
Marjorie died 12 December 1996 Lansing. Donald died 11 August 1999 Ingham County. Donald and Marjorie were interred Maple Ridge Cemetery, Holt, Ingham County.
Lansing State Journal (Lansing, Michigan) Monday 23 December 1996
ADCOCK, MARJORIE
LANSING
Age 75, died Saturday. Mrs. Adcock was born December 22, 1920 in Boulder, CO to Joe and Ann Chapman. She was a lifelong resident of Lansing; volunteered at M.C.M.C. Greenlawn Campus for 10 years; was a supporter of the McRee Guest House; and enjoyed the DeWitt Retreat House. Mrs. Adcock is survived by her husband, Donald; half brother, Jack Hunt; daughter, Donna (Bruce) Maag; sons, David (Sheila) Adcock and David (Clarina) Adcock; 7 grandchildren; 6 great grandchildren. Funeral services will be Tuesday, December 24, 1996, 10:30 a.m. at the Palmer-Bush Lansing Chapel with Pastor John Burow officiating.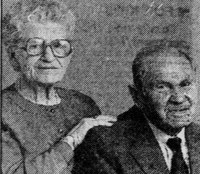 Lansing State Journal (Lansing, Michigan) Thursday 12 August 1999
ADCOCK, DONALD E.
LANSING
Born January 16, 1913 in Payne, OH died Wednesday, August 11, 1999 in Lansing at the age 86. Mr. Adcock served in the Army during World War II and retired from Sealtest Dairy of Lansing. He is preceded in death by his wife Marjorie and daughter, Joan Billman. He is survived by his 3 children, Donna (Brice) Maag, Donald (Sheila) and David (Clarina); 10 grandchildren; 7 great-grandchildren; 2 sister, Helen Harris and Mary Ann Wise; 3 brothers, Tom (Doretta) Sam (Joy), and Phillip (Lenora) Adcock; a sister-in-law, Helen Adcock; and many loving nieces and nephews. Funeral services will be Friday at 10 a.m. at the Palmer-Bush Delta Chapel, 6020 W. Saginaw with Rev. Dr. Bill Barber of Grace Bible Church officiating. Interment will follow at Maple Ridge Cemetery.