Reprinted from the Pauline Lang scrapbook 1940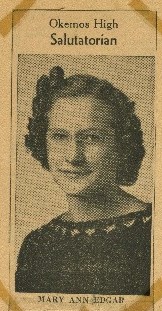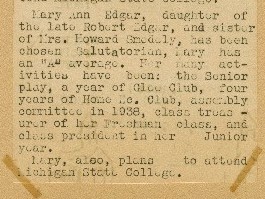 Mary Ann Edgar, daughter of Robert (1871-1938) and Amelia (Unruh) (1878-1930) Edgar, was born 9 February 1922 Okemos, Ingham County, Michigan. Mary Ann's father migrated to the United States from Germany. Mary Ann graduated in 1940 from Okemos High School.
Mary Ann married Dick Harvey Williams 15 March 1947 Okemos. Dick graduated from Central High School, Lansing, in 1940.
Lansing Stat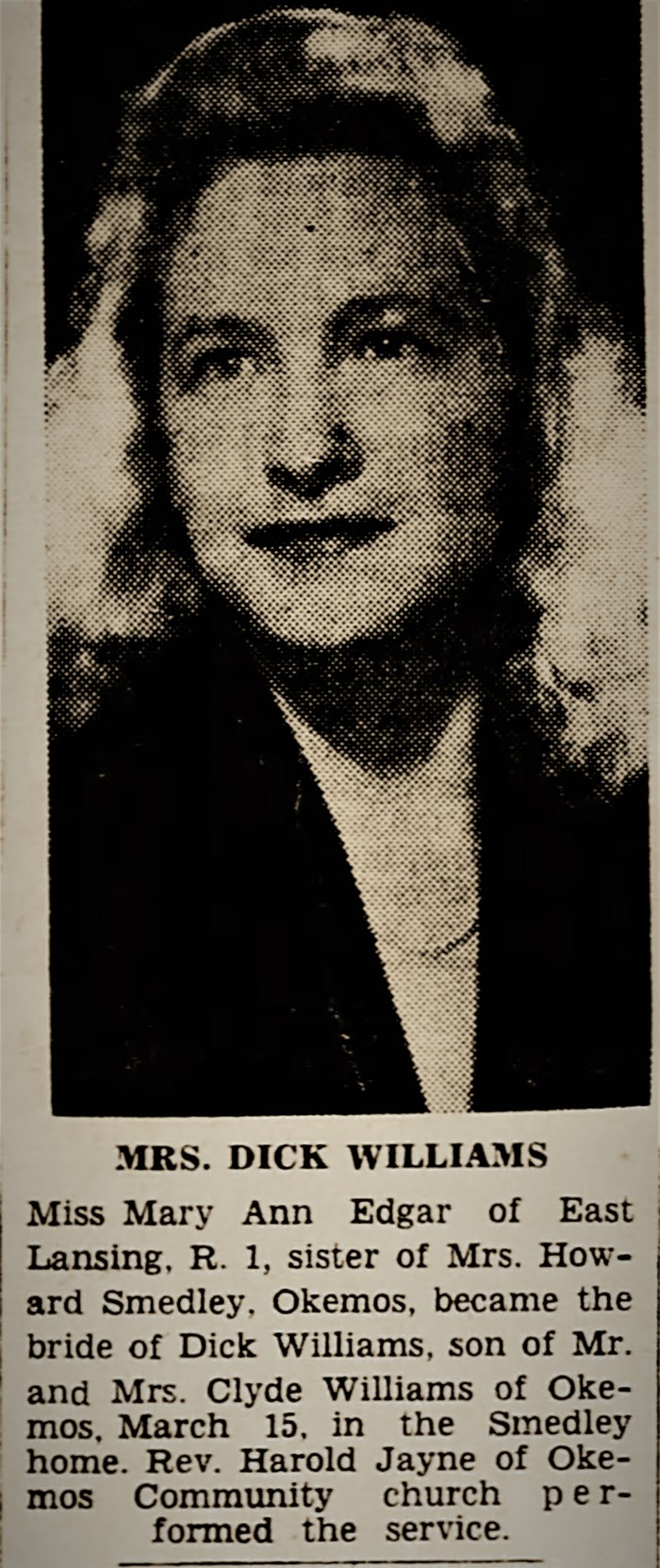 e Journal (Lansing, Michigan) Monday 17 March 1947
VOWS ARE SPOKEN AT HOME WEDDING
Baskets of yellow and white flowers and palms banked the fireplace in the Howard Smedley home at Okemos for the wedding Saturday of Miss Mary Ann Edgar, a sister of Mrs. Smedley, and Dick Williams, son of Mr. and Mrs. Clyde Williams of Okemos. Rev. Harold Jayne of the Okemos Community church performed the service.
A suit of white wool was worn with navy blue accessories by the bride. At her shoulder were pinned two orchids. Her attendant, Mrs. Paul Chirko, was dressed in pale blue gabardine worn with a corsage of yellow roses. Wally Schonhoff was groomsman.
Luncheon was served for 25 friends and relatives of the couple at the New Hut following the service. They left for a trip to Chicago and will return to make their home in East Lansing.
Dick, born 1 February 1922, was an US Army Air Corp veteran of World War II. Mary Ann died 01 September 1993 Oak Park, Oakland County, Michigan. Dick died 13 November 2008, Oceana County, Michigan.
Detroit Free Press (Detroit, Michigan) Thursday 2 September 1993
WILLIAMS
Maryann, 71, of Pentwater, MI passed away Wednesday morning, September 1, 1993, at her residence. She was a homemaker and former school teacher. Mrs. Williams graduated from Michigan State College in 1944 with her Bachelors Degree in Education. Surviving are her husband, Dick H. Williams of Pentwater, two sons, Dr. Richard S. Williams of Pentwater and Randolf P. Williams of Seattle, Washington; one daughter, Mrs. Gail (and husband, Ken) Foster of Kentwood, MI; five grandchildren; several nieces and nephews. Funeral services for Mrs. Williams are 11 a.m. Friday, September 3, 1993, at the Centenary United Methodist Church in Pentwater with Rev. Chris Momary officiating.
Lansing State Journal (Lansing, Michigan) Saturday 15 November 2008
Williams, Dick Harvey, 86, of Pentwater, retired General Motors Corp. automotive designer, died Thursday. Celebration of life gathering 2 p.m. to 4 p.m. Sunday at Oak Grove Funeral Home, Ludington Chapel.
Dick and Mary Ann were interred Pentwater Township Cemetery, Pentwater, Oceana County.