Pearl Elizabeth Harmon, daughter of John Q. (1897-1984) and Violet Viola (Himmelburger) (1901-1953) Harmon, was born 4 March 1920 Cullman County, Alabama. Pearl was one of 12 children. Pearl's parents divorced. Her mother, Violet Viola Himmelburger Harmon Gaskins, died in 1953 Sumter County, Florida.
Lansing State Journal (Lansing, Michigan) Monday 24 December 1928

HEROIC FATHER SAVES FAMILY
JOHN HARMON, 3 CHILDREN ARE PAINFULLY BURNED IN RESIDENCE BLAZE
EXPLOSION STARTS FIRE
CHRISTMAS SEASON TURNED INTO NEAR TRAGEDY FOR RESIDENTS NEAR CITY
A father's heroism saved the lives of his six children in a fire near Lansing Sunday. The father, John Harmon, R.F.D. No. 3, who lives near Packard station, southwest of the city, was in St. Lawrence hospital Monday recovering from his burns received as he was taking the youngsters to safety.
Christmas promises to be a bleak holiday for the Harmon family. The father and one son, "Jakie" are in the hospital. Two other children are suffering from slight burns and with Mrs. Harmon are at the home of a neighbor, William Youse. Their little home, built and paid for after a struggle, is lost, and there was no insurance on the building and nothing was saved except the clothing each wore.
Mr. Harmon, an employee of the Jarvis Engineering company, had been ill for two weeks, but Sunday he started to do a little work on an automobile he owns. He took a small amount of old cylinder oil he had drained from the machine into the house, and, as he had done many times before, he threw it in the stove.
EXPLOSION SPREADS FIRE
Perhaps some gasoline had mixed with the oil, for there was an explosion, the burning oil was thrown out into the room and the building burst into flames. The father and mother snatched the children and carried them to safety after several trips. When the flames had gained headway, and had formed a roaring barrier to every entrance, all the children were outside except one, Little "Jakie", 5. His father heard his cries, but could not enter the house because of the flames.
After trying every entrance the father smashed the glass in a window and Jakie ran to him. His father clutched the lad and pulled him through the window and rolled him in snow to extinguish the flames which had started in his clothing. Then he took the child to the hospital, where he was cared for and the father collapsed.
Mr. Harmon and the child were burned about the face and hands. The father's face was scorched, blackened and blistered, and his hands were swathed in bandages which were soaked in cooling oil. He could not tell which of the others had been burned, but said that the doctor told him that the youngest child, only five weeks old, had been touched by the fire.
Pearl graduated in 1940 from Okemos High School. She married 29 June 1940 Franklin Jesse "Frank" Heniser. Frank was a 1939 graduate of Okemos High and also a World War II Army veteran.
Pearl died 5 May 1999. Frank died 15 August 1999. They were interred together Chapel Hill Memorial Gardens, DeWitt, Clinton County, Michigan.
Lansing State Journal (Lansing, Michigan) Thursday 6 May 1999
HENISER, PEARL E.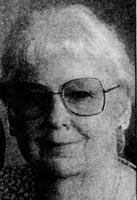 PERRY
Age 79, died May 5, 1999. Born March 4, 1920 in Cullman, AL. Mrs. Heniser was an active member of Bath Baptist Church since 1971 and Co-Director of the Sunny Seniors group for 20 years. She was preceded in death by 2 sons, Rodney and Russell Heniser. Surviving are her husband of 59 years, Frank; 2 daughters, Sharon (Ronald) Judge of Shepherd and Patricia (Paul) Alexander of Alabama; 2 daughter-in-law, Wendy and Betty Heniser; 17 grandchildren; 19 great grandchildren; 7 brothers; 1 sister; numerous nieces and nephews. Funeral services will be held Saturday, May 8, 11 a.m. at Bath Baptist Church, 13527 Webster Road, Bath, with the Rev. Dr. Richard Cole, Pastor, officiating. Interment will follow in Chapel Hill Memorial Gardens, Lansing.