Reprinted from the Pauline Lang scrapbook 1940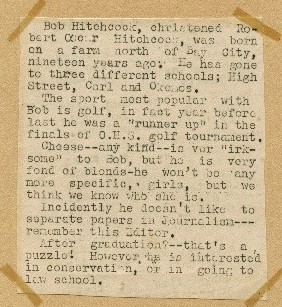 Robert Oscar "Bob" Hitchcock, son of Howard (1887-1960) and Lizzie (Burt) (1887-1945) Hitchcock, was born 26 July West Branch, Ogemaw County, Michigan. Bob graduated in 1940 from Okemos High School. He entered the US Army 7 October 1942 and was honorably discharged 13 February 1946. While stationed in Texas he met Lora LaVerne Tippit. They were married 5 August 1945.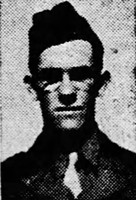 Lansing State Journal (Lansing, Michigan) Sunday 5 September 1943
HITCHCOCK - Pfc. Robert O. Hitchcock, son of Mr. and Mrs. Howard Hitchcock of Towar Gardens, is spending a brief furlough at his home here. He entered service last October and is stationed in Texas.
Bob died 20 August 2002 Lansing, Ingham County, Michigan. Lora, born 7 March 1927 Texas, died 22 July 2015 Ingham County. Bob and Lora were interred Chapel Hill Memorial Gardens, DeWitt, Clinton County, Michigan.
Lansing State Journal (Lansing, Michigan) Thursday August 22, 2002
HITCHCOCK, ROBERT
LANSING, MI
Age 82, went to be with the Lord on August 20, 2002. He was born on July 26, 1920 in West Branch, MI to Lizzie and Howard Hitchcock. A lifelong resident of the Lansing area, he graduated from Okemos High School in 1940 and entered the Army in 1942. He married Lora L. Tippit of Temple, TX on August 5, 1945. Bob was employed for 33 years with Fisher Body, from which he retired in 1975. He was a member of Messiah Lutheran Church of Holt, U.A.W. Local #602, and the American Legion Post #183. Robert was a loving husband, father and grandfather who understood and taught the golden rule. Witty and fun-loving to the very end, he enjoyed golf, bowling, the outdoors, stamp collection and time with his children and grandchildren. He is survived by; his wife of 57 years Lora; daughter, Renee (Michael) Arens and Betty (Robert) Strayer; 4 grandchildren; 1 great granddaughter; and sister Laura Ewers. The family would like to extend a special thanks to the caring staff of Sparrow Hospice. A Funeral Service will be held at 11:00 a.m. Friday, August 23, 2002 at Messiah Lutheran Church 5740 W. Holt Road, Holt, with the Rev. John A. Schinkel officiating.