Reprinted from the Pauline Lang scrapbook 1940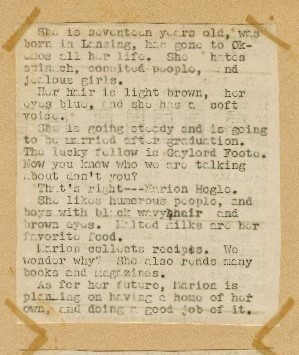 Marian Jean Hogle, daughter of Guy Otis (1885-1929) and Mable A. (Damon) (1887-1977) Hogle, was born 10 July 1922 Lansing, Ingham County, Michigan. She graduated in 1940 from Okemos High School. On 20 July 1940 East Lansing, Ingham County, Michigan Marian married Gaylord Wilkinson Foote.
Lansing State Journal (Lansing, Michigan) Tuesday 23 July 1940
WILLIAMSTON PAIR WED HERE
Palms and ferns were used with baskets of pink and white gladiola and stock to form a setting for the candlelight service Saturday evening in the chapel of the Peoples church at East Lansing when Miss Marian Jean Hogle became the bride of Gaylord Wilkinson Foote, both of Williamston. Reading the service at 8 o'clock was Dr. N. A. McCune.
The bride is the daughter of Mr. and Mrs. Homer Puchis of Williamston, and the parents of the bridegroom are Mr. and Mrs. John E. Foote, also of Williamston.
White silk crepe formed the gown worn by the bride whose veil was shoulder length and whose arm bouquet was of white roses and baby breath. She was given in marriage by her father, and was preceded down the aisle by her matron of honor, Mrs. Frank Heniser, and the small ringbearer, Ada Bernice Foote, niece of the bridegroom.
Mrs. Heniser wore blue crepe and carried pink roses, while lemon-colored silk formed the frock worn by the ring bearer whose wrist corsage was of forget-me-nots and rosebuds. Mr. Heniser was groomsman and music for the service was sung by Mrs. Blanch Ross, accompanied on the organ by Mrs. L. B. Sholl. Ushers were Marvin Ross of Detroit and Gerald Pfeifle of Williamston.
Mrs. Purchis wore a jacket dress of aqua print silk with a shoulder corsage of gardenias. The mother of the bridegroom chose an orchid gown with corn colored accessories. Her corsage, too, was of gardenias.
Following the ceremony a reception was held in the parlors of the church for the 100 guests. Upon their return from a short trip, Mr. and Mrs. Foote will make their home temporarily at 640 Sherwood road, Williamston. Before her married the bride was feted at a number of showers.
Gaylord, born 9 March 1926 Michigan, died 11 September 1965 Clinton County, Michigan.
Lansing State Journal (Lansing, Michigan) Saturday 11 September 1965
CLINTON DEPUTY SUCCUMBS
Bath - Gaylord W. Foote, 49, of 5806 High St., died of a heart attack early Saturday morning while on patrol duty as a Clinton County deputy sheriff.
A native of Williamston, he had lived here 21 years and was also employed during the day at Michigan State University in the department of safety services.
He was a trustee at Bath Baptist church, was on the Bath Community School Board and a past president of the Bath PTA.
Surviving are his wife, Marian; four daughters, Mrs. Gail Long of Imperial Beach, Calif., Mrs. June Imhoff of Haslett, Mrs. Jean Baker of Bath and Pamela at home; a son, Roger, of Bath; nine grandchildren; a brother, Daniel K. of Lansing and two sisters, Mrs. Clarence Moore, East Lansing, and Mrs. Ralph Schroeder, Owosso.
Services will be at 2:30 p.m. Tuesday at Gorsline-Runciman Funeral Home, with burial in Pleasant Hill Cemetery, Bath.
Marian married Mr. William T. Miller and lived in Missouri. She died 17 January 2013 Springfield, Greene County, Missouri. She was interred next to Gaylord in Pleasant Hill Cemetery, Bath.