Reprinted from the Pauline Lang scrapbook 1940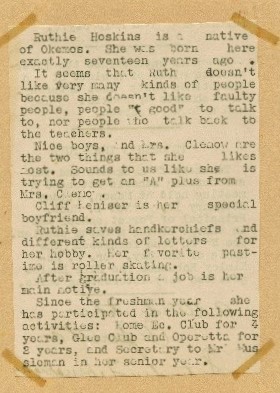 Ruth A. Hoskins, daughter of Claude Kent (1883-1946) and Ethel May (Boyd) (1896-1971) Hoskins, was born 8 January 1923 Michigan. She graduated in 1940 from Okemos High School. Ruth was employed in the 1940's by Consumers Power Company in Lansing, Ingham County, Michigan. She married Sergeant Ira Earl Johns, Jr. 31 July 1945 in Idaho.
The Fresno Bee The Republican (Fresno, California) Wednesday 8 August 1945
RUTH HOSKINS BECOMES A BRIDE OF ARMY MAN
The Gowen Field post chapel in Boise, Ida., was the setting for the wedding of Miss Ruth A. Hoskins to Sergeant Ira E. John, Jr., last Tuesday evening at 5:30 o'clock. Chaplain R. F. Joop officiated at the double ring ceremony.
Flight Officer John C. Behel of Pennsylvania gave the bride in marriage. She chose a Jersey afternoon frock in an egg shell hue fashioned with a peplum, cap sleeves, pencil skirt and a low round neckline. Her accessories were white and she wore elbow length gloves and a corsage of pink gladioli buds and stephanotis. She carried a white prayer book.
Attending the bride as matron of honor was Mrs. Charles Dodson of East Lansing, Mich. She wore an aqua shaded street length dress accented with a corsage of gardenias.
Corporal Clifford D. Corliss of Magnolia, Mass., who is stationed with the bridegroom at Gowen Field, was the best man.
Preceding the vow exchange Lieutenant John B. Clark of Berkeley sang Ave Maria.
Among the out of town guest at the wedding were Mr. and Mrs. Ira E. John Sr., parents of the benedict (newspaper word!), and their granddaughter, Miss Gerry Ann O'Conner. Mrs. John chose a navy blue frock trimmed in lace with which she wore a gardenia corsage.
After the ceremony the wedding party was honored at a dinner. The newlyweds are making their temporary home in Boise.
The bride is a daughter of Mr. and Mrs. Claude K. Hoskins of Mason, Va. (newspaper mistake) Prior to her marriage she was employed by the Consumer's Power Company in Lansing, Mich.
Ruth was still living in California in 2007 but her name is no longer listed in directories so it is assumed she died by 2017. Ira Earl, born 2 June 1924 Los Angeles County, California, died 15 October 2004. He was interred San Joaquin Valley National Cemetery, Santa Nella, Merced County, California. Ira served in the US Army from 1943-1946, attaining the rank of Sergeant.