Reprinted from the Pauline Lang scrapbook 1940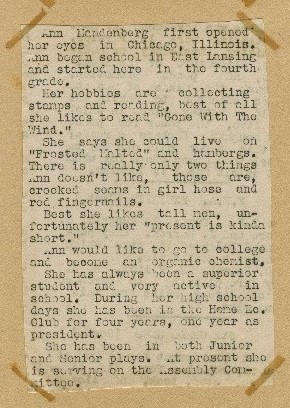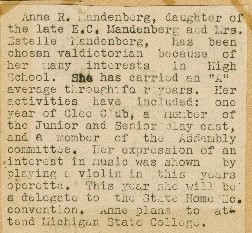 Anne Rost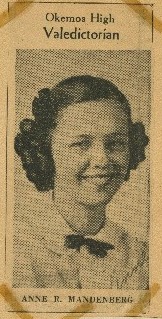 Mandenberg, daughter of Edmund Carl "E. C." (1887-1939) and Estelle Margaret (Hawkins) (1895-1971) Mandenberg, was born 15 September 1922 Chicago, Cook County, Illinois. Mr. Mandenberg was head of the orchard nursery division of the Michigan State Department of Agriculture from 1922-1939. Anne graduated in 1940 from Okemos High School. She graduated from Michigan State College and in 1944 was president of Pi Mu Epsilon, a national mathematics honorary. She also graduated from the University of Michigan and furthered her medical career by studying in Boston, Massachusetts. On 15 June 1952 East Lansing, Ingham County, Michigan Anne wed William Karl "Bill" Sieber, MD.
Lansing State Journal (Lansing, Michigan) Sunday 17 June 1951
MANDENBERG - SIEBER
Miss Anne Rost Mandenberg, M.D., of Okemos, was married to Dr. William Karl Sieber , of Pittsburgh, Pa., Friday afternoon, at McCune chapel, People church, East Lansing. Officiating at the 4 p.m. ceremony was Rev. N. A. McCune. The bride's brother, Edmund Carl Mandenberg, Jr., gave her away.
After a honeymoon trip to New York state, the newly weds will make their home in Pittsburgh, Pa.
The new Mrs. Sieber who interned at Luther hospital, at Eau Claire, Wis., has just finished 20 months of study on anesthesiology in Boston, Mass. She will finish her training in that field at Presbyterian hospital, in Pittsburgh. Her husband, who practices in that city, interned at Presbyterian Children's hospital there, and studied thoracic surgery in Boston, Mass.
The birde is the daughter of Mrs. Edmund Carl Mandenberg, of Okemos, and a graduate of Michigan State college and the Medical school of the University of Michigan. She is affiliated with Alpha Epsilon Iota.
The bridegroom's parents are Mr. and Mrs. William Theodore Sieber, of Pittsburgh. He is a graduate of the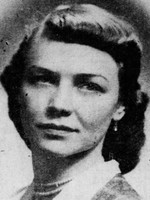 University of Pittsburgh and its medical school.
For her bridal gown, this bride chose one of fitted slipper satin, in traditional white, with a short train. Its deep yoke was of white illusion net. Her headdress was a half-band of white satin flowers and pearls, holding a fingertip veil of illusion net, trimmed with white satin rosebuds and pearls. She carried a single white orchid.
Her matron of honor was a sister-in-law, Mrs. Robert D. Mandenberg, of Ypsilanti. Hers was a taffeta gown of lilac with fitted bodice, portrait neckline and a full pleated skirt. She carried a small colonial bouquet of mixed flowers in pastel shades.
Bridesmaid, Miss Doris Sieber, sister of the bridegroom, of Pittsburgh, P., wore a green taffeta model. Her flowers, too, were in colonial cascade.
Best man was Walter Frederick Toerge, of Bay Village, O., and brother-in-law of the bridegroom.
Robert D. Mandenberg of Ypsilanti, the bride's brother, ushered.
Traditional wedding music was provided at the organ by Mrs. Helen Scholl.
The bride's mother donned an aqua lace dress with accent of pale rose. Her hat was of fitted aqua lace, trimmed with tiny pink flowers. Her corsage was of pink roses, and her accessories a matching pink. The mother of the bridegroom chose a navy blue sheer dress, with which white accessories were worn. Her corsage was also of pink roses.
A reception, following the ceremony, was held for close friends and family at the home of the bride's mother. Assisting in serving were Miss Margaret Pyle, of Detroit; Mrs. Edmund Carl Mandenberg, Jr., of East Lansing; Mrs. Harry Neuman, of Williamston and Mrs. E. J. Miller, of East Lansing.
For her going-away outfit, the birde chose a suit of dusty rose, with which, maroon accessories were worn. She wore a white orchid from her wedding flowers.
Bill Sieber was born 21 September 1919 Ford City, Armstrong County, Pennsylvania. He was a medical doctor when he entered the US Army in 1942, serving overseas until honorable discharge in 1946. Bill had a long and successful medical career often working side by side with his wife. He died 4 May 2015 at the age of 95.
Pittsburgh Post-Gazette (Pittsburgh, Pennsylvania) Sunday 10 May 2015
SIEBER
WILLIAM KARL "BILL", M.D.
On May 4, 2015, William Karl "Bill" Sieber, M.D. Survived by his wife, Anne M. Sieber; his children, William Karl Sieber, Jr., Frederick Edmund Sieber, M.D. and Kurt DeLance Sieber; also survived by six grandchildren. Interment service private. In lieu of flowers and to benefit the Dr. William Sieber, MD. Award, contributions may be directed in Bill's memory to the University of Pittsburgh, School of Medicine.
Ann died 27 December 2016 in Maryland.
Anne Rost Mandenberg Sieber MD 1922-2016

Anne Sieber MD was a weaver. When we returned home from college or on visits in later years, my mother was often sitting at a very large loom, weaving blankets, towels and other textiles. She had other looms, such as the Navaho loom, but her keenest interest was in the materials, usually a lin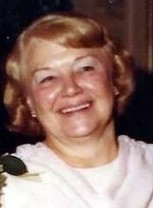 en, silk, or woolen yarn, or a Native American cotton. Dr. Sieber traveled extensively in the Middle East with her husband, a well-known pediatric surgeon in the Pittsburgh area, where she took a great interest in the colorful and lushly woven Oriental rugs found in the bazaars and villages that they visited. Her artistic talents expressed themselves in her other hobbies, including antiques and artifacts of Ancient Egypt.

Dr. Sieber's medical degree allowed her to conduct research with her husband at Presbyterian Children's Hospital, during the 1960s through the 1980s where she also was a volunteer. The products of her research were several articles published in scientific journals on the subject of surgical treatment of pediatric respiratory and digestive defects. During this time, she was a docent at the Carnegie Museum, Pittsburgh, and volunteered at the Bryn Mar/Vassar bookstore in Oakland. In later years she became a Stephens minister at Shadyside Presbyterian Church in Pittsburgh.

Anne Rost Mandenberg was born on September 15, 1922 in Chicago, Illinois, to Edmund Carl and Estelle Margaret Mandenberg. She earned a Bachelor of Arts degree from Michigan State University in 1944 and an MD degree from the University of Michigan Medical School, in 1948. She was a member of the Alpha Epsilon Iota sorority. She studied Anesthesiology at Boston City Hospital where she met William K Sieber, Sr, MD. The two doctors became engaged and were married on June 15, 1951. They made their home in Pittsburgh, Pa. where her husband was a pediatric surgeon at Presbyterian Children's hospital. Anne practiced medicine until 1953 when her first son was born. Anne was a loyal loving wife and a devoted and caring mother, who is survived by 3 sons-William K Sieber Jr (Cynthia) of Cincinnati, Oh; Frederick Edmund Sieber (Elizabeth); and Kurt DeLance Sieber (Barbara) of Rochester NY; and six grandchildren. The Siebers resided in Pittsburgh, Pa for 62 years, until they moved in 2013 to Baltimore to be near family.
Obituary courtesy of Lemmon Funeral Home of Dulaney Valley, Inc.