Reprinted from the Pauline Lang scrapbook 1940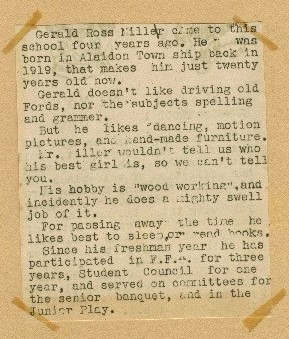 Gerald Ross Miller, son of Earl John (1889-1965) and Mattie Rose (King) (1890-1970) Miller, was born 29 March 1919, Mason, Ingham County, Michigan. Gerald graduated in 1940 from Okemos High School.
The Sheboygan Press (Sheboygan, Wisconsin) Saturday 15 January 1938, The Montana Standard (Butte, Montana) Sunday 16 January 1938,
The Central New Jersey Home News (New Brunswick, New Jersey) Sunday 16 January 1938, Hartford Courant (Hartford, Connecticut) Sunday 16 January 1938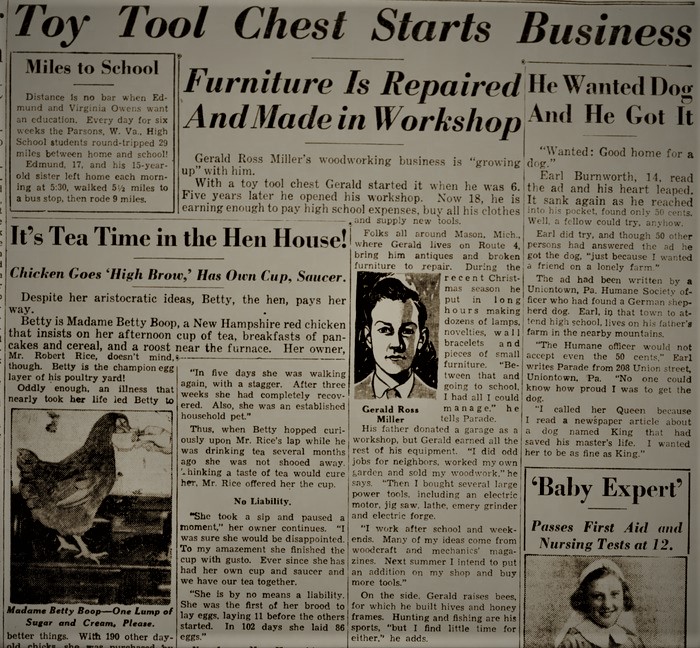 TOY TOOL CHEST STARTS BUSINESS
FURNITURE IS REPAIRED AND MADE IN WORKSHOP
Gerald Ross Miller's woodworking business is "growing up" with him.
With a toy tool chest Gerald started it when he was 6. Five years later he opened his workshop. Now 18, he is earning enough to pay high school expenses, buy all his clothes and supply new tools.
Folks all around Mason, Mich., where Gerald lives on Route 4, bring him antiques and broken furniture to repair. During the recent Christmas season he put in long hours making dozens of lamps, novelties, wall bracelets and pieces of small furniture. "Between that and going to school I had all I could manage" he tells Parade.
His father donated a garage as a workshop, but Gerald earned all the rest of his equipment. "I did odd jobs for neighbors, worked my own garden and sold my woodwork," he says. "Then I bought several large power tools, including an electric motor, jig saw, lathe, emery grinder and electric forge.
"I work after school and weekends. Many of my ideas come from woodcraft and mechanics' magazines. Next summer I intend to put an addition on my shop and buy more tools."
On the side, Gerald raises bees, for which he built hives and honey frames. Hunting and fishing are his spots, "but I find little time for either," he adds.
Gerald filed for bankruptcy in 1949. There were several notices printed in the Lansing State Journal.
Gerald married Mary Ellen Brunton 22 May 1942, Delta Center, Eaton Rapids, Michigan. He married Margaret A. Proctor 5 May 1948, Lansing, Ingham County, Michigan. He married Ruth Butler Deeb May 1958, Lansing.
Gerald lived in the Bath, Clinton County, Michigan area for many years. He died 11 December 2003, Lansing. He was interred Deepdale Memorial Gardens, Eaton County, Michigan.
Lansing State Journal (Lansing, Michigan) Sunday 14 December 2003
GERALD R. MILLER
LANSING, MI
Born March 29, 1919, in Mason; died December 11, 2003, at the age of 84. Mr. Miller retired in 1981 from the D.N.R. after 20 years of service. he was a member of Christ United Methodist Church and the Greater Lansing Orchid Society and a life member of the Lansing Potters Guild. Surviving are his children, Linda (Ron) Miller and Ronald (Sherry) Miller both of California, Charles Miler of Traverse City, Robin (June) Miller of Florida and 6 grandchildren. Funeral services will be held Tuesday, December 16, at noon at the Gorsline-Runciman Co. Lansing Chapel, 900 E. Michigan Ave., Lansing. Interment will follow in Deepdale Memorial Gardens, Lansing.