Reprinted from the Pauline Lang scrapbook 1940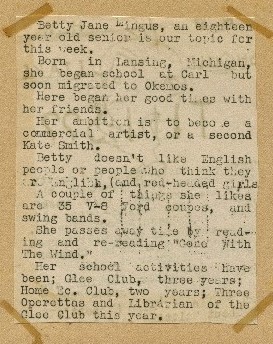 Betty Jane Mingus, daughter of Birg E. (1894-1958) and Helen J. (Garver) (1899-1984) Mingus, was born 22 September 1921 Lansing, Ingham County, Michigan. She graduated in 1940 from Okemos High School. Betty married Kenneth James "James" Kain 19 June 1942 East Lansing. James was one of dozens written up in the Lansing State Journal on Tuesday 1 September 1942 as accepted for service in the US Army by Draft Board 4. James actually enlisted 31 August 1942 in Kalamazoo in the US Army. He was described as 69" tall and weighing 137 pounds.
James was killed in action (KIA) 16 June 1944 in France.
Lansing State Journal (Lansing, Michigan) Friday 1 September 1944
TWO NAMES ADDED TO WAR DEAD LIST

SGT JAMES KAIN, 23, PRIVATE LEROY LEHMAN, 29 KILLED IN FRANCE, NEW GUINEA
Two more names were added Friday to the lengthening list of the Lansing area's war dead.
Sgt. James Kain, 23, previously reported as missing since June 16 in France, was killed on that date, the war department has informed his wife, Mrs. Betty Kain of R. 10, East Lansing. Mrs. Kain said she first learned her husband was missing August 1. A former Oldsmobile employee, Sergeant Kain entered the army August 3, 1942, and received his training at Camp Robinson, Ark., and Camp Carson, Colo. He left for overseas in November, 1943, serving in England, Ireland, and France.
Surviving, besides the widow, are his father, Felix Kain of R. 10, East Lansing; a brother, Stanley Kain, and four sisters, Mrs. Madeline Pease, and Rose Marie Kain living at home; Mrs. Bryant Kerwin of R. 5, East Lansing, and Mrs. Dorothy Harris of Jackson.
Lansing State Journal (Lansing, Michigan) Wednesday 30 May 1945
Sgt. James Kain, husband of Mrs. Betty Kain, R. 10, East Lansing, killed in action. He formerly worked for the Oldsmobile division.
Betty resided in the Lansing area for the rest of her life. She was a bookkeeper by occupation. Betty died 12 March 1991 Lansing.
Lansing State Journal (Lansing, Michigan)Wednesday 13 March 1991
KAIN, BETTY J. (MINGUS)
LANSING
Age 69, died March 12, 1991. Born September 25, 1921 in Lansing. Mrs. Kain remained a lifelong resident and was formerly employed as a bookkeeper. Surviving are 2 brothers, Cleon Mingus of East Lansing and Richard (Marian) Mingus of Empire; 3 sisters, Lila Little of Lansing, Evelyn (Neil) Teed of Swartz Creek and Barbara Cruz of Lansing. There will be no services or visitation. The family was served by the Gorsline-Runciman Lansing Chapel.