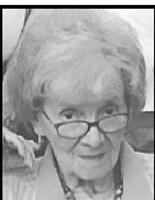 Reprinted from the Pauline Lang scrapbook 1940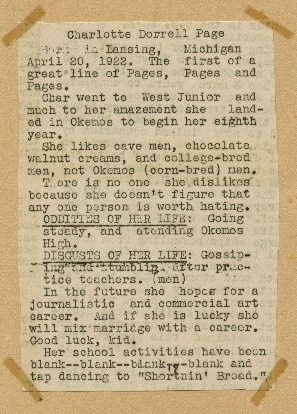 Charlotte Darrell Page, daughter of George Register (1890-1967) and Inez C. (Dorrell) (1901-1954) Page, was born 20 April 1922 Lansing, Ingham County, Michigan. She graduated in 1940 from Okemos High School. Charlotte married Harold Milton "Hal" Cessna 21 November 1942 Lansing.
Lansing State Journal (Lansing, Michigan) Sunday 22 November 1942
PAGE-CESSNA VOWS SPOKEN IN CANDLELIGHT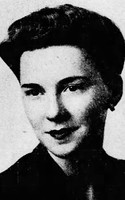 A candlelight wedding service for Miss Charlotte Darrrell Page, daughter of Mr. and Mrs. George Register Page of Okemos, and Harold Milton Cessna of Chicago, son of Mr. and Mrs. Clarence Cessna, 310 Charles street, East Lansing, was performed Saturday evening in Mary Sabina chapel of Central Methodist church. Dr. D. Stanley Coors, pastor of the church, officiated at 7:30 p.m. in the presence of 125 guests.
Altar bouquets of white chrysanthemums and white tapers in candelabra formed a setting for the ceremony. Miss Ruth Woodworth sang "Because" before the services, and the organist, Mrs. Margaret Goodell Ebersole, played "I Love You", Gregg, "Ave Maria", Shubert, "Andante Cantabile", from Tchaikowski's "Fifth Symphony", and traditional wedding marches.
The bride wore draped chestnut brown crepe with dark brown accessories. She carried a bouquet of yellow roses and bronze chrysanthemums centered by a detachable corsage of yellow orchids. Maid of honor Miss Maurine Alice Page, sister of the bride, who wore aqua crepe with brown accessories, and carried a bouquet of yellow and bronze chrysanthemums. Francis Sherman was groomsman, and the ushers were Robert Cessna, Gerald Cessna, and Roger Cessna.
Guests were received later in the women's parlors of the church. The table was centered by a wedding cake surrounded by a garden of smilax and "mums' and punch was served from an ice bowl in which "mums" were frozen. Mrs. Page, mother of the bride, wore a two-piece suit of black and gold silk crepe with black accessories and a corsage of talisman roses. The bridegroom's mother, Mrs. Cessna, was attired in black silk crepe with black accessories and a corsage of talisman roses. Assisting at the reception were Miss Geraldine Colvin, Miss Mary Jan Schaub, Mrs. Russell Kelty, Mrs. Paul Griffith, Miss Jean Cessna and Miss Virginia Dean.
After a short wedding trip the couple will reside in Chicago, Ill. Mr. Cessna graduated from Michigan state college in 1942. Guests present at the wedding from Detroit were Mr. and Mrs. A. B. Dean, Miss Dean, Mr. and Mrs. R. W. Busby, Mrs. Sadie Michaels, E. J. Dowell and Mrs. Delia Darrell. Attending the affair from Adrian were Mr. and Mrs. Ira Hill, Mr. and Mrs. Maynard Aldrich, Mr. and Mrs. Bert Cessna, Mrs. M. E. Ingersoll and Mrs. C. H. Heffron.
Charlotte died 5 September 2012 Maryland. Hal, born 12 July 1920, was a World War II Army veteran. He had a long career in the field of radio broadcasting. Hal died 13 March 2014.
The Kent Island Bay Times (Chester, Maryland) Wednesday 12 September 2012
STEVENSVILLE - Charlotte Page Cessna of Stevensville died peacefully surrounded by her family on September 5, 2012 at the Corsica Hill Center in Centreville. She was 90.
Born in Lansing, Mich. on April 20, 1922, she was the daughter of George Register Page and Inez Dorrell Page. She graduated from Okemos High School in Okemos, Mich. and attended Michigan State University. In 1942, she married Hall Cessna, and they made their home and raised their family in Lansing, Mich.
Mrs. Cessna loved animals and always had a dog in her home. She enjoyed to spend her free time engaged in handicrafts especially knitting, counted cross stitch and needlepoint, and was a fabulous cook. Her loving support, encouragement and generosity of spirit enriched the lives of her family and friends in countless ways.
She is survived by her loving husband of 69 years, Hall Cessna; her children, Rev. Melody Sutherland her husband, Don, of Stevensville, and March Cessna of Arnold; her sister, Donna Caruss of Royal Oak, Mich.; her grandchildren, Erin Janes and her husband, Ben, Ethan Sutherland and his wife, Melissa, and Owen Sutherland and his wife Brooke; and 10 great-grandchildren.
The Star Press (Muncie, Indiana) Sunday 14 August 1960
KIWANIS SPEAKER
Harold M. Cessna, news director of WOWO, Ft. Wayne, will be the speaker at the meeting of the Muncie Kiwanis Club Wednesday noon at the Hotel Roberts. A native of Adrian, Mich., Cessna is a graduate of Michigan state University, served in the army during World War II, and also has had radio experience in Lansing and Kalamazoo, Mich.; Akron, O., and Carthage, Ill. He joined WOWO in 1956.
The Kent Island Bay Times (Chester, Maryland) Wednesday 19 March 2014
HAROLD "HAL" CESSNA
Harold "Hal" Cessna died on March 13, 2014, at Ann Arundel Medical Center in Annapolis peacefully surrounded by his family. He was 93.
Born in Adrian, Mich., the son of the late Clarence and Alice (Colvin) Cessna, he graduated from Michigan state in 1942. After graduation, he married and was drafted into the Army, serving with Patton's third Army at the Battle of the Ardennes Forest. After the war, Hal then began a career in broadcasting in Carthage, Ill. In 1956 he joined Westinghouse broadcasting, WOWO in Fort Wayne, Ind., and then KDKA in Pittsburgh, where he covered political conventions. In 1967, he became a News Director for COX Broadcasting on Capitol Hill in Washington, D.C., ending his career in 1998. Hal and Char retired to the Eastern Shore of Maryland.
He is survived by his daughter, Melody Sutherland and her husband, Don, of Stevensville; son, Marc Cessna of Stevensville; three grandchildren, Erin Janes, Ethan Sutherland and Owen Sutherland; and 10 great-grandchildren. Mr. Cessna was preceded in death by his wife, Charlotte Cessna, in 2012; sister Jean Cory in 1961; and brother Gerald Cessna in 1991.
A memorial service will be held at noon on Monday, March 24, at Christ Episcopal Church, 830 Romancoke Road, Stevensville, where family and friends can visit starting at 11 a.m.