Reprinted from the Pauline Lang scrapbook 1940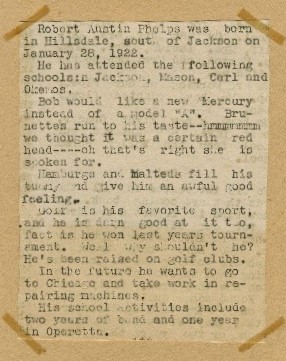 Robert Austin Phelps, son of John Duncan (1893-1946) and Ruth (Brink) (1898-1970) Phelps, was born 28 January 1922 Hillsdale County, Michigan. Robert's father was a veteran of World War I serving with Michigan Company C 24th Engineers. Robert graduated in 1940 from Okemos High School. He too served in the military. During World War II, 1942-1945, Robert served in the 32nd Red Arrow Division US Army in the South Pacific.
Robert married Margaret O. Chelf 15 June 1946 Holt, Ingham County. Robert was employed with Oldsmobile for many years. He died 26 April 1984 Lansing, Ingham County.
Lansing State Journal (Lansing, Michigan) Friday 27 April 1984
PHELPS, ROBERT A.
HOLT
Age 62, died April 26, 1984 at Ingham Medical Hospital. Robert was born Jan. 28, 1922 in Hillsdale, Michigan and has resided in Holt for over 40 years. A graduate of Okemos High School. Member of the 32nd Red Arrow Division and served in the South Pacific during W.W. II, member of the V.F.W. Post #701 and retired from Oldsmobile after 42 years of employment. Robert is survived by Margaret his wife of 38 years; 3 daughters, Sue Phelps of Haslett, Roberta Ballard of Dimondale and Sherry Mulvaney of Dimondale; 1 son, John Phelps of Lubbuck, TX; 1 sister, Shirley Smalley of Holt; 1 brother, William Phelps of Mason; 1 grandchildren. Funeral services will be performed by Pastor Joe Graybill at the Jewett Funeral Home, Mason, MI, Sat., April 28 at 2 p.m.