Reprinted from the Pauline Lang scrapbook 1940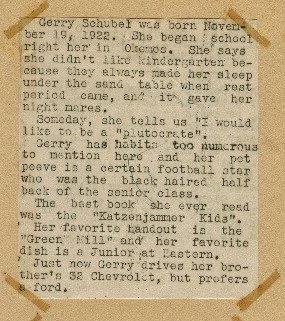 Geraldine A. Schubel, daughter of Arthur A. (1891-1945) and Charlotte (Marshall) (1888-1943) Schubel, was born 19 November 1922 Ingham County, Michigan. Gerry's father owned a bus line in Michigan. She graduated in 1940 from Okemos High School and went on to also graduate from Michigan State College with a teaching degree.
Lansing State Journal (Lansing, Michigan) Saturday 16 September 1944.
Three young women, graduating four years ago from the local high school, are starting teaching careers this month.......Miss Geraldine Schubel, also matriculating from Michigan state, is teaching English and speech at the high school in Mt. Morris.
Gerry married Murray McColl Dewar Jr. Murray, born 25 July 1923 Kent County, Michigan, was a World War II veteran serving from 1944-1946 in the US Marine Corp. Murray died 9 March 1992 Kent County. Gerry died 17 July 2011 Grand Rapids, Kent County.
DEWAR - Geraldine A. Dewar, age 88, of Grand Rapids, went home to be with her Lord Sunday, July 17, 2011. She was preceded in death by her husband, Murray, and her daughter, Jamie. Surviving are her children, Randy Dewar Gillies (Chuck), Terri VanderLaan, Murray Dewar III (Becky). Her grandchildren, Nicole Taylor, Julie Taylor, Logan (Gillies) Gallagher (Michael); great grandchildren, Olivia Taylor, Luke Gallagher, Nolan Gallagher, nieces and nephews. A Service Of Remembrance will be held 11:00 a.m. Wednesday at the Reyers North Valley Chapel with Rev. Lonnie Shields officiating. Interment In Rosedale Memorial Park. Relatives and friends may meet her family at the chapel from 6 to 8 p.m. Tuesday, and one hour prior to the service Wednesday.
Arrangements under the direction of: Reyers North Valley Chapel 2815 Fuller Ave Ne | Grand Rapids, MI 49505