Reprinted from the Pauline Lang scrapbook 1940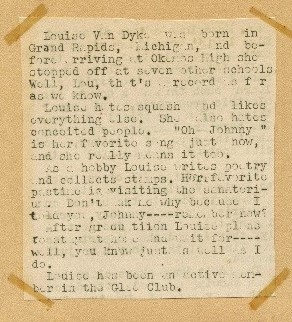 Jane Louise "Louise" Van Dyke, daughter of Bertus G. "Bert" (1877-1935) and Maggie (Powell) (1978-1937) Van Dyke, was born 30 December 1920, Grand Rapids, Kent County, Michigan. Louise's father was an insurance agent who succumbed to a cerebral hemorrhage 13 September 1935, Kent County. Her mother, Maggie, succumbed to sarcoma of spine and pelvis 4 December 1937, Kent County. Louise had one brother, Robert Powell Van Dyke. Robert, born 1919, married in 1940. He was killed in an accidental hunting accident in 1946 near Baldwin, Michigan. Louise's parents and brother were interred Lake Forest Cemetery, Grand Haven, Ottawa County, Michigan.
Louise attended several different high schools before graduating in 1940 from Okemos High School. It is unknown why she was in the Ingham County going to school other than she was living in the area. According to the 1940 US Federal Census, Louise was enumerated in April 1940 living in Franklin Square House, East Newton Street, Boston, Suffolk County, Massachusetts. She was not employed but listed herself as having been a resident in Grand Rapids and Michigan born.
Seemingly Louise enrolled in 1940 and graduated from Cushing Academy, Ashburnham, Worchester County, Massachusetts. The co-educational Academy is about an hour away from Boston and was founded in 1865.
On 24 February 1944 Louise joined the US Coast Guard Women's Reserve, SPARS: "Semper Paratus - Always Ready." She honorably served until 8 March 1946 and was discharged with the rank BM2 (Boatswain's Mate 2nd Class). While still serving her country Louise married George Norton Chatham 14 February 1946, Cleburne, Johnson County, Texas.
Fitchburg Sentinel (Fitchburg, Massachusetts) Wednesday 27 February 1946
CHATHAM - VAN DYKE
Miss Jane Louise Van Dyke, BM2 C USCG (WR), daughter of the late Mr. and Mrs. Bert G. Van Dyke of Grand Rapids, Mich., and former manager of the Dion beauty shop, and George Norton, son of Mr. and Mrs. Norton S. Chatham of Cleburne, Texas, were married Feb. 14 at the Cleburne First Baptist church according to word received here. The ceremony was performed by Rev. Albert Venting, D.D.
Miss Mary Ethel Chatham was the maid of honor and the bridegroom's father was his best man.
The couple expect to live in Chicago after September when Mr. Chatham plans to enter Chicago university and Mrs. Chatham will study music. She was graduated from Cushing academy and has served two years with the coast guard. Mr. Chatham was graduated from Cleburne high school and Franklin Institute of Technology, Boston. He served three years with the 17th Photo Intelligence Detachment, U.S. army air force, in the United states and India.
George Norton Chatham was born 29 August 1923, Cleburne, Johnson County, Texas. His World War II army registration described him as 5'6" tall with blue eyes, black hair and a tattoo on his left arm. George became an aerospace consultant and was a 1971 recipient of a citation from the US Department of Transportation. He was listed as: Research associate, University of Illinois, San Antonio, Texas, 1951-1953; design engineer, Calcasieu Air Conditioning Company, Austin, Texas, 1953-1956; executive vice president, Chatleff Controls Inc., Austin, 1956-1963; chief advanced planning, National Aeronautics and Space Administration-OART, Washington, 1963-1969; specialist aerospace, Congressional Research Svc., Washington, 1969-1983; consultant, since 1983. Consultant Congressional Research Svc., Washington, since 1983.
Austin American-Statesman (Austin, Texas) Saturday 27 April 1957
PUBLIC RECORDS
George Norton Catham (newspaper misspelling) vs. Jane Louise Chatham, divorce granted.
Louise was found dead 2 September 1976, Austin, Travis County, Texas. Interment unknown.
Austin American-Statesman (Austin, Texas) Friday 3 September 1976
CHATHAM, Mrs. J. Louise, 54, 4605 Parkwood, died Thursday. Services pending at Hyltin-Manor Funeral Home.
Austin American-Statesman (Austin, Texas) Saturday 4 September 1976
RULING PENDING
A ruling was pending Friday in the deth of an Austin woman who was discovered dead after her mailman noted she had not picked up her mail.
Justice of the Peace Richard E. Scott ordered an autopsy in the death of Louise Chatham, 55, of 4605 Parkwood. She was found dead in bedroom shortly after 5 p.m. Thursday.
Homicide detectives were called to the scene because of blood found on a bedroom closet door.
Louise's husband, George, married Lois Albro Rommel in 1959. He died 4 August 2000, Tarrant County, Texas.