Barbara Ann VanHalst, daughter of Arthur C. (1893-1950) and Isabel C. (Rhodes) (1890-1969) VanHalst, was born 15 December 1921 Kalamazoo, Kalamazoo County, Michigan. She graduated in 1940 from Okemos High School. Barbara married classmate Jean Charles Stack 3 August 1944 Okemos, Ingham County, Michigan. They divorced 28 April 1951 Ingham County. Barbara was a businesswoman; Vice President Ren Plastics for over two decades and seated on the board of the Lansing Board of Water and Light.
Lansing State Journal (Lansing, Michigan) Monday May 25, 1970
Mayor Gerald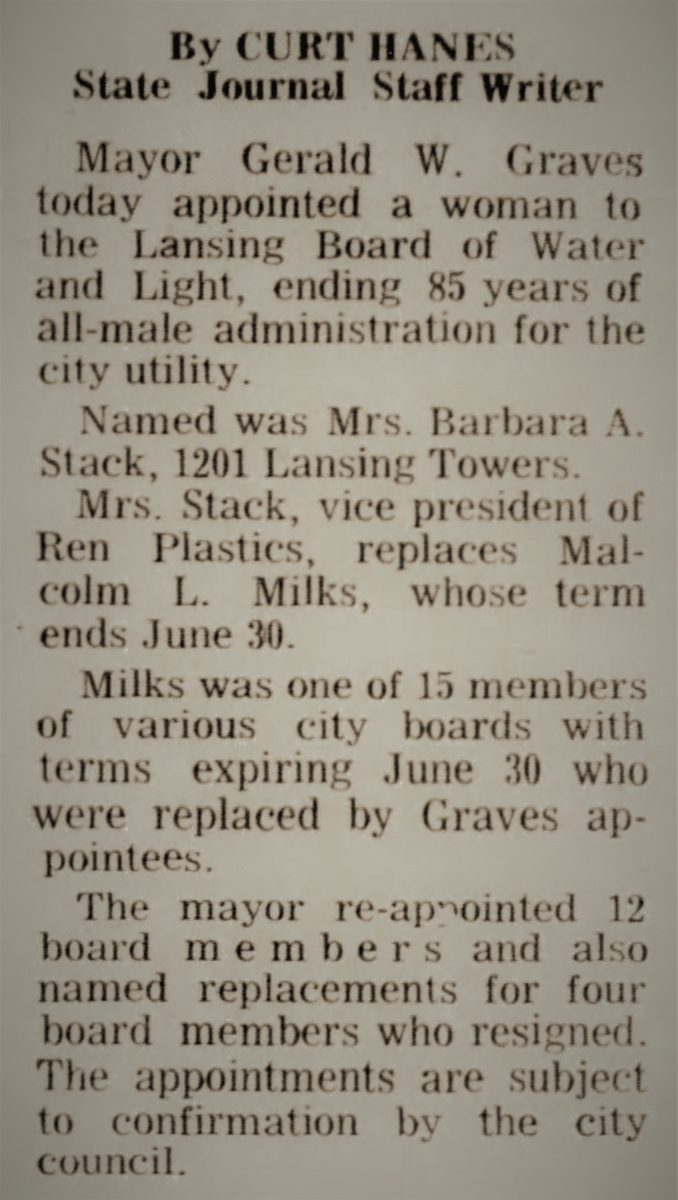 W. Graves today appointed a woman to the Lansing Board of Water and Light, ending 85 years of all-male administration for the city utilit

y.
Named was Mrs. Barbara A. Stack, 1201 Lansing Towers.
Mrs. Stack, vice president of Ren Plastics replaces Malcolm L. Milks, whose term ends June 30.
Barbara died 10 February 1999 Kalamazoo.
Lansing State Journal (Lansing, Michigan) Thursday 11 February 1999
STACK, BARBARA A.
ST. JOHNS
Passed away February 10, 1999 at the age of 77. She was born December 15, 1921 in Kalamazoo, the daughter of Arthur and Isabel (Rhodes) VanHalst and lived in Lansing until 1990 when she moved to St. Johns. She was vice President for Ren Plastics for 25 years in Lansing and was the first woman to serve on the board for the Board of Water & Light. She served on many Lansing Boards including the Lansing Parks and Recreation, and was a member of the Zonta Club which is an International Professional Womens Club. Barb is survived by her daughter, Annette Vance; granddaughter, Sara Vance; and grandson, Jesse Vance, all of St. Johns; sister-in-law, Pauline VanHalst; niece, Jane Ann Griese of Lansing; nephew, Terry (Martha) VanHalst, of Williamston; and 2 great-nephews, Andy (Mary) VanHalst and Aaron VanHalst; and her sister, Betty VanHalst. Private family services will be held. There will be no visitation.