Rodney Aaron Waters, son of Aaron (1899-1980) and Laura Gertrude (Bowers) (1901-1981) Waters, was born 13 December 1920 Lansing, Ingham County, Michigan. He graduated in 1940 from Okemos High School. Rodney married Catherine Ann Thompson 2 February 1952 East Lansing, Ingham County.
Lansing State Journal (Lansing, Michigan) Thursday 7 February 1952
THOMPSON-WATER RITES SOLEMNIZED
Rodney A. Waters and his bride, the former Miss Catherine Thompson, will return from their honeymoon trip on the weekend to live at 209 Hillsdale st.
The couple was married Saturday evening by Rev. Kearney Kirkby of Central Methodist church at the home of the bride, 143 Bogue st., East Lansing. She is the daughter of Mrs. Verne Thompson and the late Mr. Thompson. Her husband's mother is Mrs. Laura Water, Lexington ave., East Lansing.
For the ceremony, the bride wore a navy blue taffeta dress with a pink jacket. Her flowers were white carnations and pink rosebuds. Mrs. Donald Branch, the bride's sister, had a wine suit and pink carnations for her duties at matron of hone. The bridegroom's brother, Robert Waters, was best man.
At a reception the bride's sister-in-law, Mrs. William Thompson, the bridegroom's sister, Mrs. James Payne and sister-in-law, Mrs. Waters, served.
A "special" photographer snapping wedding pictures was the bride's brother, Richard Thompson, who flew home for the ceremony from Washington, D. C., where he is a photographer for the International Press of the state department. The International Press is a part of the "Voice of America."
Lansing State Journal (Lansing, Michigan) Thursday 4 November 1999
By Rodney Waters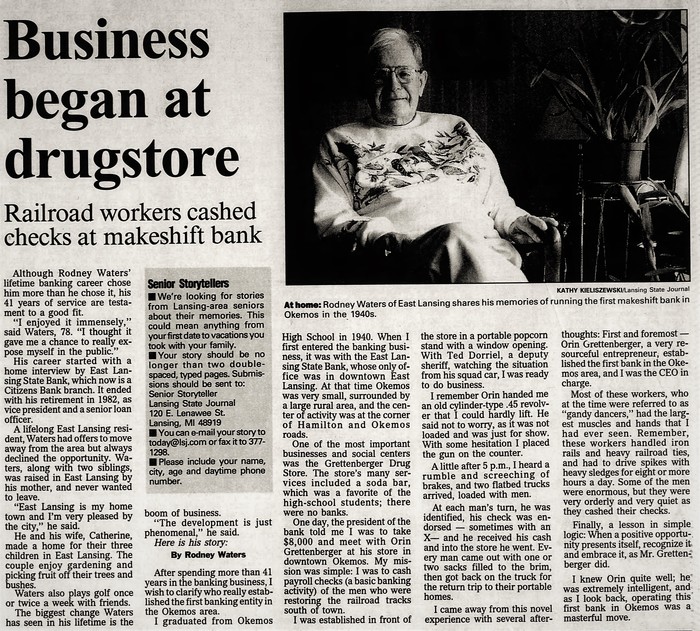 After spending more than 41 years in the banking business, I wish to clarify who really established the first banking entity in the Okemos area.
I graduated from Okemos High School in 1940. When I first entered the banking business, it was with the East Lansing State Bank, whose only office was in downtown East Lansing. At that time Okemos was very small, surrounded by a large rural area, and the center of activity was at the corner of Hamilton and Okemos roads.
One of the most important businesses and social centers was the Grettenberger Drug Store. The store's many services included a soda bar, which was a favorite of the high-school students; there were no banks. One day the president of the bank told me I was to take $8,000 and meet with Orin Grettenberger at his store in downtown Okemos. My mission was simple; I was to cash payroll check (a basic banking activity) of the men who were restoring the railroad tracks south of town.
I was established in front of the store in a portable popcorn stand with a window opening. With Ted Dorriel, a deputy sheriff, watching the situation from his squad car, I was ready to do business.
I remember Orin handed me an old cylinder-type .45 revolver that I could hardly lift. He said not to worry, as it was not loaded and was just for show. With some hesitation I placed the gun on the counter.
A little after 5 p.m. I heard a rumble and screeching of brakes, and two flatbed trucks arrived, loaded with men.
At each man's turn, he was identified, his check was endorsed - sometimes with an X - and he received his cash and into the store he went. Every man came out with one or two sacks filled to the brim, then got back on the truck for the return trip to their portable homes.
I came away from the novel experience with several after thoughts: First and foremost - Orin Grettenberger, a very resourceful entrepreneur, established the first bank in the Okemos area, and I was the CEO in charge.
Most of these workers, who at the time were referred to as "gandy dancers," had the largest muscles and hands that I had ever seen. Remember, these workers handled iron rails and heavy railroad ties, and had to drive spikes with heavy sledges for eight or more hours a day. Some of the men were enormous, but they were very orderly and very quiet as they cashed their checks.
Finally, a lesson in simple logic: When a positive opportunity presents itself, recognize it and embrace it as Mr. Grettenberger did.
I knew Orin quiet well; he was extremely intelligent and as I look back, operating this first bank in Okemos was a masterful move.
Rodney died 28 July 2000 and was interred Glendale Cemetery, Okemos.
Lansing State Journal (Lansing, Michigan) Sunday 30 July 2000
WATERS, RODNEY A.
EAST LANSING
Age 70; died at home, Friday, July 28, 2000. Born December 13, 1920 in East Lansing. Until his marriage, Rodney lived on Lexington Avenue within the Marble Area in what is now East Lansing. He attended both Bailey and Central Schools and when Marble had its own school, finished the 8th grade there. Marble students could go to either Okemos or East Lansing for high school. He chose Okemos. After graduation he began with the East Lansing State Bank as a bookkeeper staying with the bank for 41 years. After a couple of years as a bookkeeper, Rodney became a teller, later specializing in handling collections. His next job was assistant cashier. He originated the Consumer-Loans Department, mainly making car and home improvement loans, working primarily as a loan officer for the rest of his banking life. When he became the assistant vice president, he acted strictly as head of Consumer Loans. He was later promoted to be vice-president of the bank, its only vice-president at the time. By his 1982 retirement, his department had expanded to the most sizable in the bank, recording a large amount of its income with almost 4,500 loans a year for millions upon millions of dollars. After he and Catherine Thompson were married in 1952, they continued to live in East Lansing. Their children are sons, Brian and Randy, both of East Lansing; and daughter, Karen of Saginaw. After retiring from the bank, he worked with Michigan Leasing and at the Timber Ridge Golf Course. He was very active in his many interests until the last 2 months when he became stricken with congestive heart failure. His great loves beside his family were golfing, gardening, and all of natures creatures. Rodney belonged to the greater Lansing Orchid Society, played golf many years at Myrtle Beach, SC; during the 1980's was a member of the Williamston Brookshire Golf Club and he was a member of the Floyd Kemnski Golf League at Ledge Meadows in Grand Ledge. Rodney was a lifelong golfer, who learned to play golf from his father when he was 7. For several years, Rodney was on the East Lansing Traffic Commission, serving as the chairman of the commission for eight years. Last November he was on a panel of the East Lansing Historical Society telling of life in East Lansing during the 1920's and 30's The November 4th Lansing state Journal had a story of Rodney's memories as a banker. His parents, Aaron and Gertrude Bowers Waters, and sister, Doris Payne preceded him in death. Besides his wife, sons and daughter, he is survived by 4 brothers-in-law and 4 sisters-in-law, and several nieces and nephews, and his brother, Robert and his wife, Patricia. Funeral services will be held Monday, July 31, 2000 at 2 p.m. at the Gorsline-Runciman Co., East Lansing, 1730 E. Grand River Avenue, East Lansing, with the Rev. Deloris Farr officiating. Interment will follow in Glendale Cemetery, Okemos