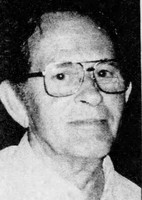 Donald Ernest Kelty, son of Russell H. (1897-1988) and Gladys (Harrison) (1889-1993) Kelty, was born 18 March 1921 East Lansing, Ingham County, Michigan. He graduated from Okemos High School in 1939. Donald died 26 April 2000 Lancaster, Los Angeles County, California.
Lansing State Journal (Lansing, Michigan) Thursday 4 May 2000
KELTY, DONALD ERNEST
LANSCASTER, CA
FORMERLY OF EAST LANSING
Age 79, passed away in California, April 26, 2000. He worked for the Capitol City Lumber Co. for 23 years. Don was an avid sports fisherman, deer hunter, and was a life-long commercial beekeeper and he loved gardening and woodworking.
He is survived by his wife of 29 years, Vicki of California; his children, Eric Kelty of Florida, Diane Pakozdi of Ohio and Dana Porras of California; brothers, Russell and Douglas Kelty; sister, Pem Bender; 9 grandchildren, 3 great-grandchildren, and numerous nieces and nephews. A memorial service will be held 6 p.m. Friday, May 5 at Central Christian Church, 3131 W. Ave. J., Lancaster, CA.
Note - Donald was a commerical beekeeper. His father, Russell Kelty, Sr., was a well-known and respected beekeeper for many years, "professor of agriculture at Michigan State college, in charge of research in beekeeping." (Lansing State Journal 23 January 1949)