Richard Henry McKane, son of Charles Ephraim (1898-1986) and Helen R. (Ferseman) (1902-1999) McKane, was born 11 January 1921 Michigan. Richard's grandfather, James McKane, immigrated from Ireland in the 1850's. All the James' children were born in Michigan and the James McKane family was enumerated living in Ingham County, Michigan in the 1900 US Federal Census. Grandson Richard graduated from Okemos High School in 1939.
For many years Richard was a fire fighter in Meridian Township, Ingham County, Michigan. He was appointed township fire chief April 1967 and held that position until retirement.
Lansing State Journal (Lansing, Michigan) Monday 4 May 1959
BLASTS RIP PARTS FIRM
DAMAGE IN OKEMOS FIRE $100,000; COMBUSTIBLES FEED FLAMES
Fire fed by a number of highly combustible materials, swept through Paty's Auto Parts company south of Okemos Sunday causing an estimated $100,000 damage.
Three firemen, overcome by heat and smoke, were hospitalized. Three others were treated at the scene and two suffered injuries while fighting the blaze.
Destroyed was the 10,000 square-foot block building housing the parts company including facilities for auto salvage and repair at Okemos and Cavanaugh roads.
James Paty, owner of the business, told Fire Chief Val Naert that the business was insured for only a small portion of its worth.
Naert said about $2,500 damage also was caused by the fire to a gasoline station owned by Paty at the east end of the parts building.
FIREMEN HOSPITALIZED
Hospitalized from the Meridian township fire department were Kenneth Taylor, volunteer fireman, and Sgt. John Stillman, regular township fireman. Both were reported in "good" condition at Lansing General hospital Monday morning. John Hamlin, of the Mason fire department was kept overnight in the Mason General hospital for observation and released Monday morning.
Treated for heat and smoke exhaustion Sunday were Elmer Juderjohn and Ralph Silsby of the Mason department and Clarence Huffman of the Meridian volunteer.
Max Miller, of the Lansing township fire department, received a broken foot from a falling cement block and Robert A. Patterson, assistant Meridian fire chief, a lacerated hand.
Altogether, 75 firemen from the Meridian, Lansing township, Mason and Williamston fought the blaze.
Naert said the fire roared out of control for two hours. Heavy black smoke billowing from the fire could be seen for several miles.
Naert said the fire was still under investigation Monday by his department and the state fire marshal's office.
Two men, Calvin Cokonougher, and employee of the firm, and Leo Peasley were working in the building Sunday morning on their own time and were preparing to weld on a drag, Naert said.
Cokonougher told firemen that he started to ignite the welding torch when he heard a noise sounding like a "whoosh."
Naert said he believed that an accumulation of acetylene and oxygen gases exploded. Cokenougher was burned on his right hand.
Lt. Richard McKane, of the Meridian township department, the first fireman on the scene, said that when he arrived flames were through the roof on the north end of the building and that "within a very few minutes the fire had spread throughout the building."
In addition to a large quantity of new and used auto parts, two trucks, a wrecker and a convertible automobile were destroyed. Also in the building was a large quantity of tires and oil.
Naert said explosions were heard at least a dozen times during the fire.
Gasoline in the vehicles parked in the building were blamed for some of the explosions.
One of the explosions blew out a side of the building.
The chief and firemen were hampered in fighting the fire by several high tension electrical wires overhead, the more than 80-degree heat of Sunday and traffic which kept volunteer firemen from reaching the scene.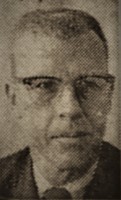 Lansing State Journal (Lansing, Michigan) Wednesday 14 January 1970
MERIDIAN FIREMEN REVEIVE ALL KINDS OF STRANGE CALLS
Some people might think firemen sit around all day drinking coffee and waiting for something to catch fire, but that isn't necessarily true.
Firemen, in Meridian Township anyway, also provide ambulance and inhalator service, conduct an annual Christmas party for underprivileged children, hold training session for the township's volunteer firemen, and answer a large amount of wrong number telephone calls from people who want everything from the police to pizza.
In 1969, the department answered 335 fire alarms which caused $64,744 in damages and responded to 337 ambulance calls which resulted in 370 patients being taken to hospitals, according to the annual fire department report.
This represents a total of 712 alarms last year the report said, an increase of 113 from 1968, and an average of nearly two fire or ambulance runs per day.
HIGHEST EVER
Fire Chief Richard McKane said the number of alarms last year was the highest ever for the 16-man department and that the two a day average is continuing so far this year.
In fact, he said because the department is not that large and because of the increase in alarms over the past few years, township firemen do not remove cats from trees.
"I just tell people who call that I've never seen any cat skeletons in trees," McKane said.
One fireman said, however, that while the department does not remove cats from trees, they did remove a man from the roof of an apartment building last year, after he somehow crawled onto it and then decided that he could not get down.
The department also received a call from a man who wanted them to remove a rabbit from the middle of a marshy field because he thought the rabbit was trapped there, one fireman reported.
CALL THE FIREMEN
If that seems like a strange request, however, the department has received others that are just as strange.
McKane said if people don't know who to call for something, they usually call the fire department with the result that firemen find themselves responding to inquiries about taxes, property assessments, police matters and requests for things such as pizzas and tickets to athletic events.
One fireman said the department received a request last year to test the ice on a small lake to see if it was safe for skating but the strangest call came from a person who apparently didn't know much about fire department operations.
"How late are you open?" the caller asked.
Richard married Lorraine Beagle 18 January 1958. They had a 54 year marriage. Richard died 25 February 2012.
Lansing State Journal (Lansing, Michigan) Wednesday 29 February 2012
RICHARD HENRY MCKANE
OKEMOS
Age 91, made his transition February 25, 2012 surrounded by his family. He was a firefighter and later Chief of the Meridian Township fire Department. After retirement he remained dedicated to helping others and enjoyed being a Sparrow volunteer. He was a member of Emanuel First Evangelical Lutheran Church and a lifetime member of the Lansing Liederkranz Club. Richard enjoyed gardening, fishing, cooking, and spending time a 'the lake'. Known to the family as 'Mr. Christmas', he embodied the Christmas spirit. He considered everyone a friend and above all he loved being a husband Dad and Grandpa.
He is survived by the love of his life, his wife of 54 years Lorraine; his children, Patricia McKane of Okemos and Michael (Mistie) McKane of St. Johns; his sister, Margaret Setzer of Bear Lake; his grandchildren, Charles and James of St. Johns; several cousins, nieces and nephews.