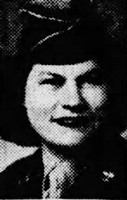 Donna Marie Denison, daughter of Daniel Ovide (1888-1974) and Rose (Nowland) (1894-1920) Denison, was born 10 September 1919 in Ingham County, Michigan. Donna was only a year old when her mother succumbed, 17 December 1920, to sepsis while pregnant with another child. Rose was interred Brookside Cemetery, Charlevoix County, Michigan. Donna's father, Daniel, married, 28 June 1924, Ella M. Blades.
Donna graduated from Okemos High School in 1938. She worked as a maid in Lansing for a while and then on 3 July 1944 joined the Women's Army Corp.
Lansing State Journal (Lansing, Michigan) Sunday 15 July 1945
DENISON - Pvt. Donna M. Denison, daughter of Mr. and Mrs. D.O. Denison, 4084 Okemos road, who has recently been transferred from Great Falls, Mont., to a base in Cincinnati, O., spent an 11-day furlough with her parents before assuming her new duties. Private Denison enlisted in the WAC air corps a year ago. A brother, Sgt. Donald Denison is stationed in Germany.
Donna married Richard Wesley Hayden, born 29 January 1930. Richard was a US Navy veteran having served during the Korean Conflict. Richard died 15 March 2002. Donna and Richard were interred Summit Cemetery, Williamston, Ingham County.
Note: Donna's birth mother was Rose Nowland Denison. Donna served in the WAC's during World War II.
Donna M. Hayden - Lansing, Born September 10, 1919 in Lansing, the daughter of the late Daniel and Ella (Blades) Denison, passed away April 15, 2013 at the age of 93. Donna proudly served her country in the U.S. Air Force during WWII. She retired from the State of Michigan as a supervisor for the Highway Department after many years of service. Preceded in death by her parents; and her beloved husband, Richard Wesley Hayden in 2002. Surviving to cherish her memory are her children, Tara (Wayne) Munson, Jon Hayden, and Todd Hayden; 5 grandchildren; 8 great-grandchildren; brother, Ted (Jackie) Denison; sisters, Marion Pless and Betty (Harry) Huglett. A graveside service will be held at 2:00 p.m. on Wednesday, April 17th at Summit Cemetery in Williamston. The family is being served by Gorsline Runciman Funeral Homes. Condolences and memories may be shared with the family at www.williamston.com

Published in Lansing State Journal on April 16, 2013