Richard Marvin Fuller, son of Robert Roy (1890-1959) and Eliza A. (Bolton) (1894-1985) Fuller, was born 23 June 1920 Ingham County, Michigan. Richard graduated from Okemos High School in 1938. He enlisted in the US Army 28 May 1942 and served until honorable discharge 4 November 1945. On 24 November 1943 in Haslett, Ingham County, Richard wed Marion I. Peterson.
Richard died 15 January 1988. Marion, born 14 Feb 1917, died 30 September 2010. They were interred Glendale Cemetery, Okemos, Ingham County. Richard and Marion lost a son, Robert Allyn Fuller, 1951-1978, who also graduated (1969) from Okemos High School. Robert too was interred Glendale Cemetery.
Lansing State Journal (Lansing, Michigan) Wednesday 6 April 1938
OKEMOS OUTDOOR SPORTS STARTED
Okemos high school is looking forward with hopes of scoring athletic triumphs during the outdoor season. The Chiefs will be defending their state Class D and county track championships with a veteran team, aim to make a much better baseball record and Dick Fuller, undefeated in county tennis circles last spring, is back to head up the net forces.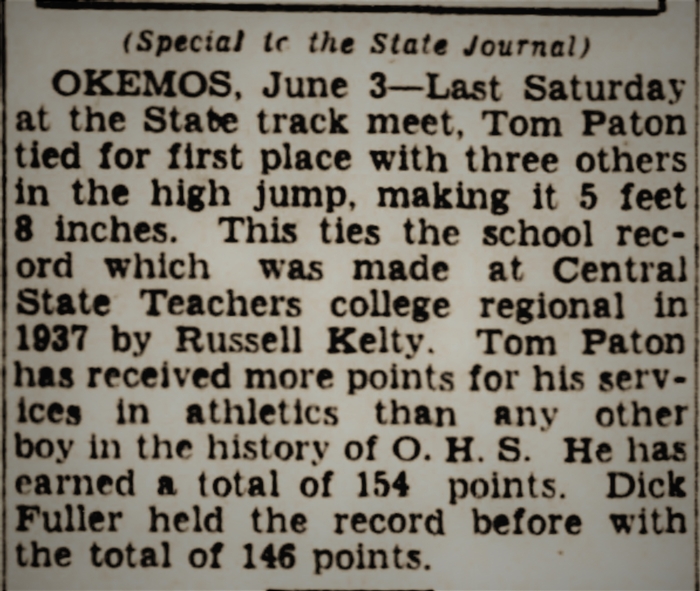 Note: We could not find other information on his Tennis or Track, but a mention in the June 3, 1941 Special addition to the Lansing State Journal notes that Dick was the school record holder for points total in track.
Much of the track strength will be found in Don Kelty, Wayne Parrish, Ted Howard, Fuller and Stanley Rogers.
Lansing State Journal (Lansing, Michigan) Sunday 17 January 1988
FULLER, RICHARD M.
HASLETT
Age 67, died January 15, 1988, born June 23, 1920 in Haslett. Mr. Fuller was a member of Haslett Baptist Church and was a veteran of World War II, serving in the European Theater. He was formerly employed by Ray Sablin Gravel Company (1948-1953). He retired in 1982 as Vice-President of Cheney Concrete. He was preceded in death by a son, Robert (1978). Mr., Fuller was the dearly loved husband of Marion; father of Mrs. Todd (Brenda) Lilje of Kent City and Barbara Lantis of Haslett; grandfather of Kim, Sean, Jonathon, Rebekah and Megan; brother of Max, Gerald and Gene Fuller, uncle of several.