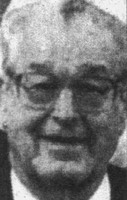 Gaylord Milton Larkins, son of Earl W. (1897-1967) and Clara (Stephens) (1894-1961) Larkins, was born 7 April 1920 St. Johns, Clinton County, Michigan. He graduated in 1938 from Okemos High School. Gaylord entered the US Army 24 October 1941 and was a veteran of World War II. He married Doris Mae McManamon 1 December 1943 Lansing, Ingham County. Doris, born 24 June 1924 Michigan, was a 1942 alumni of Okemos High School.
Gaylord died 20 June 2001 Lansing. Doris passed away 3 August 2008 Lansing, Ingham County, Michigan. Gaylord and Doris were interred Mt. Hope Cemetery, Ingham County.
Lansing State Journal (Lansing, Michigan) Friday 22 June 2001
LARKINS, GAYLORD M.
LANSING
Age 81, went home to be with the Lord on June 20, 2001. Gaylord was born in St. Johns, MI on April 7, 1920 and a Veteran of World War II. He was a member of Bricklayer's Local #9 for 50 years and was a member of South Baptist Church of Lansing. Surviving are his wife of 57 years, Doris, and their three children, 2 daughters, Janice Brewer (Bob) of Kentwood, MI and Diane White (Mark) of Lathrup Village, MI; 1 son, Gary Larkins (Betty) of Lansing, MI; 8 grandchildren. He also leaves his two sisters, Onalee Byrnes and Ester Chaffee (Bob), both of Ovid, MI. Funeral services will be held Saturday, June 23, 2 p.. at the Gorsline-Runciman Co. Lansing Chapel, 900 E. Michigan Avenue, Lansing with the Rev. Dr. H. Charles Roost, officiating. Interment will follow in M. Hope Cemetery, Lansing.