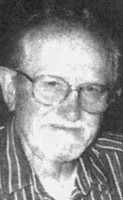 Douglas W. McNitt, son of Ralph Voeste (1885-1961) and Lynde Deleta (Downing) (1885-1966) McNitt, was born 2 March 1919 Nashville, Barry County, Michigan. Douglas was a twin to Donald. Douglas and Donald graduated in 1938 from Okemos High School.
Douglas was a US Army veteran of World War II, attaining the rank of Sergeant. He enlisted 31 March 1941 and was honorably discharged 6 October 1945. Douglas married fellow Okemos Class of '38 alumni, Carol June Paton on 22 June 1946 in Okemos.
Douglas died 2 January 2004 Ingham County, Michigan. Carol, born 1 July 1910, died 9 June 2010 Ingham County.
Lansing State Journal (Lansing, Michigan) Wednesday 14 January 2004
MCNITT, DOUGLAS W.
HASLETT, MI
Age 84, died January 2, 2004. He was born March 2, 1010 in Barry County near Nashville, MI. The children of Ralph and Lynde Downing McNitt, Pat, Ralph, Hugh, Douglas and his twin brother Donald, lived the first part of their lives in rural ways they always remembered. Douglas graduated from Okemos High School in 1938 when it too was a rural school. He joined the 119th Field Artillery and served 5 years during WWII in the European Theater. When he returned he went to Michigan State College on the G. I. Bill, later getting his Masters degree. He taught art 7 years in Holt and 25 years at Lansing Everett. He was the first Art Teacher in the Lansing Schools Classroom 10 TV Program. Building projects and gardening filled his free time. He was married to Carol Paton for over 57 years. He was fortunate to have a son, Andrew (Paula), and a daughter, Cynthia (Jim); grandchildren, Megan and Katie McNitt, Alex and Wife Eryka, and their sons, Jack and Jonah, Marshall, Jacob Ben and Claire Sawyer; his brother, Ralph and wife, Gene. Especially close are their daughters, Kay and Ann. Also his sister's son, Harold Spross.
June 2017
NOTE: A second generation of McNitt's were also OHS Alumni. Andrew McNitt, Class of 1969, wrote the following:
Dear Rodney Ellis,
You are correct in assuming a relationship to Douglas and Carol (Paton) McNitt. They are my and Cindy (McNitt) Sawyer's parents. After graduating from Okemos I attended college at Michigan State where I earned a BA in Political Science and latter a Master's and Doctorate in the same field. My education was briefly interrupted for basic training in the Michigan National Guard. I taught for a year at Eastern Michigan University and latter moved to Eastern Illinois University where I spent the rest of my career. I was briefly chair of my department, but spent most of my time teaching American politics and research methods. I retired a year ago and am hoping to travel.