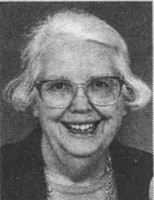 Carol June Paton, daughter of Thomas Carlyle (1877-1949) and Alma Paulene (Snider) (!893-1979) Paton, was born 1 July 1920 Lansing, Ingham County, Michigan. She graduated in 1938 from Okemos High School and married 22 June 1946 Okemos, Ingham Douglas W. McNitt. Douglas also graduated in 1938 from Okemos High School.
Douglas died 2 January 2004 Ingham County. Carol died 9 June 2010 Haslett, Ingham County.
Unknown source:
Carol, 90, of Okemos and Haslett, died Friday. Carol was born to Alma Pauline (Snider) and Thomas Carlyle Paton, the third of four children. She graduated from Okemos High School and attended MSU for two years before stopping to work full time in the family business, F. E. Snider Coal Co. Carol later worked at Bell Telephone Co. She and Douglas W. McNitt married in 1946; after the birth of her first child she became a full time homemaker. In addition Carol was active in Okemos Child Study Club, Lansing Interracial Fellowship, served as the church librarian and actively helped the early fair housing movement in Okemos. Carol was lucky to have wonderful neighbors, both past and present, whose friendships were very important throughout her life. She was preceded in death by her parents; husband; brother, Thomas Paton; sister, Jean Paton Sleder; infant brother; many in-laws; and close friends. Surviving are her children and their spouses, Andrew and Paula McNitt, Cynthia and James Sawyer; grandchildren, Megan McNitt, Katherine (McNitt) and David Nadrchal, Alexander Sawyer, Marshall Sawyer and Julianne Lemon, Jacob Sawyer and Angela Brown, Benjamin Sawyer, Claire Sawyer; great-grandchildren, Jack Sawyer, Jonah Sawyer, James Sawyer; sisters-in-law, Martha Paton, Gene McNitt; close niece, Barbara Sleder; and many more nieces and nephews. Carol will be remembered for her devotion to her family, she was honest and sincere. She will be remembered for her warm smile and for the laughter and joy that she brought to those around her. A memorial service will be held Monday, June 19, 2010, at the Okemos Community Church, Okemos.